Sharon Hanshaw Represents Gulf Coast Women at UN Conference in Brazil, Rio+20
Wed, 2012-06-27 08:44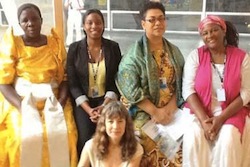 Last week, Sharon Hanshaw represented Biloxi, Mississippi and women across the Gulf Coast in Rio de Janeiro, Brazil at the United Nations Conference on Sustainable Development. Sharon spoke about how her experience after Hurricane Katrina led her to advocacy and to addressing climate change on a local and global scale. Here's an excerpt of an article by Vicky Marham about a panel Sharon spoke on, "Rio+20 and Women's lives: A Cross-General Dialogue."
Sharon Hanshaw, an American-south activist who lost her home during Hurricane Katrina, pointed out, "We 'Climate Wise Women', and all of us here, are demographically distant, but so alike" and described how her life changed since the storm, prompting her to organize and legitimize local women for a say in decisions about how climate change affects her family and community.
She reflected on several themes the group collectively shared:
• "Climate change has brought us women activists together, it's our commonality for action because although demographically different, we found we are so alike."
• "We didn't know that what was happening to us – the severe storms, the drought, the flooding, the change in seasonality – was actually climate change. Now we know, we are more informed about the issues, and we've organized to do something about it."
• "We used to call it weather, storms, now we know to call it climate change."
• "We are all one voice to change how we think about green space, and women's equality, they go hand in hand. We know it, now we want our leaders and negotiators to know it. We are leaders too, we deserve a legitimate place at the decision-making table."
Read Sharon Hanshaw's Bridge The Gulf blog posts here.
******
Ada McMahon is a Media Fellow at Bridge The Gulf (www.BridgeTheGulfProject.org), a community journalism project for Gulf Coast communities working towards justice and sustainability. She previously worked as a blogger and online organizer at Green For All, a national non-profit that fights pollution and poverty through "an inclusive green economy". She is from Cambridge, Massachusetts, and currently lives in New Orleans, Louisiana.

Ada McMahon