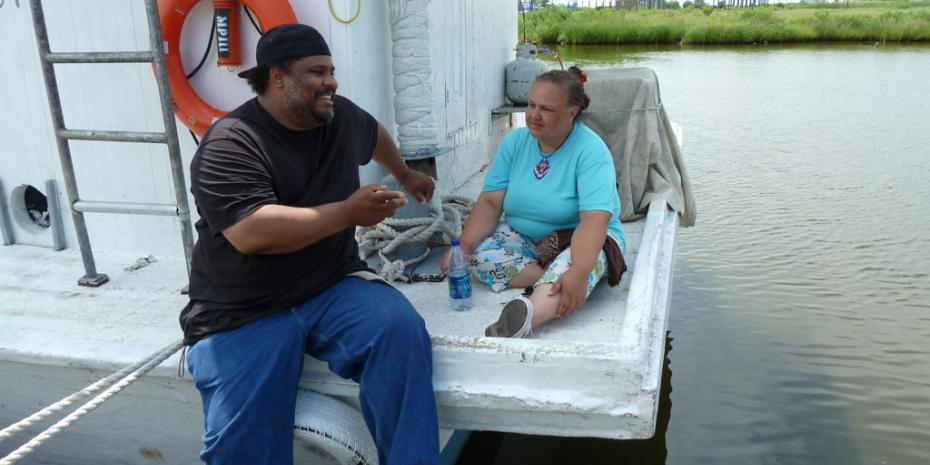 BRIDGE THE GULF is a community media project that lifts up the voices of Gulf Coast communities working towards justice and sustainability. Through multimedia storytelling on BridgeTheGulfProject.org, an active network of community leaders, experts, and media-makers connect and share their perspectives on the places, cultures, histories, and challenges that define the Gulf Coast region. Bridge The Gulf also provides training, support, and resources to amplify the voices of those on the front lines of struggles for survival and for progressive movement-building in the region.
Our approach:
From the intersection of storytelling, community organizing, and new media, Bridge The Gulf:
Amplifies Gulf Coast voices, stories, and perspective often overlooked by mainstream media;
Connects media-makers, community advocates, and regional experts;
Strengthens community media production through support and training;
Advances a regional, inclusive, and intersectional understanding of the Gulf Coast region
Who are we?
Bridge The Gulf is built on the strategic partnership between independent media-makers, regional experts, and grassroots community leaders on the Gulf Coast. Since our launch in 2010, more than 60 contributors have shared approximately 700 multimedia stories and perspectives on BridgeTheGulfProject.org, with a core team leading editorial and operational decisions. Bridge The Gulf was founded and continues to work in close partnership with the Gulf Coast Fund for Community Renewal and Ecological Health, a regional philanthropic, progressive movement building organization.
Contributors
Our contributors include community organizers, advocates, regional experts, journalists, filmmakers, and people who are directly impacted by pressing regional issues.
Meet Our Contributors.
Core Leadership Team
Derrick C. Evans, Co-founder
Derrick Christopher Evans is the director of Turkey Creek Community Initiatives and a managing advisor to the Gulf Coast Fund for Community Renewal and Ecological Health. Since 2001 he has worked to help protect and revitalize his coastal Mississippi community and sister communities throughout the region. Prior to that he taught civil rights history at Boston College and social studies in the Boston Public Schools.
Cherri Foytlin
Cherri Foytlin is a freelance journalist, author, advocate, speaker and mother of six, who lives in South Louisiana – an area inundated with industrial pollution. She is the author of "Spill It! The Truth About the Deep Water Horizon Oil Rig Explosion," and regularly contributes to Bridge The Gulf, the Huffington Post, Daily Kos, and several local newspapers. In the Spring of 2011, she walked to Washington D.C. from New Orleans (1,243 miles) to call for action to stop the BP Deep Water Drilling Disaster, and has been a constant voice speaking out for the health and ecosystem of Gulf Coast communities in countless forms of media. As an advocate for climate justice, she has participated in numerous actions and events across the nation and in the UK. In addition, she is a co-founder of The Mother's Project – Gulf Coast and Idle No More Gulf Coast
Shana Griffin
Shana griffin is a mother, feminist, researcher, and social justice activist—who's work explores critical issues at the intersection of race and gender-based violence; housing rights and affordability; climate justice and sustainable ecologies; sexual health and reproductive autonomy; art and space, and movement building philanthropy. She's is the co-founder of the Women's Health & Justice Initiative and serves on the governing body of Critical Ethnic Studies Association. Shana serves on the Board of Directors' of Jane Place Neighborhood Sustainability Initiative—a neighborhood-based community land trust, Women With A Vision, Inc; and an Advisor of the Gulf Coast Fund and Bridge The Gulf. Over the past 7 years, Shana's activism and research has focused on challenging punitive social policies, practices, and behaviors that restrict, exploit, regulate, and criminalize the bodies and lives of low-income and working class black women most vulnerable to the violence of poverty, polluting environments, reproductive legislation, and housing discrimination.
Leah Mahan, Co-founder
Leah Mahan is an independent documentary filmmaker whose work has been nominated by the Directors Guild of America for Outstanding Directorial Achievement. She has been a fellow at the Sundance Institute Documentary Editing and Story Lab and the Producers Institute for New Media Technologies. Leah's films include Sweet Old Song (2002) and Holding Ground: The Rebirth of Dudley Street (1996). In 2013 she completed Come Hell or High Water: The Battle for Turkey Creek, about a group of determined Mississippians who struggle to save their endangered Gulf Coast community in the face of rampant development, industrial pollution and disaster. She worked with Gulf Coast NGOs to develop Bridge The Gulf. Leah began her career as a research assistant for filmmaker Henry Hampton on the groundbreaking PBS series on the civil rights movement Eyes on the Prize.
Ada McMahon, Media Fellow
Ada McMahon is an independent media maker, currently working as a Media Fellow with Bridge The Gulf, and project manager with LandofOpportunity, an interactive web platform about post-crisis community (re)building in America. Previously, she worked as a blogger and online organizer at Green For All. Ada lives in New Orleans, Louisiana, and was born and raised in Cambridge, Massachusetts.
Bryan Parras
Bryan Parras is a Houston resident and environmental justice advocate with Texas Environmental Advocacy Service (T.E.J.A.S.). Bryan has worked tirelessly to improve the health and safety of residents living in the shadows of Houston's oil refineries, particularly the residents of Manchester, one of the city's most vulnerable neighborhoods and where Valero plans to refine much of the tar sand oil shipped through the proposed Keystone XL pipeline. Bryan is also a Gulf Coast Fund Managing Advisor.
Karen Savage
Karen Savage is an investigative journalist currently embedded with the L'eau Est La Vie resistance camp in Louisiana. Karen specializes in long form narrative stories on juvenile justice and the environment. Her work has appeared in Climate Liability News, Project Earth, Juvenile Justice Information Exchange, Bridge the Gulf, Youth Today and City Limits. A mother of four, Karen is a former middle school math teacher and has volunteered with several organizations across the Gulf Coast.
Volunteers & Pro Bono Support
Bridge The Gulf would not exist without the contributions of many volunteers and underpaid or pro bono experts, including dozens of blog contributors, NGO staff people, new media experts and lawyers. Many of these are acknowledged on this page, and we would like to also acknowledge the Harvard Online Media Legal Network for connecting the project to pro bono legal assistance from Steptoe & Johnson.
History
In 2001, Derrick Evans, a Civil Rights historian and teacher living in Boston, and his longtime friend Leah Mahan, an acclaimed filmmaker, began to document the history of Turkey Creek, a historic African-American community in coastal Mississippi. The Reconstruction Era settlement was founded by Evans' emancipated ancestors in 1866. When the graves of his ancestors were bulldozed to make way for the sprawling city of Gulfport, Evans lost his historian's detachment and moved home to Turkey Creek to fight for his community's survival. Mahan continued to document over the course of a decade, as Evans and his neighbors stood up to powerful corporate interests and politicians, and faced Hurricane Katrina and the BP oil disaster, in their struggle for self-determination and environmental justice. Mahan's documentary, Come Hell or High Water: The Battle for Turkey Creek, premiered in 2013 at the New Orleans Film Festival, where it won the audience award for best documentary feature.
In 2006, as Turkey Creek and the entire Gulf Coast region worked to recover from the devastation of Hurricane Katrina – Evans co-founded the progressive Gulf Coast Fund for Community Renewal and Ecological Health. The innovative movement-building philanthropy – led by a team of policy advocates, community activists and organizers from Louisiana, Mississippi, Alabama and Texas – directs critical financial, technical and collegial support to grassroots community groups across the Gulf South.
Soon thereafter, Evans, Mahan, and advisors of the Gulf Coast Fund began to dream up a community media project that would bring together the stories of communities across the Gulf Coast facing similar challenges. This platform would be a single forum for the many independent media-makers and activists who were already speaking out across the region, and encourage new media-making. Launched in the summer of 2010, Bridge The Gulf is a media resource for many of the same communities the Gulf Coast Fund supports through its movement-building work. Gulf Coast Fund advisors, including Evans, Shana griffin, and Bryan Parras, continue to play pivotal roles as advisors and contributors to Bridge The Gulf project. As the platform launched in the immediate wake of the BP oil disaster, Karen Savage, Ada McMahon, and Cherri Foytlin became involved in producing content, outreach to contributors, editing, social media, and more.
Media Partnerships
In addition to Bridge The Gulf's close partnership with the Gulf Coast Fund for Community Renewal and Ecological Health and with grassroots groups across the region, we have collaborated on the following media projects:
LandofOpportunity
LandofOpportunity is an experimental web platform that explores post-crisis community (re)building in America. The innovative platform merges compelling multimedia storytelling with curated data, research, and calls to action in one collaborative interactive space. Bridge The Gulf partnered on the interactive video, Surviving the Spill: BP Oil Disaster.
WTUL News and Views
Bridge The Gulf partnered with the New Orleans radio program WTUL News & Views on the Deep Dialogue series. Deep Dialogues are in-person events that brings together a diverse range of thoughtful people to speak from experience on the topics that matter to New Orleans, and are recorded to air on the radio and on BridgeTheGulfProject.org.
Institute for Southern Studies
On the two year anniversary of the BP oil disaster, Bridge The Gulf partnered with the Gulf Coast Fund and the Institute for Southern Studies on the Troubled Waters report and interview series.
Storycorps and the Natural Resources Defense Council
In October 2010, Bridge The Gulf partnered with StoryCorps and NRDC to record, share, and preserve the stories and experiences of people living through the BP oil disaster.
BAVC Producers Institute for New Media Technologies
In the spring of 2010, Bridge The Gulf participated in the BAVC Producers Institute for New Media Technologies and worked with designer Ben Stocker Johnson of Free Range Studios to design the beta website that was developed by MIG and launched in the summer of 2010. In 2013-2014 Ben worked with Bridge The Gulf to create the new design for the site with developer Courtney Miller.