Back to School Q & A with Aesha Rasheed: Parents' Rights, Education Reform, and "School Choice" in New Orleans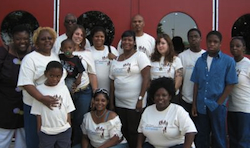 It is "Back to School" season in New Orleans. But a recent article by Andrew Vanacore in the Times-Picayune shows that despite recent improvements to the labyrinthine enrollment process, some parents are still finding it impossible to get their children into the school of their choice in New Orleans. Vanacore observes, "enrolling in a public school in New Orleans is still a uniquely confusing process, complicated by the presence of two competing school districts, dozens of independent charter schools and an open enrollment policy that allows students to apply for a spot at any school in the city." The article tells the story of two mothers, Alanna Pratt and Deangelia Jackson, who will likely have to send their children to schools marked "failing" this year, despite their best efforts to enroll in other schools. "…There is still no way to guarantee that every child in the city can attend a high-quality public school," Vanacore writes.
Earlier this year, I discussed these obstacles to parents seeking quality education for their children, with my friend and education advocate Aesha Rasheed. Aesha covered education in New Orleans as a reporter before Hurricane Katrina, and after the storm went on to organize the New Orleans Parents' Organizing Network (NOLA PON), a community organization dedicated to supporting the leadership of parents of public school students. She is also a board member at Morris Jeff Community School.
Photo: Members of NOLA PON at the Free Minds Free People conference in 2009.
In a previous Bridge The Gulf post, I talked with Aesha about the history and context of post-Katrina public school reform in New Orleans, how parents organized to find a footing in the chaos of the changing landscape, and how NOLA PON began publishing the New Orleans Parents' Guide to Public Schools to empower parents with information. Here's part two of that conversation, in which we discuss families' and students' education rights, charter schools, and how quality education begins with meaningfully engaging parents and communities.
Rosana Cruz: Ok, first, can you please tell me this: what exactly is a charter school?
Aesha Rasheed: A charter school is a public school that has been allowed to be managed by a private entity. In Louisiana, that private entity has to be a Louisiana based non-profit. Public dollars are being used to educate kids, but those public dollars are filtering through a private, not-for-profit entity, that is actually making decisions about how to spend the money and what to do.
Rosana Cruz: How do charter schools relate to the rights of parents and students?
Aesha Rasheed: The decisions about who to hire and fire, how people will be employed, what kind of contracts there are, and the specifics of the curriculums are in the hands of each charter school's board and whoever it hires to run the day to day of the school.
However, the laws that apply to a public school apply to a charter school in the state of Louisiana. Rules like students have to take standardized tests, that you must serve kids with special needs, and that you follow Grade Level Expectations [statewide standards for what each child should know at the end of each grade level, mandated by the federal No Child Left Behind Act of 2001].
A point of great consternation and confusion is that in a school district there are the laws that apply and then there are all these policies that the district makes. That they have to serve special needs kids isn't a decision that is up to the district, it's the law. But how they are going to serve special needs kids is up to the district. Charter schools operate outside of these policies – They don't have to follow the district policies for how it's going to happen, but they have to make it happen.
That's often where there are the most gaps in the safety net, where the rubber hits the road at how it happens. Because if no one is saying, "Hey, here's how we are going to make sure that all these kids are served" (which is usually left to a district), then each individual school is saying "Well, I don't want to serve kids who are autistic, so I'm going to try to avoid that." So they choose a cheaper way to provide services, which leads to lower quality services.
Rosana Cruz: It seems like then the burden is on the parent to know what the school is supposed to provide and what their child does and does not have a guaranteed right to, which is hard because well… there are many rights related to education, right?
Aesha Rasheed: Right. There are many rights that families and students have related to public education. Unfortunately, the U.S. Constitution does not guarantee students a right to public education – this is left up to individual states to provide. And this is why we have inequity across the country. But families do have some rights related to education at the federal and state level - there are many rights, rules, policies and laws that exist. However, mostly parents and students don't know what they are. A right is only as good as you knowing and asserting it.
Police obviously run roughshod over our rights often, but most people in the U.S. know the basics, like I have the right to remain silent. We have been told it over and over again in popular media. But most parents don't know the basics of: I have a right to send my kids to a school, or I have a right to have my child be served if they have special needs. It's not clear to people what the rules are and what their rights are related to kids and access to an education.
Part of the purpose and the mission of the Parents' Guide was to say to people, whether you think charter schools are a good thing or a bad thing you should understand the law related to them. When you engage with the charter school, you should be able to say, "These are my rights". Understand that often these rights are not necessarily being upheld by the institutions. But if you don't know it, then how will you be able to even see when your rights are being violated?
It is just better for schools and families and students if everyone knows what the rules are, so we can all be clear and hold each other accountable.
Rosana Cruz: And parents especially need to know the rules and their rights in New Orleans, because they have to figure out the complicated process of getting their kids into a school. In other places, you live somewhere and then you send your kid to the school in your neighborhood. New Orleans is different post-Katrina, because it no longer has "attendance boundaries".
Aesha Rasheed: So in lots of other places, although not all, where you live determines what school you go to, period. There are a few people who can get into a Magnet school or something like that. But basically, it's assigned based on where you live.
In New Orleans, we don't have that, which is a huge safety net issue because at the end of the day with a neighborhood school you know that your kid is going somewhere. On the plus side, we also don't have a policy that says you have to go to this particular school.
In my conversations with parents, they sometimes say, "I lived near a bad school, so I'm glad that my kid doesn't have to go there." On the other hand, parents also say, "How do I figure out how to get my kid into a school at all, and what if I don't have the capacity, time, and resources to figure out the maze?" There isn't really a default option, which is very different from before Katrina and from most places in the country, and therefore very challenging for parents who are trying to find schools for the first time.
Rosana Cruz: As I've been paying attention to this conversation and living in New Orleans for 14 years, I feel like there is a resignation that there are going to be high-performing school and low-performing schools and parents are going to have to duke it out and compete with each other to get their kids into the best schools. I don't hear a lot of conversation about all schools being excellent, so that you could send your kid to the school in your neighborhood because it's a great school.
Aesha Rasheed: I agree with you, that's not enough of a conversation. I think in some ways education policy makers in Louisiana have been a mix of naïve and thoughtless. Some folks who are behind changing all these things think that this is a way to push towards everybody being excellent. I don't believe that parents competing to get their kids into the best schools is going to cause our schools to become excellent. So many things need to happen to make our schools excellent including (and this is why New Orleans Parent Organizing Network exists) the meaningful engagement of parents in the conversations about what we do collectively to improve the experience for children in this community. I don't think we'll ever get to high quality schools without having this conversation.
I think that this landscape has created an unintended consequence of both parties being able to give up on each other really easily. Schools can have the attitude, "Well, if you don't like a policy or rule, go somewhere else," and parents can be like, "Well I don't like it—I'm taking my kid out." There is nothing really pushing people to stick it out.
All that to say, I think that in order to have a system where people are assigned to a school based on where they live and have any kind of equity, it's imperative to have all schools be solidly good schools because there is no other way where that's equitable. In a system where there's school choice it's also imperative for all schools to solidly be good.
In either system, there's a whole lot of things that institutionally have to happen to make schools good, and we didn't do it before the post-Katrina reform, and we aren't doing it now. So there are institutional problems that haven't changed just because we stopped having attendance boundaries. I think the market-driven theory is that those institutional things would change just by virtue of changing how kids get into school, and that's not true.
Six years have shown us that's actually not going to happen. We actually have to dig into the conversation about what do the institutional changes need to be, and that is no small question. It is the question about public education in the U.S.
I'm not sure that anyone is sitting on the answer, but in this community I have not seen the conversation be put forth meaningfully until very recently through the stuff that Orleans Parish Education Network (OPEN) has been doing in building a community vision for public education through the One Step Campaign and the Urban League's "I am Engaged" Campaign to engage parents in education.
There are some things happening now that are finally beginning to create a dialogue about that, but we needed to have this dialogue twenty years ago, a hundred years ago. It's so delayed, and meanwhile kids are right now—they exist and they need to be educated, live, and be fed. There's all that.
This interview has been edited for length and clarity.
----------
Rosana Cruz is Associate Director of VOTE (Voice Of The Ex-offender). Previously Rosana worked with Safe Streets/Strong Communities and the National Immigration Law Center. Prior to joining NILC, she worked with SEIU1991 in Miami, after having been displaced from New Orleans by Katrina. Before the storm, Rosana worked for a diverse range of community organizations, including the Latin American Library, Hispanic Apostolate, the Lesbian and Gay Community Center of New Orleans, and People's Youth Freedom School. Rosana came to New Orleans through her work with the Southern Regional Office of Amnesty International in Atlanta.