Amid Tar Sands Invasion, Mobile, Alabama Invites Unity, Solidarity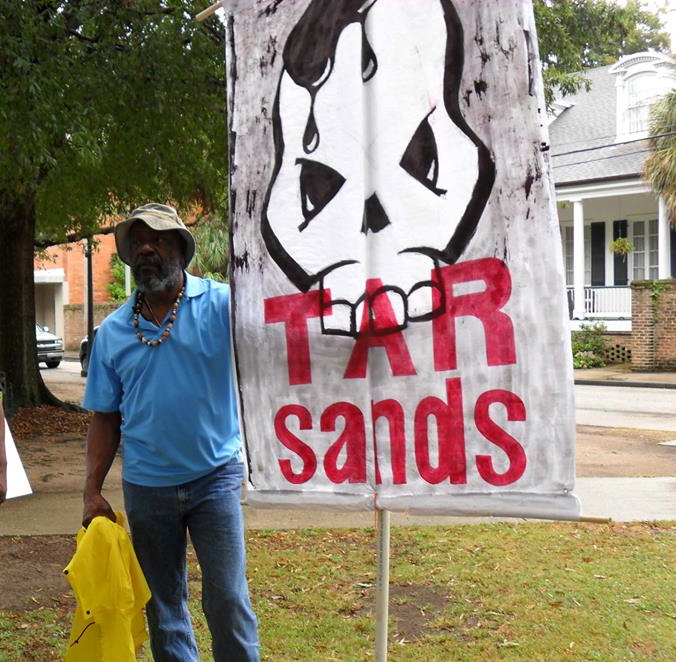 Facing an invasion of toxic tar sands sludge, communities across the Gulf Coast gathered on Saturday, September 21st as part of a nation-wide day of action organized by 350.org to "Draw the Line" against tar sands oil.

Mobile-area citizens, who have been fighting against tar sands coming into their communities on trains and against the storage or transport of the toxic sludge in and under their neighborhoods, invited all who are battling tar sands to stand together in solidarity and unity. Nearly 70 organizations – from across the Gulf Coast, from London to Alberta, to New York, to Massachusetts, to Vermont, to Washington D.C., and many places in between – have signed on to the letter below. If your organization would like to stand with Mobile, please send your organization's full name and location to mathsavage@gmail.com.
 
Photo: Mobile "Draws the Line". Credit: Michele Walker-Harmon.
Greetings,
As residents of the State of Alabama, the Gulf Coast region, and the United States of America, we invite and implore you to join us as we stand united in saying "NO" to extracting, transporting and processing tar sands oil - also known as bitumen, heavy crude or dilbit - in our communities.
For too long, our region of the United States has been the "energy sacrifice zone" - the primary conduit from and through which carbon-based energy has flowed and spilled for decades.  Our land, water, and air - even our bodies - have been contaminated by pollution from these dirty fossil fuels.  Our own leaders, corrupted by the lure of wealth and power, have sold us out repeatedly for the creation of a few jobs and the never-ending quest for short term economic growth.
Today we stand up to speak out for the protection of our neighbors and our families, and of the air, land and water which we have been blessed and entrusted by our Creator and our Ancestors to cherish, sustain and protect "in trust" for future generations.
We stand in solidarity with the First Nations of Canada, who have seen their land, water and air sacrificed by private corporations and corrupt government officials who destroy pristine boreal forests to extract toxic tar sand oil from deep within the earth and beneath sacred ancestral lands.  We stand with mothers and fathers who can only watch as contaminants emitted into the air and water ravage the young bodies of their beloved sons and daughters with cancers and other illness.
We stand in solidarity with our sister communities in the Canadian and the United States heartlands, who have had toxic tar sands sludge transported through their hometowns with increasingly disastrous effects. We especially stand in remembrance of those who perished in the tragic train disaster in Lac-Megantic, Quebec, and with those in Michigan and Arkansas who have seen their communities and health devastated by recent pipeline spills.
We stand in solidarity with our brothers and sisters from the very many "fenceline" communities that dot the gulf region - from Houston to Port Arthur, Lake Charles to Chalmette, Mossville to Moss Point - who have been poisoned, sickened and ignored in the name of energy production for decades.
We stand with the families who long for their fathers, sons, uncles and brothers who perished needlessly when BP's Deepwater Horizon oil rig exploded off the Louisiana coast. We stand with fishermen and fishing communities whose way of life and industry has been completely destroyed by the toxic combination of BP's oil and chemical dispersants.
We stand with communities in the greater Mobile area who already bear the disproportionate, unjust and deadly burden of fossil fuel industries, such as Africatown, Prichard, Eight Mile and others abutting coal piles, tank farms, refineries and plants where the air hangs heavy with cancer-causing emissions.
We stand with the life-giving coastal and inland waters, marshes and wetlands of Mobile Bay, including the rivers, streams, estuaries and lakes that have nourished and sustained our bodies, families, and communities for centuries. We stand with the Big Creek Lake watershed that provides the greater Mobile area with our families' sole source of drinking water.
We stand for our future, for our children, and for their children, and for the resources that this Earth has provided, not for man to squander, but for us to cherish, protect and pass along to future generations.  We stand for our collective human right to clean air, water and soil, and for the glimmer of hope that climate change can be slowed and that climate justice will prevail.
We stand knowing that this modern day "Battle of Mobile Bay" - like its 1864 namesake from our nation's Civil War - is a local struggle that has regional, national and global implications reaching far beyond our homes, schools and playgrounds. We stand united to reject tar sands oil in every form, and by every name, in every community anywhere.
We stand for diversity, respect, trust and unity in our struggle - both locally and globally . We welcome all who read these words, whether in Spanish, Cree, French, English, Vietnamese or another language, to join us in saying "NO" to tar sands and saying "YES" to breathable air, drinkable water, fertile land and a healthy planet for all.
We pledge to commit our time, our energy and our collective resources to protect the community, land and water that we love, and of which we are all part. Like the noble, epic struggle for Civil and Human Rights waged fifty years ago in Alabama and throughout the South, we will not yield.  
We stand today to say ENOUGH!  We cannot and will not accept even one more drop. We will no longer be chained by the fossil fuel industry. We will no longer be its sacrifice zone. We are not expendable. Our lives and our health will not be the trade-offs offered in exchange for the hollow promises of "energy independence", "jobs" or the "economy".
And finally, we stand empowered, emboldened and grateful to know that our Creator - and our brothers and sisters across the Gulf Coast, North America and mother Earth - will not abandon us in our fight for our local communities, nor in our larger common fight for our planet's  survival.
Standing together, we will win these battles with weapons of solidarity, unity and love. Please stand with us.
350.org 
350 Pensacola, Pensacola, FL
Advocates for Environmental Human Rights, New Orleans, LA
Alabama Coast United, Foley, Alabama
Alice Evans, Phd, Waitsfield, VT
Atchafalaya Basinkeeper, Baton Rouge, LA
Better Future Project, Houston, TX/Boston, MA
Bill McKibben,Vermont
Boat People SOS. Bayou La Batre, AL
Calhoun County Resource Watch, TX
Center for Environmental and Economic Justice, Inc., Biloxi, MS
Center for Fair Housing, Mobile, AL
Cherri Foytlin, Rayne, LA
Clean and Healthy New York, Albany, NY
Coalition to Protect New York, Watkins Glen, NY
Coastal Women for Change, Biloxi, MS
Common Ground Health Clinic, New Orleans, LA
Concerned Citizens for Continued Cleanup Framingham, MA
Crystal Zevon, Barre, VT
Energy Action Coalition, US and Canada
Farmworker Association of Florida, Florida
Fe y Justicia Worker Center, Houston, TX
FrackbustersNY, Watkins Glen, NY
Gloria G. Horning, Ph.D, Florida
Gulf Coast Fund for Community Renewal and Ecological Health, Gulf Coast, USA
Gulf Restoration Network, New Orleans, LA
Hurricane Creekkeeper, Tuscaloosa, AL
Immaculate Heart Community Development Corp. Inc., Lucedale, MS
Jane Place Neighborhood Sustainability Initiative, New Orleans, LA
Jennifer Riley
Leona Tate Foundation for Change, New Orleans, LA
Liberate Tate, London, England
Louisiana Bucket Brigade, New Orleans, LA
Louisiana Ecosocialists, New Orleans, LA
Louisiana Environmental Action Network, Baton Rouge, LA
'Maury Colow Chapter', #058, of the Veterans For Peace, Woodstock, NY
Michele Walker-Harmon, Alabama
Mississippi Alumni and Students for Sustainability, Mississippi
Mississippi Immigrants Rights Alliance (MIRA), Jackson, MS
Mobile Bay Sierra Club, Mobile, AL
Mobile Environmental Justice Action Coalition (MEJAC), Prichard/Africatown/Eight Mile, AL
Mississippi Coalition for Vietnamese-American Fisher Folks and Families, Biloxi, MS
Mothers' Project - Gulf Coast
Nashid Rushday, Africatown/Mobile, AL
North Gulfport Community Land Trust, Gulfport, MS
Occupy Arlington MA, Arlington, MA
Occupy Central Vermont, Marshfield, VT
On Wings of Care, New Orleans, LA
OneStop Business Institute, Inc., Mobile, AL
Operation HomeCare, Inc, Alabama
Phil Berrigan Memorial Chapter Veterans for Peace, Baltimore, MD
Platform, London, England
Redeemer Environmental Stewardship Team (REST), Episcopal Church of the Redeemer, Mobile, AL
The Praxis Project, Washington, DC
Rochesterians Concerned About Unsafe Shale-gas Extraction (R-CAUSE),Rochester, NY
Rebecca O. Johnson, Akron, OH
Rev. Dr. Kristina J. Peterson
San Antonio Baykeeper, Seadrift, TX
Sassafrass. Waveland, MS/Orange Beach, AL
Save S-VE, Spencer-VanEtten, NY
Searching for Occupy, Barre, VT
Sierra Club Delta Chapter , Louisiana
Sierra Club Prairie Chapter, Edmonton, Alberta
Southwest Workers Union, San Antonio, TX
Sovereign People's Action Network, Woodstock, New York
Steps Coalition, Biloxi, MS
Tekrema Center for Art and Culture, New Orleans, LA
Tar Sands Blockade, Texas
Tar Sands Oil Mobile Coalition, Mobile, AL
Texas Environmental Justice Advocacy Services, Houston, TX
The Community Development Task Force, Moss Point, MS
Turkey Creek Community Initiatives, Gulfport, MS
Union of Commercial Oystermen of Texas, TX
Women's Health & Justice Initiative, New Orleans, LA
Zoe Sullivan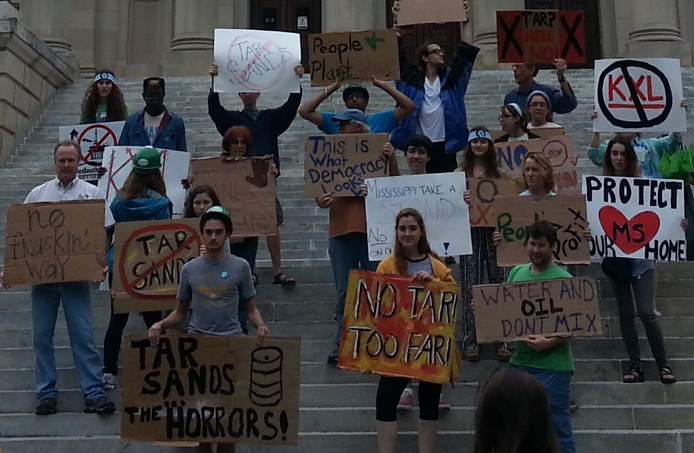 Jackson, Mississippi "Draws the Line" (photo credit Zachary Jarjoura)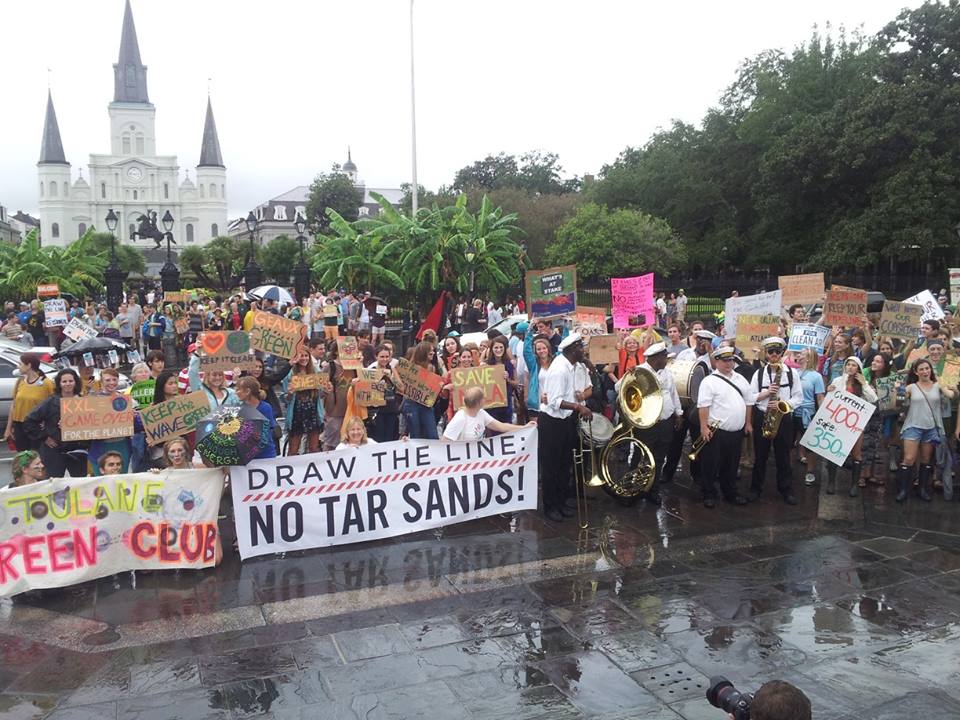 In New Orleans, residents 'Drew the Second-line against tar sands (photo credit: Magpie Anthony)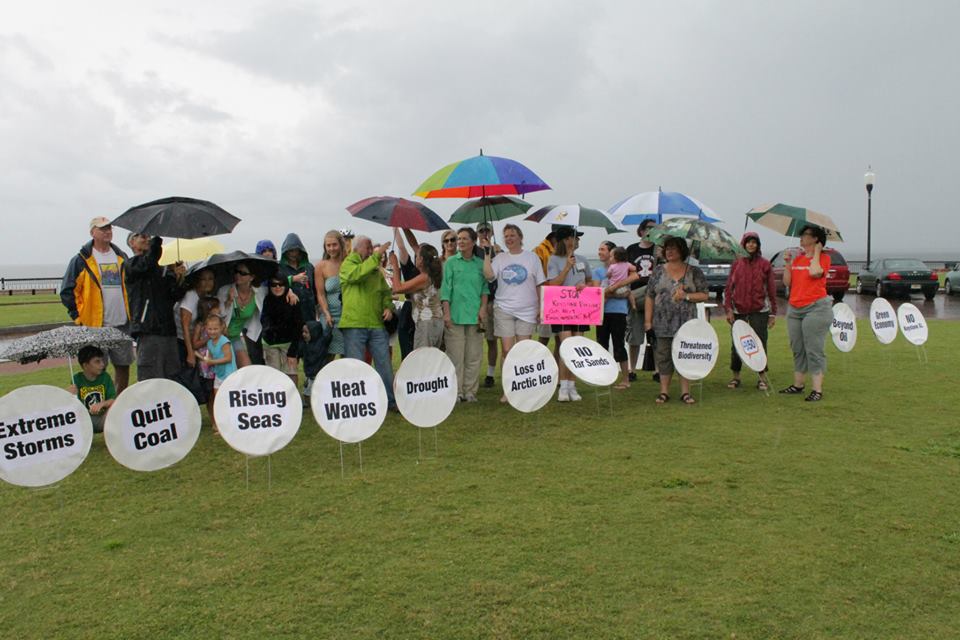 In Pensacola, participants gathered in the rain to 'Draw the Line'  (photo credit: 350 Pensacola)
Karen Savage teaches middle school math in the Boston Public Schools. She began volunteering in Mississippi's Turkey Creek community nearly ten years ago, and now volunteers for Bridge the Gulf, the Gulf Coast Fund, Turkey Creek Community Initiatives and the Gulf Restoration Network.