Citizens Affected by Oil Disaster Invite BP Chairman Carl-Henric Svanberg On Tour of Gulf Coast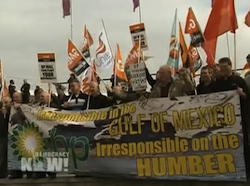 Bridge The Gulf contributors and advisors Bryan Parras and Derrick Evans arrived in London today, to attend the BP shareholders meeting.  Here's the press release they put out:
April 12, 2012 - London - Speaking in support of fishermen and residents of the Gulf Coast, citizen representatives plan to invite BP Chairman Carl-Henric Svanberg to tour coastal communities still being harmed by the ongoing BP Oil Drilling Disaster. 
Derrick Evans, from Gulfport Mississippi explained,

"The story BP is trying to sell to the media is that the causes and consequences of the spill have been effectively addressed and the company has met it's obligations. We want shareholders and the Board to know that what we are seeing on the ground is very different. We continually see oil surface in areas deemed 'clean' by BP, while tarballs, tar mats and other oily debris continues to wash ashore.  We are finding record numbers of dead dolphins and a whole host of other dead animals and damage along the Gulf Coast."
NOAA and their partners have discovered dolphins in Barataria Bay are severely ill, and some are unlikely to survive.  Recent research has confirmed that coral near the site of the oil gusher has been severely damaged and Auburn University scientists have found dangerous bacteria in tarballs. 
This is the second Annual General Meeting (AGM) held by BP since the 2010 explosion of the Deepwater Horizon and the second year Gulf Coast citizens have traveled to London.  Last year, in spite of having made proper arrangements to attend, residents were turned away at the last minute.  Bryan Parras, of Houston Texas, was among those shut out of last year's meeting.  He hopes to be able to address shareholders at this year's meeting.
"Last year, I was prevented from entering the BP AGM. This year, I will be attempting to deliver an even stronger message to the Board. They claim that the spill has been cleaned up. This isn't true. Oil is still impacting our communities, causing sickness, and triggering a collapse in fish stocks and local livelihoods. Many face overwhelming medical bills from illnesses associated with the spill and clean-up.  I will ask Chairman Carl-Henric Svanberg to accept my invitation to join me on a tour of the Gulf Coast in order to show him the true extent of the damages."


While Parras hopes to be able to deliver the invitation in person, at the AGM, the tour invitation stands either way.
"While we expect to be able to attend the AGM, and we have been assured by BP's event planners that we will be admitted, we also know that BP has stacked up quite a few broken promises back where we come from.  So I want Chairman Svanberg to know that our invitation to him is good whether we are welcomed into this meeting or not.  We simply want to show him the truth."
Bryan Parras is a leader of Texas Environmental Justice Advocacy Services, (t.e.j.a.s.) and Gulf Coast Fund Advisor.  Bryan is from Houston, TX.
Derrick Evans is the founder of Turkey Creek Community Initiatives (TCCI) and a Founding Advisor of the Gulf Coast Fund.  Derrick is from Gulfport, MS.
MEDIA CONTACT:
Joshua Pelletier
joshua@gulfcoastfund.org
1-603-320-9569

Image: Protestors outside of BP's 2011 shareholder meeting.  Video still from Democracy Now.