Gulf coast fishermen join Katrina victims and vow never to forget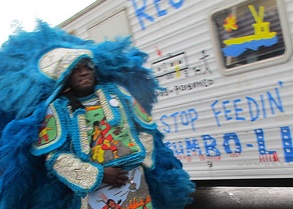 Crossposted from NRDC Switchboard

Five years ago today, the deadly floodwaters of Katrina breached the levies near New Orleans'  Lower 9th Ward, flooding this working class neighborhood to the rooftops. People clung like Titanic survivors to anything they could find. Some climbed trees and others perched on rooftops, desperate for help that seemed to take an eternity to arrive.
For many, help came too late. That included the young daughter and mother of 9th Ward resident Stanley Greene, who ended up in a tree as the rising waters filled the streets with debris and even bodies of his neighbors and friends. Yesterday, Stanley Greene placed a wreath in the same tree that saved him in memory of his lost loved ones. "We are back," he told a crowd of friends and supporters. "As survivors, we owe it to those who are no longer here to rebuild our neighborhood."

View more photos from the day.
A raucous brass band marched through the nearby streets, led by a Mardi Gras chief and son dressed in brilliant red and blue plumage. Residents of this devastated community city joined in the celebration along with supporters from other parts of the city and the state, determined to show the world that the spirit of New Orleans would not be broken.
The brass band and parade marched past the KatrinaRitaVille Express, a former FEMA trailer turned billboard for justice by community activists. The night before, fishermen and their supporters decorated the trailer with signs and slogans to call attention to the oil disaster still unfolding in the Gulf. "Stop feeding folks Jumbo lies!" one slogan read. Marchers gawked at the FEMA trailer, a symbol of failure and misery. Its message was clear. Fishermen and families along the Gulf are battling their own Katrinas as well.

View more photos from the day.
"We're came here from Florida to help spread awareness that the oil disaster is continuing to cause damage to families all along the Gulf coast," said Kathy Birren, a Florida commercial fisherman who drove to New Orleans with her son and daughter. "They can't just sweep this under the rug. The government has to stop lying."
Zack Carter, an organizer with the Alabama-based South Bay Communities Alliance, also was there to support the fishermen. His organization is still fighting for federal funds for nearly 1,000 low income families whose homes were damaged by Katrina in Mobile County. Many of those are tied to the fishing community. "Alabama is one of the most overlooked areas in terms of government assistance," Carter says, a statement backed up respected groups such as Advocates for Environmental Human Rights in New Orleans.  
Fishermen across the region are claiming that government tests are not painting the true picture of the oily pollution still impacting the Gulf coast. Yesterday several stories supported those claims. Reporter Dahr Jamail and photographer Erika Blumenfeld published a story in Truthout that confirmed oil in samples collected by fishermen in the coastal waters of Mississippi. The samples were analyzed for hydrocarbons by an independent lab, confirming hydrocarbon concentrations as high as 587 ppm.
"The government agencies say there's no oil in the water and that what we're pulling up is just algae," said James "Catfish" Miller, one of the Mississippi fishermen who took the samples.  " We know that's not true because we can smell and feel the oil. Now we have the proof. We're not out here pulling stunts. The government is painting these pictures like we're crazy and seeing UFOs. But every time we come out here we find plumes of oil under the water as thick as you can see."
Gulfport, MS, resident Linda St. Martin, a former shrimper, found out first-hand how hard it is to voice her opinion about oil in the water. Last Saturday at an Ocean Springs, MS, town hall meeting with state and federal government officials, St. Martin, a grandmother, was dragged out of the meeting by local police after voicing her disgust with officials who maintained the water was oil-free. "You got bullets in that gun?" she asked armed police who approached her and told her she was under arrest. She was slapped into handcuffs, taken to the police station and booked for disorderly conduct.  She says she has bruises from the arrest.
"I thought to myself, well the criminals really are in charge of the crime scene. Why is the government and big powerful BP afraid of people like me? The Department of Marine Resources (MS) keeps saying there's no oil out there and that it's all disappeared like magic. But that's not what we're seeing. Our fishing catches are low and we can't sell anything without signing a waiver of indemnity. They just want to blame the fishermen and hold us all responsible if anyone gets sick."
Meanwhile, stories and studies continue to bolster what people like St. Martin are seeing. Yesterday, the Pensacola News Journal published a story that thousands of pounds of weathered oil were being pulled up from Pensacola Bay each day despite repeated denials by BP officials. The newspaper reported that the Coast Guard confirmed an area of oil a quarter of a mile long and up to 50 to 60 feet off Barrancas Beach at Pensacola Naval Air Station, and that sunken oil was being pulled up in another area near the Gulf Islands National Seashore.
Also, the Louisiana Environmental Action Network produced a report today by environmental scientist Wilma Subra that found oil-based hydrocarbons and Polynuclear Aromatic Hydrocarbons (PAHs) contaminants in vegetation, crabs and oysters collected in the Louisiana delta.
The true impact of the world's worst oil disaster will not be known for years. The fishermen know it. They are sentinels on the front lines of this disaster. And like the Katrina victims, they know they are going to have to ride out a storm that will leave an indelible impact on their communities. They will have to be like Lower 9th Ward resident Ricky Getrich. "We're survivors," he said as marchers and residents filed past empty grass-covered spaces where homes once stood. Close by, the rebuilt concrete Mississippi River levy stood firm where it had once collapsed under a tidal wave of water. All hope it will withstand the next storm.   
But for Gulf Coast fishermen and their families, the battle has just begun. The oil disaster has upended their lives and poisoned their ocean environment. No one knows what it will be like five years from now. Like the residents of the 9th Ward, fishermen know it takes a village to survive, a village that stretches across the Gulf with a bond that's as strong as the ocean tides.