Katrina survivors respond to news of new housing assistance in Mississippi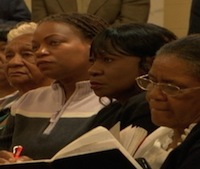 North Gulfport, Mississippi - Yesterday Governor Haley Barbour, HUD Secretary Shaun Donovan, and Mississippi housing advocates represented by Reilly Morse, announced a major agreement that makes $133 million available to assist low-income Mississippians in repairing their Hurricane Katrina-damaged homes. 
Here's how some residents and community leaders in North Gulfport, a predominantly low-income African American community where many people have been left out of housing assistance, responded:

Stephanie Thomas
North Gulfport Community Land Trust
North Gulfport, Mississippi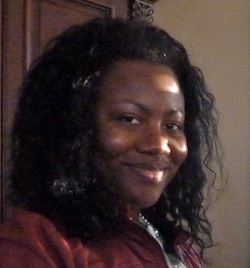 Hopefully this new program and the reallocation of the funds will mean more assistance for the low-income people of North Gulfport who really need the help, who really haven't had the chance to bounce back from their circumstance. 
I hope this program means a fair allocation of the monies.
[The North Gulfport Community Land Trust has] been working with Mississippi Center for Justice for surveying and identifying the people who have unmet needs in the community.  Because we're deep rooted in the community, we know a lot of the people. So hopefully we have a good pool to disperse these funds to.
Miss Grace Moses is a member of the community, and since the storm her wiring has been so questionable in her home she's almost afraid to move to certain parts of her home. So hopefully some of this money will find its way to her, so she can feel safe in her own home.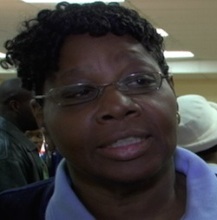 Maris Caldwell Fells
Turkey Creek Community in North Gulfport. Currently residing in Biloxi, Mississippi.
Q: Can you tell us a little bit about the victory today and what it means to you?
A: It's fabulous.  The idea of so many people getting help behind this.  We just think it is fabulous.  There's help coming back to Mississippi.  There's help coming to Alabama.  That there's some kind of assistance out there for people to get.
I was in an apartment at the time [of Hurricane Katrina].  We went into a travel trailer, and then we went into a full-sized trailer, and we're currently in a [different] apartment. But we had gotten turned down before for assistance… 


Q: Are you planning on applying?
A: Oh yes, definitely.  We received small amounts. We got the initial $2,000, and rental assistance when they moved us to this apartment for 9 months, and that was it.  So we've been kinda struggling to pay the rent, especially in this kind of economy...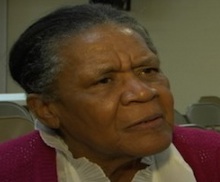 Lettie Evans Caldwell
Turkey Creek Community Initiatives
Turkey Creek Community in North Gulfport.
Q: Can you tell us about what happened today?
A: Today it was revealed that some of the money would be made available for people who were somehow through the cracks, so to speak, who did not get the aid that they needed, and they're continuing to struggle.  What's left to do is to be sure that people are able to access the money.
Q: How does this fit into the ongoing work of the Turkey Creek Community Initiatives?
A: This is like a culmination of what we've been doing.  In conjunction with the Steps Coalition, our executive director Derrick Evans has gone all over the country to lift awareness.  A lot has been invested in keeping people aware that we are still here, and that people are yet suffering.  And I feel very happy about those people. Some people have given all that they have in trying to do this. It's a milestone.
Q: How are you feeling?  
A: I feel very relieved.  I feel that there is justice, if today is what it appears to be.
Interviews conducted by Bryan Parras, Ada McMahon, and Liana Lopez. Interviews editing for length and clarity by Ada McMahon. 
See related post: Q & A with Reilly Morse – attorney behind MS housing victory, HUD's new Katrina program