Behind the Scenes: The Daily Show comes to Turkey Creek, Mississippi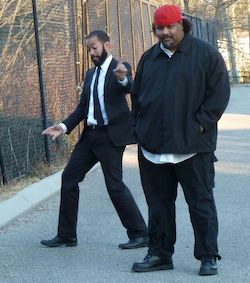 Tonight the small African American community of Turkey Creek, Mississippi will hit the limelight on The Daily Show with Jon Stewart.
Check out these behind-the-scenes photos of the filming of the episode, featuring comedian Wyatt Cenac (The Daily Show) and Derrick Evans (director of Turkey Creek Community Initiatives and Bridge the Gulf contributor).  And watch The Daily Show tonight, Monday January 24th, for the full story.  It airs on Comedy Central at 11pm ET / 10pm CT.
We don't want to give too much away, but there should be some hilarious Wyatt-Cenac-style freak outs.
UPDATE! Watch the show here.
Read: A different take on Turkey Creek's epic story.
See more photos on Bridge The Gulf's Facebook page.
Follow along on Twitter as we livetweet the show.