Citizens Harmed by BP's Disaster to Share Experiences, Oppose Ill-Advised Pipeline
On August 23 a delegation of more than 20 Gulf Coast citizens, including myself,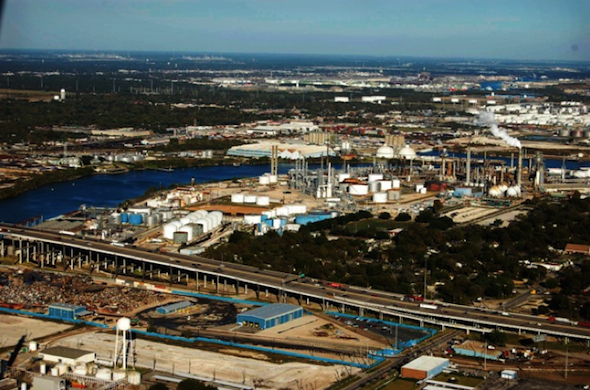 BP first responder clean-up workers, fishermen and community organizers will be traveling to Washington D.C. to join our voices with indigenous leaders, scientific experts, celebrities and environmentalists in opposing the proposed Keystone XL Tar Sands Pipeline.
The proposed pipeline, which would run from Canadian indigenous communities to coastal Texas would carry extremely dangerous tar sand oil, like that which spilled into Michigan's Kalamazoo River last year, through many vulnerable areas - including right over the underground aquifer that supplies drinking water to 12 million people in 60 Texas counties.
We stand strongly opposed to this ill-advised proposal based on our continuing experiences and adverse affects from our disaster here.
Two of the communities in the Gulf which will be affected are Port Arthur and the Manchester neighborhood of Houston - both of which have had their fair share of industrial pollution affects with regards to health. We stand in support and protection of our citizens living in those Texas communities.
Truly, we are one family. We are one coast.
Amid reports of fresh oil coming ashore and a sheen near BP sites, we are also organizing meetings with federal agencies in Washington, and media in D.C. and New York, on behalf of those affected from the BP Oil Catastrophe.
Many of those who are traveling up north are sick themselves, and it is humbling to see such courage and faithful solidarity among them. These are some of the heroes of our time.
Take heart, we will make our voices be heard. And we will fight to stop continuing tragedies, with hopes of protecting others from the same horrifying reality to which we have dealt with for more than a year.
Most importantly we will find justice and fruitful recompense for our communities still struggling with health issues, economic devastation and ecosystem contamination in all 5 Gulf states.
To watch a video to see how tar sands extraction has hurt communities please consider this report from National Geographic
http://ngm.nationalgeographic.com/video/player#/?titleID=canadian-oil-sands&catID=1
To view a photo gallery, also by Nat Geo, including cancer survivor Emma Michael who lost her sister, brother and mother to the disease - along with 1200 others who live in the small community, go here  
http://ngm.nationalgeographic.com/2009/03/canadian-oil-sands/essick-photography
Donations are now being accepted through Gulf Restoration Network for travel expenses and supplies of the delegation in and around New York City and D.C. To make a tax deductible donation please go here
https://secure3.convio.net/grn/site/Donation2?idb=723022219&df_id=1180&1180.donation=form1&JServSessionIdr004=p3ng4ad0d8.app333b . NOTE: Please designate funds for "August 2011 D.C. delegation" on the form.