Little Woods, a Forgotten Community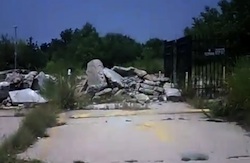 In far New Orleans East, between Lake Pontchartrain and I-10, sits the forgotten community Little Woods. Since Katrina, few resources and programs of assistance have reached this community, which is 95% Black.
Residents who have come back got very little assistance from their insurance or Road Home (Louisiana's program to help homeowners rebuild after Katrina), and have done their best to try and put a community together.   Since Katrina, they have only a small area that has been redeveloped by the uniting of the homeowners in this community. This is a community thirsting for attention and HELP. 


At a community meeting held by the Equity and Inclusion Campaign and New Home Ministries (which I work with) in November 2010, people came together to identify what was really needed for so many elderly homeowners.  A number of homeowners did not come back because of a lack of funds to put their homes in a livable order.
At the meeting, homeowners identified that lighting on the streets is greatly needed. Schools, libraries, playgrounds, security (police), and most of all grocery stores and medical facilities are greatly needed.  Persons have to go as far as Slidell, St. Bernard Parish, and Metairie, nothing closer than 15 miles, just to purchase groceries, not to mention medical attention or supplies. Transportation is at a minimum, and public transportation leaves persons to have to still walk at least 2 miles after getting off the bus. Six years after Katrina, basic infrastructure is missing in Little Woods.
Community Voices
Ms. Shirley Maxie lives on Beekman St., near the eastern edge of Little Woods close to where the neighborhood gives way to the swampland of Bayou Sauvage.  Ms. Maxie has been able to restore her home, but told me that they don't yet have street lighting, that NOPD does not provide security here, that the streets need to be fixed, and that she must fight off alligators and many rodents that come from a canal behind her home. 
She states in her interview that their community has been forgotten,  "We have poor street lighting.  We have poor streets.  We have trash, glass, and blight… This neighborhood is not thriving like it should be thriving."
Iris Patterson's children, 18 years old and 10 years old, have to walk 17 blocks to be transported to school morning and night, rain or shine.  Their home is towards the rear of Little Woods, near Ms. Maxie's.  On their walk home some streets have no lights, and she worries about her safety and her children's safety. She worries that the abandoned house near hers and the lack of lighting invites crime.  Ms. Patterson stated that around the first of September, a student was shot and killed at the playground while her children were there.
Six years later after Katrina, Mr. Brooks and his wife are still not able to inhabit their home because of a lack of funds.  He and his wife live on the other side of Houma with his daughter, and his wife is disabled.
As you view his interview and his home, remember HELP and HOPE are truly needed in an area that has PAIN and has been FORGOTTEN.  Mr. Brooks states there are no stores available for this community. They have to go as far as 15 miles or more to Slidell, St. Bernard Parish and to Metairie, for Medical care. He is residing with his daughter in a River Parish.  Their home lacks labor to assist in finalizing living conditions as well as bathroom and kitchen cabinets. 
Here's a look into Mr. Brooks' home:
This store (see video) is the closest store available for persons to shop for food.  It is only a convenience store with limited supplies and meats that I wouldn't want to serve to my family.  When I entered this place of business, it had an unusual odor.  It is not able to serve a community of this size.  However, many are subject to this type of shopping because of a lack of transportation.
Solutions
Though Little Woods has been forgotten by so many, there are people and groups fighting for the future of this community. Little Woods has a Homeowner Association that is striving to get their community in order.  Earlier this year they had a blighted apartment building torn down.  Now, New Home Ministries' Pastor R.C. Blakes is working in partnership with the community to develop that same area.
The community is asking for it to become a mini-mall that will have a grocery store, medical care, and a place for senior citizens.  This will bring much needed services to the community.  Pastor Blakes with New Home Ministries is in the process of bringing together a one stop meeting to have the Mayor do a tour. State Senator Willard-Lewis is also working with Little Woods and other communities on housing and the Road Home program.
A number of other community groups and nonprofits are playing a role.  Silent No More Ministries (who I work with) is stressing and pushing for more organizing in order for these people to have voices. Greater New Orleans Disaster Recovery Partnership, Fair Housing, Louisiana Appleseed, and LA Civil Justice Center are playing a significant part in helping people to restore their homes.  Housing is a key issue. Housing roots a community, and gives us the incentive to go to another level. 

Total Community Action has already begun good work in this community to provide James Singleton Day Care. Community leaders are reaching out to the Mayor for community development dollars for this forgotten community.
Little Woods is truly pressing to become a community again, with transportation, housing, schools, playgrounds, medical, security, a clean community, etc. People are ready to go out at night and not be faced with a robber, alligator, snakes, without even street lights and Police to protect them. Little Woods is crying out to not be forgotten. 

This is not just Little Woods' fight, but all communities' fight to become whole once again.
 
When we are forgotten, who we are and where we are is forgotten. It is pain when we are forgotten.  We must remove the pain. We must stand for where we live and not just live anywhere. We must represent for our generation that is here, and yet to come.
 
----------
Linda Jeffers is a community educator and organizer in New Orleans, Louisiana. She has been organizing for thirty one years, and lived in New Orleans since 1970. During Hurricane Katrina, she became a voice and organizer of evacuees in the Astrodome and throughout Houston, Texas. She has worked on issues such as hurricane recovery, homelessness, and the BP oil disaster. Linda bridges communities with churches, and helps to develop policy at a local, state, and federal level. She also gathers stories and testimonies from the people, for the people, documenting lives on the Gulf Coast.