My adventures at Power Shift 2011
Washington D.C., our nation's capital; The land of big embassies, big politics, big corporations, and don't forget, big polluters. 

On April 15th -18th, Washington D.C. was also home to Power Shift 2011, a youth climate summit and organizer trainer. 
Nearly 10,000 people converged from all across the U.S. to network, educate, advocate, learn and raise awareness about climate, environmental, and justice issues around the globe. This isn't just about solar panels and wind power. It is about all sorts of issue that affects our everyday life and our future, from the Japanese Nuclear power plant disaster to the BP oil disaster.
The one thing I really loved about Power Shift 2011 was the workshops they had offer, from leadership workshops to learning how to lobby.  They had panels and workshops on the disaster in Japan, greening high schools, the impact of war and militarism, and how the food we eat affects our environment.
One of my favorite workshops was on storytelling. Storytelling is a very powerful tool that we use everyday without even knowing, and has a great influence on the people around us.   So what is my story, you ask?
I was born in Missoula, Montana. When I was about a month old, my family moved down to Biloxi, Mississippi. My mom and dad were both refugees from the Vietnam War. When my mom and dad came over here to this country, they had very little education and spoke very little English, so they got into the shrimping industry. I grew up mostly around the boat. I learn how to drive a boat before I actually learned how to drive a car. 

My family didn't have a lot of money. I have been working and helping the family business since who knows when.
Back in 2001, my family took a devastating loss. The price of shrimp dropped due to imported shrimp from China. The price of a barrel of oil sky-rocketed. It was costing us way too much to operate. 

In the end, my daddy filed for bankruptcy. It was a done deal. It was the most horrible feeling and position to be in the world. There were a lot of sleepless nights. I hoped that no one ever has to go through what we had to go through. 

But we began to recover.  Just a little sacrifice and hard work paid off. It wasn't a quick fix over night. It took about 10 years to recover from a loss that big.
In 2005, Hurricane Katrina came in and destroyed the place I grew up. Katrina basically rearranged all of our lives. Since then, Biloxi was coming back slowly but surely. It seems life was starting to be rebuild again. I was enjoying my life living along the Gulf.  I still occasionally have dreams of being on my family's first shrimp boat and yes, I still do fish the Gulf of Mexico religiously.
Until April 20th, 2010, when an explosion rocked the Deepwater Horizon offshore drilling platform. It killed 11 workers and caused 1 suicide, may their souls rest in peace.  The disaster didn't stop there. The automatic shut-off on the well failed. Millions of gallons of oil spilled into the water for nearly three months, destroying everything in its path. This was a total nightmare for me again. I even asked myself, "Is this happening? Am I dreaming?"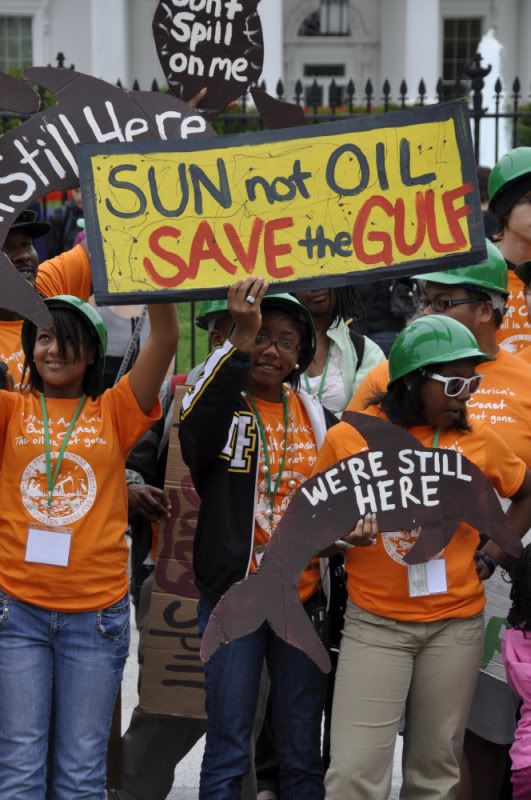 Growing up on the sea, I knew what was going to happen to the future of the seafood industry. I knew most of these fishermen were going to lose their jobs. I knew it was going to be hard to pay the bills around the house. I knew what it was going to be like trying to put food on the table for your family. I knew there was going to be a lot of red tape. I just had this feeling.  I knew. I wasn't going to let this happen to my friends and family. It is a horrible feeling. That is why I traveled to Washington D.C., for Power Shift 2011. This is my home and this is my way of life. I have fished the Gulf of Mexico.
*****
It's hard for me to summarize what happened in the four fun, intense days I was at Power Shift.  I met a lot of young leaders doing good for their community, and heard a lot of stories.  It provided great learning experiences, resources and tools for young advocates like me.
Above all, I learned there are all walks of life on this planet. We don't all live, eat or breathe the same. Each and every one of us has a very unique life.  But I know one thing we do have in common. We all live on this planet we call "Earth".  It is ours and we share this planet with everyone else on it.  I believe we should keep it clean and preserve for the future of our humanity.
I hope you all enjoy my photos of Power Shift 2011. I can express more through my pictures. Please enjoy and see you at the next Power Shift summit.