New paralegal training provides ray of hope for formerly incarcerated people in New Orleans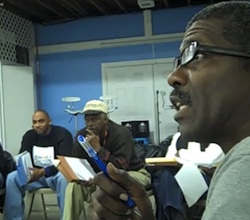 Drive down this short stretch of St. Bernard Avenue, and you will see signs of a struggling neighborhood in despair. Bars, blighted homes, metal-grated storefronts, and the still-shuttered Circle Food Store tell the story of this strip.  Here in New Orleans' 7th ward, hope and sustenance have been drained by Katrina's floodwaters, and by decades of racism's insidious trend of sapping vital resources from a community.
But there is vitality too. Fresh vegetables are sold on the sidewalk outside Circle Foods.  A few new, small businesses are slowly gaining a foothold. The surviving barrooms, central institutions to the music and culture of New Orleans for generations, are gathering places for local politicians, community advocates and neighbors from diverse class backgrounds.
This ironic mix of vitality and despair isn't unique in New Orleans, but the small beacon of hope in the middle of the 1200 block is. Within the walls of a small storefront, The RAE House (pronounced "ray") hosts an innovative new class that's beginning to resurrect hope. 



Resurrection After Exoneration's (RAE's) brother organization, VOTE (Voice of the Ex-offender) holds its Paralegal Training Class here twice a week.  The class is unique in that it trains Formerly Incarcerated Persons (FIPs) and their loved ones about the law and legal system. The hope is to create a new team of paralegals, legal secretaries and community legal advocates, made up of the people most impacted by Louisiana's failing criminal justice system. The charter class began in November.
WATCH: VOTE's unique paralegal training program

Seeds for legal training planted in Angola
The vision for the Paralegal Training Class began more than 20 years ago in the Louisiana State Penitentiary (better known as Angola).  Two men serving life sentences, Norris Henderson and Kenneth "Biggy" Johnston, became legal scholars in the prison's law library, logging long hours studying rows and rows of case law and reviewing the individual cases of their fellow prisoners. It was through the knowledge they gained by reading, exploring, and working on other prisoners' cases that they were able to eventually win their own freedom through the courts. 

Their knowledge and experience helped make them respected leaders in the prison. Mr. Henderson and Mr. Johnston became inmate counsels, representing prisoners who went up before the disciplinary board. They then founded the Angola Special Civics Project, to activate a politically engaged block among the prisoners. This block was able to change prison policy and lobby legislators.  Ultimately they even changed laws. Their efforts helped passed the so-called "old timer's act." Also know as the 20-45 law, this law created parole eligibility for prisoners sentenced to life for heroin distribution who were over 45 and had served 20 years or more.  Middle-aged men who had gone into prison as mere youth were now gaining freedom, thanks to the advocacy and knowledge of these "jailhouse lawyers."
Now, Voice of the Ex-Offender (VOTE), the organization founded by Mr. Henderson years after he left Angola, is trying to accomplish the same thing on the outside.  The Paralegal Training Class equips Formerly Incarcerated Persons and their loved ones with enough legal knowledge to serve their broader community. Students attend the free classes two evenings per week, three hours per class. They are instructed by Mr. Henderson, Mr. Johnston and Calvin Duncan, who was exonerated recently from serving over 28 years for a crime he did not commit. Together these three have over 60 years of legal studies and practice. They teach constitutional law, criminal procedure, legal research and basic analytical skills to the eager students, who deftly apply the lessons to their own lives and experiences.
Lessons hit students close to home
Vernon went to prison when he was 17 years old. Laverne's husband spent 18 years in prison for a murder he did not commit, 14 of those years on death row. Ms. Betty's son has been in prison for over 20 years. Mr. Chopin volunteers as a Muslim Chaplin to hundreds of inmates and detainees in Orleans Parish Prison.
Their motivation to study law and participate in the training programs stems not only from their personal experience, but also from the countless people that they know are in need of support. "I know that with what I learn in this class, I might be able to do something meaningful for all the people I left back there [in Angola]," says Eugene Dean, a student and long time member of VOTE.
Ms. Elois Reed takes an even broader view. "The class is energetic. We love to be in class, we love to learn all this. It is like this because it is bottled up inside the people…. Things are hard, people are struggling. They have our backs up against the wall. But this knowledge can make a difference…. I really believe we are a sleeping giant. And this class, this knowledge, this is what it is taking to wake us up."
The intense interest from the students has already had an impact: the class is being extended from the originally envisioned 10 weeks to 14. A new term for incoming students is projected to begin this summer. The current students are beginning to discuss next steps. Some want to pursue careers as paralegals, to work on their loved ones' cases, and to become legal resources to community members who can scarce afford access to most legal advice.
But they also want to do more. The long term vision is to create a policy think tank that can study, change and make policy, with the ultimate goal of creating a public safety system that works and that focuses on the root causes of crime.
This is the beacon of hope shining across the dim stretch of St. Bernard Avenue. Every week, it gets a little bit brighter.


______
Rosana Cruz is Associate Director of VOTE (Voice Of The Ex-offender). Previously Rosana worked with Safe Streets/Strong Communities and the National Immigration Law Center. Prior to joining NILC, she worked with SEIU1991 in Miami, after having been displaced from New Orleans by Katrina. Before the storm, Rosana worked for a diverse range of community organizations, including the Latin American Library, Hispanic Apostolate, the Lesbian and Gay Community Center of New Orleans, and People's Youth Freedom School. Rosana came to New Orleans through her work with the Southern Regional Office of Amnesty International in Atlanta.