Sisters help sisters, at Biloxi summit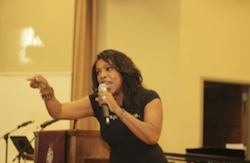 Earlier this month the "Sisters Helping Sisters Live Healthy, Wealthy and Wise" tour came to Biloxi, Mississippi, and Coastal Women for Change was a proud co-host.
The purpose of the event was to demonstrate how important it is for women and girls to put health first, along with other important issues; For example, being wise about making decision that are good for us not just temporarily, but for our longevity. Coastal Women for Change addresses women's issues on a daily basis, so it was and is a perfect fit. 
Over 100 women and young ladies attended the summit, on Saturday October 8, 2011 at the Gulf Coast Kroc Center.  The tour is put on by the National Coalition on Black Civic Participation.  LaTosha Brown, NCBCP organizer, stated, "We will be back next year!"
The summit was free to the public and included Zumba class, health, education and youth workshops. Participants also enjoyed a healthy brunch, praise dancing and a keynote message from actress Sheryl Lee Ralph.  We addressed taking care of our bodies through education and exercise, and learned from each other in sisterhood.  We discussed wealth, as in how financial education must be a part of this initiative.
We had young ones as young as 10-years-old exercise and attend workshops on bullying and sex education, etc.  So it was not only for older women it was for all girls and women, which we don't get enough of.  It was truly about sisterhood and sharing and caring about each other from all ethnicities.
Most of our participants are asking when and where will be the next one. This is just what we needed to get back on track. The young women felt energized and motivated and lifted by the end of the day. They were so happy to have sacrificed their Saturday to take care of "self," meet other women, and take home positive words to share with other women.
-----------
Sharon Hanshaw is Executive Director of Coastal Women for Change, in Biloxi, Mississippi.  A native of Biloxi, Sharon worked as a cosmetologist for 21 years.  She got involved in community organizing and activism after Hurricane Katrina, working to make sure that community members are decision makers in the recovery process.  Coastal Women for Change (CWC) focuses on women's empowerment and community development through programs for the elderly and children.