Toxic chemicals in Texas fire threaten communities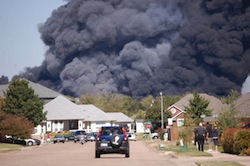 Lax regulations on chemicals put everyone at risk.
A fast-moving, "out of control" fire erupted at the Magnablend Chemical Company in Waxahachie, Texas, this afternoon. The fire has forced the evacuation of at least one elementary school in this Dallas suburb, and the nearby Navarro College, according to news reports.  Residents have been advised to stay indoors to avoid dangerous gasses.
Susan Smith, a grandmother living in the area, is angry that there are no systems in place to protect rural residents when a contamination happens, "It is unconscionable that we are being exposed to poisonous gases and the company's own spokespeople don't know what they are. And they may address short term problems, but what about when we get sick years from now, because of this exposure, with cancer and other illness?" Smith was evacuating a grandchild who has health problems to a safer location, as of this writing.
Photo by Scott Dorsett, via NBC.com.
The people who live around these facilities are the real victims.  They live in a constant state of 'shock' that one day an accident will occur and their families will be exposed to the many 'unknown' chemicals on site.  The firefighters and first responders are the second victims who come to the scene ignorant of the chemicals being stored inside.  How is one expected to protect themselves or others without that knowledge beforehand? No child should have to be removed from school because of an industrial chemical fire.
Dr. Neil Carman, clean air program director for the Sierra Club's Lone Star Chapter, says that the fire "supports a critical need for a strong Clean Air Act to protect public health from extraordinarily large volumes of toxic air pollution when accidents like this occur.  Most industrial accidents such as this one are preventable according to investigations of other chemical plant accidents."
Ironically, on Tuesday, Texas Congressman Ralph Hall of North Texas is holding an Energy and Environment Subcommittee Hearing: Quality Science for Quality Air to attack the US EPA at a time when the agency provides a critical role in protecting environmental quality.
BRYAN PARRAS is the Media/Youth Empowerment Coordinator for TEJAS (Texas Environmental Justice Advocacy Services) in Houston Texas, a co-producer of "Nuestra Palabra: Latino Writers Having Their Say" (KPFT / Pacifica FM 90.1), and an advisor to the Gulf Coast Fund for Community Renewal and Ecological Health. He uses still photography and video production to document environmental racism and empower communities engaged in struggle for environmental justice. Formerly he served as director of photography/videography and chief editor for the Maria Luisa Ortiz Cooperative project in Mulukuku, Nicaragua.