Black Herstory: Ms. Rose Johnson of Turkey Creek, Mississippi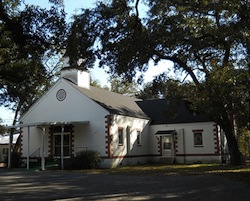 By Mia White, crossposted from Ms Magazine. An hour's drive east of New Orleans along the Gulf of Mexico, there thrives the largely unknown historic black settlement of North Gulfport and Turkey Creek, Mississippi, established in 1866. Despite Interstate 49, which separates North Gulfport from Turkey Creek, these two historically connected communities still organize as one and together advocate against gentrification, environmental racism, and the unsustainable infill development of the Turkey Creek watershed, which community leaders insist makes their historic enclave of kinfolk dramatically flood prone.
For years, the founder of the North Gulfport Community Land Trust, Ms. Rose Johnson, has largely been the de facto spokeswoman for the North Gulfport community. Born and raised in the community, Ms. Rose is clear about the social reasons that the physical place of Turkey Creek provided safe haven to African Americans. She said that blacks were not permitted to swim in the Gulf of Mexico, so "we played in the Turkey Creek" and,
"we also used it for baptizing and fishing. We didn't have to worry about white people driving by and yelling, 'Niggers go home!' and throwing stuff at us. Nobody else wanted this area, so our parents and grandparents created these little neighborhoods and churches."
It was a neck injury that conspired with fate to enlist Ms. Rose, a former employee of the Mississippi Department of Highway Patrol and Safety, into her current role of community and environmental activist.
Read the rest of the article: http://msmagazine.com/blog/blog/2012/02/17/black-herstory-ms-rose-johnson-of-turkey-creek-mississippi/