"Defend the Gulf" Short Film Contest Calling for Submissions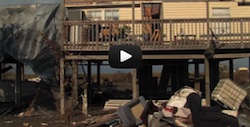 Gulf Restoration Network is currently accepting submissions for their annual Defend the Gulf: Short Film Showcase. The contest is a great opportunity for filmmakers, videographers, and Gulf supporters to utilize their talents to create short films, defend the Gulf, and win big prizes.
We are looking for short films and PSA's to communicate the Gulf's environmental issues and promote restoration. From the history of the Atakapa-Ishak tribe that has witnessed the wetlands disappear over generations to surfing (or not surfing due to pollution) off the panhandle of Florida, the Gulf has many environmental stories to tell. You can help by sharing your story!
Winners will be divided into three categories: Best Short Film, Best PSA, and People's Choice Award. Each film contest winner will receive prize packages worth over $1,000, including two VIP Weekend passes to Voodoo Music Festival. Winners and runners up will be featured in the 2012 Defend the Gulf Short Film Showcase, which will be screened at over 200 events hosted by GRN volunteers all over the country, the Timecode:NOLA FFone Film Festival, and the Voodoo Experience Music Festival.
Deadline for videos is August 15, 2012. Don't miss the chance to get your talents noticed and defend the Gulf of Mexcio!
Detailed submission guidelines and other information can be found at www.healthygulf.org/shortfilmshowcase.
Aaron Viles is the Deputy Director of Gulf Restoration Network.  Follow him on Twitter here.