"Exhale and welcome the change" - My interview with HealaSister.com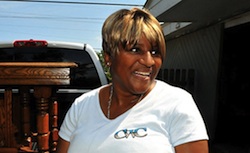 I recently shared a bit of my life story with the website H.E.A.L. a Sister (tagline: dedicated to the well-being of all women). Please take a look:
Sharon Hanshaw Shares Her Story
What would you do if you found yourself homeless and jobless in a matter of a few hours? Some women might retreat and give up. But that is not what Sharon Hanshaw did. Seven years ago when her business and home were destroyed by hurricane Katrina, she decided to fight back and not only survive but thrive in the process.
Prior to the storm,  she owned a beauty salon and was quite content being a hair care professional and business woman. For almost 21 Years she owned and operated the salon and empowered women by making their hair beautiful. After the storm, Ms. Hanshaw became the leader of an organization that would not only give her the courage and voice to speak up advocating change, but also empower others in her community to do the same. In 2006 Coastal Women for Change, CWC , was born from a grant and Sharon Hanshaw became its leader. Going from salon owner to executive director of a non-profit organization in my book makes her a Sister who Rocks. I had to talk with this sister and find out how it all happened.
Me: "Thank you Ms. Hanshaw for sharing your story with HealASister. I believe it will encourage many women."
Ms. Hanshaw: "Thank you too. The article would not be real if I didn't mention my parents The Rev. Louis and Mamie Peyton. My parents owned and ran The Kitty Kat Restaurant on Main Street in Biloxi, Mississippi. Through their hard work they showed us kids we can own our own businesses. My father would say, 'pray and believe, and always believe you can do instead of can't do.' They are truly missed and will never be forgotten."
1. After experiencing such a loss, how did you begin to put your life back together?
After exhaling and literally visualizing my family and friends homeless, I felt the need to talk to God and wait on him to lead me. It took me about 9 months to become fully engaged in helping rebuild our community in East Biloxi which is known as Ward 2 in Biloxi, MS.
2. Where did the idea of CWC come from?
While enjoying my granddaughter's basketball game, after leaving the women's group meeting. I thought that is not a name for future women on the move. So I jotted some names down for the women to vote on at our next meeting. From that meeting the women voted Coastal Women for Change would be the name for the women on the move. The idea was to bring women from all over the coastal area together and to have their voices heard.
3. What is the greatest accomplishment of CWC yet?
When we women came from all ethnicities to our Mayor Holloway and demanded to be a part of the decision-making process. We had Vietnamese women, Latino women as well as white women to come together. We also invited the mayor to our meeting. From that meeting on, women were sitting on all the following committees: FEMA elevation, Affordable housing, Senior programs and Economic development and CDBG funds, Community Development Block Grant committee.
Me: In other words, The women were having their say about what changes would take place in their community and how those changes would be implemented.
4. Most salon owners and hair care professionals are great listeners and advisors to their clients. How has that role if at all helped you in your new role as director of CWC?
My belief is the script for each of us is already written, if we listen we will become that strong person. Being a cosmetologist was preparing me for my future leadership role in the world.  I must say,  I didn't see it coming. But surely welcome the ride and feel so blessed because of it.
5. What is it about women that makes us great leaders and motivators?
The fact is women are strong and are natural caregivers. Through those traits that were inherited by their grandmothers, women seem to build character and perseverance. When times get tough women elevate and step up in ways that makes us survivors. CWC has become an example for communities all across the globe. Women from the south can make things happens as well. Research the women of the gulf and become enlighten.
6. What future impact would you and this organization like to make in order to change lives and communities.
By making sure that the community becomes sustainable and advocate for themselves through education. It is a slow process but worth it. You start by building trust and being there when needed.
7. What advice can you give other women who find themselves in unexpected transitions in life?
Exhale and welcome the change.   You never know who you will bring hope, through valuable words or just by being an active listener.  Through it all my major expectation is that women start respecting each other. It's truly important for our young girls' growth.
The organization is committed to raising awareness and addressing issues that affect its community. Some of the community programs at CWC include:

• Youth mentorship
• Leadership/Skills Programs
• Senior Computer Programs

• Community Garden Programs

• Coastal Restoration
-----------
Sharon Hanshaw is Executive Director of Coastal Women for Change, in Biloxi, Mississippi.  A native of Biloxi, Sharon worked as a cosmetologist for 21 years.  She got involved in community organizing and activism after Hurricane Katrina, working to make sure that community members are decision makers in the recovery process.  Coastal Women for Change (CWC) focuses on women's empowerment and community development through programs for the elderly and children.