ExxonMobil's Misinformation about Benzene Spill Infuriates Neighbors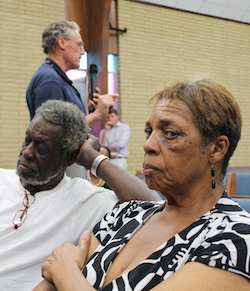 Baton Rouge, Louisiana - A June 14th release of Naphtha – a mixture of flammable liquid hydrocarbon – from ExxonMobil's Baton Rouge Chemical Plant is under investigation for being severely under-reported by the corporation. Neighbors of the plant say the spill, which included the cancer-causing chemical benzene, has made them sick, and are infuriated about ExxonMobil's under-reporting and lack of communication with them. ExxonMobil initially reported that the release contained only 10 pounds of benzene, but a later report indicates that 28,688 pounds of benzene were released.


"I am scared. How do we know what happened? Who is responsible for telling us about these things? And when?," one resident of neighboring Standard Heights asked, at a meeting hosted by the Environmental Protection Agency (EPA) on August 14th – two months, to the day, after the release.
Photo: Frustrated neighbors of the ExxonMobil Baton Rouge Chemical Plant listen at a meeting hosted by the EPA, August 14th, 2012. By Cherri Foytlin.
In a full room, residents from the neighborhoods of Standard Heights and Istrouma in Baton Rouge repeatedly chastised ExxonMobil, the Louisiana Department of Environmental Quality (LDEQ), and the EPA for what they see as a less than efficient response to the event.
Residents say the Naphtha spill has caused them health ailments, with severe headaches and respiratory problems being common symptoms. Two babies were reportedly hospitalized after vomiting white fluid at the time of the release. Benzene, a carcinogenic organic compound found in crude oil, is also known to cause severe long-term effects like bone marrow failure, leukemia and aplastic anemia.
At the EPA meeting, Tyrone Chambers of the environmental group Louisiana Bucket Brigade spoke out against ExxonMobil. "We trust, obviously we shouldn't, that the company will protect us – our health and our homes. And they have failed at that," he said.
The ExxonMobil chemical facility is in a primarily Black area of Baton Rouge, 93.5% African American according to the 2010 Census. This fits the regional and nation-wide trend of industrial activity often being located in impoverished Black communities, and other communities or color. According to Dr. Robert Bullard, a leading national expert on Environmental Justice, "African Americans are 79 percent more likely than whites to live in neighborhoods where industrial pollution is suspected of posing the greatest health danger." The area neighboring the ExxonMobil facility is also low-income and has more women (53.1%) than men (46.3%).
Many residents questioned government policies that allow companies to regulate themselves when it comes to reporting chemical releases.
Sam Coleman, acting Regional Administrator for the EPA, sympathized with the residents, yet explained, "We work under a system of laws and regulations, where there are thousands of companies that report effectively and accurately. Companies found out of compliance with that are held accountable through fines and other things. But until Congress changes the way things are done, this is how we respond."
The initial report of the Naphtha release to the EPA happened at 5:30 AM on June 14th, when representatives of ExxonMobil advised the National Response System of a 10 pound discharge of Benzene and reported that the spill was contained. The Clean Air Act limits acceptable Benzene releases to 10 pounds, as does the Louisiana Department of Environmental Quality (LDEQ).
But a state mandated report from ExxonMobil to the LDEQ says the same event released approximately 180,000 pounds of Naphtha; containing 28,688 pounds of Benzene; 10,882 pounds of Toluene; 1, 564 pounds of Hexane and 12,605 pounds of additional Volatile Organic Compounds (VOC).
The Louisiana Department of Environmental Quality says it is investigating the discrepancy. Cheryl Nolan, of LDEQ explained at the EPA meeting, "This matter is still under investigation. We are taking this investigation very seriously, and we will hold ExxonMobil accountable, let me assure you."
ExxonMobil "could face civil penalties of as much as $27,500 per day of violation," according to a report issued by the Louisiana Environmental Action Network.
Residents and local environmental action groups are not waiting for the LDEQ timeline of accountability, however. In a letter to EPA administrator Lisa Jackson the Louisiana Bucket Brigade (LAAB) explained how they had been contacted by both residents and workers inside of the plant, beginning on June 14th, concerning strong odors in the air and health problems.
LABB says that they contacted both the LDEQ and the EPA on June 15th, but that their concerns were "dismissed" by EPA official Esteben Herrera, and by Nolan, who reportedly stated that, "the benzene release was less than reportable quantities and that everything was under control."
The group asked for an investigation into the initial reason for the release, an impact statement on the workers and the communities affected, and a review of the "adequacy of the response by the LDEQ and … the EPA."
LABB was also on hand at the August 14th meeting, bringing 5,000 letters from residents across the state slamming the Baton Rouge ExxonMobil refinery for what they see as a recurring issue of potentially health-destructive chemical releases.
"Exxon's track record includes over 900 reports of accidental release," LABB's Anna Hrybyk, explained to those in attendance. LABB literature at the meeting read,"ExxonMobil has an accident problem. They have the highest number of reported accidents in the state since 2005," with an increase in accidents every year since.
Derek Reese, senior Section Supervisor of Permit and Compliance Coordination with ExxonMobil Chemical was present during the meeting and openly refuted LABB's claims.
"That's not correct," he emphatically stated, accusing Hryrbyk of "overkill."
Addressing the crowd, he added, "We're proud to be here and it's important to have direct communication with our neighbors."
According to Reese, an emergency notification system has been enacted by ExxonMobil, although registration to the phone alert is required.
Most residents in attendance said they were unaware of the system of communication.
As for health concerns, Reese explained that over 400 employees of the plant had received a urine test, administered by the company, and that all tests came back "below detectable records" for benzene exposure.
Ellen Davidson, who lives within a mile of the facility, explained the residents continued worry over the incident, "I had to tell those plant managers that when you say smoke, we hear fire. We want accuracy, we want openness and we want honesty."
Cherri Foytlin is a journalist, mother of six and wife of an oil worker, who lives in south Louisiana. She is the author of "Spill It! The Truth About the Deep Water Oil Rig Explosion," and regularly contributes to www.BridgeTheGulfProject.org, The Huffington Post, and several local newspapers. In the Spring of 2011 she walked to Washington D.C. from New Orleans (1,243 miles) to call for action to stop the BP Drilling Disaster, and has been a constant voice speaking out for the health and ecosystem of Gulf Coast communities, in countless forms of media. As founder of "28 Stones," - a Gulf based media project which focuses on national movement building through art, photography, video and written word - she is working to, "help build the foundation for a cooperative and unified amplification of voices and needs, particularly of Gulf Coast communities, across the nation and globe."