Houston writers & activists organize a caravan of Librotraficantes to smuggle contraband books back into Arizona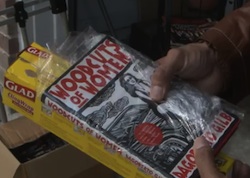 HOUSTON, TEXAS - Local literary nonprofit Nuestra Palabra: Latino Writers Having Their Say is organizing The Librotraficantes Banned Book Caravan from Houston, Texas to Tucson, Arizona leaving Houston on Monday, March 12 and culminating in Tucson, Arizona Saturday, March 17.
The caravan will be filled with authors and activists who will be taking banned books back into Arizona, to give to students.  The bus will include banned authors, new authors, as well as concerned advocates of First Amendment rights of Equal Protection and Freedom of Speech.
Earlier this month, the Tucson Unified School District suspended its Mexican American studies classes.  John Huppenthal, the State Superintendent of Public Instruction, ruled that the classes were in violation of a state law that bans ethnic studies, HB 2281, signed into law in May of 2010.  Subsequently, the school district released a list of books, mostly by Chicano and Indigenous authors, that have been boxed and removed from classes, effectively banned along with the Mexican American studies program (see the list here: http://americanindiansinchildrensliterature.blogspot.com/2012/01/mexican-american-studies-department.html).
The Librotraficantes Banned Book Caravan will be making stops in Texas, New Mexico, and, of course, Arizona.
Banned writers have embraced the caravan and will participate along the route, including Mac Arthur Genius recipient Sandra Cisneros, who kicked off our fundraising efforts by making a generous donation; Guggenheim Fellow Dagoberto Gilb, whose work recently appeared in the New Yorker and Harpers; and best selling author Luis Alberto Urrea, who was the first to enthusiastically support the project through Twitter.
The caravan is intended to:
    1.    Raise awareness of the suspension of the Mexican-American Studies Program and the removal of banned books.
    2.    Promote banned authors and their contributions to American Literature, Non-Fiction and Poetry.
    3.    Celebrate diversity: Children of the American Dream must unite to preserve the civil rights of all Americans.
Tour dates:
Kick off in Houston, Sunday, March 11
Leave Houston, Monday, March 12
San Antonio, Tuesday, March 13
El Paso, Wednesday, March 14
Mesilla, TX & Albuquerque, Thursday, March 15
Tucson, AZ, Friday & Saturday, March 16 & 17
Founded in 1998, Nuestra Palabra: Latino Writers Having Their Say has gone from the party hall of Chapultepec Restaurant to Exhibit Hall F of the George R. Brown Convention Center. Today, the entire city is our forum. When we began, we were told that there was not an audience for Latino literature. We are thrilled to say that today the largest book events in Houston are Latino events. We are proud to bring you Houston's contribution to the Latino Literary Renaissance.
*********
Liana Lopez is the producer and co-host of Nuestra Palabra: Latino Writers Having
Their Say on 90.1 FM and www.KPFT.org (Pacifica – Houston Radio.)  She is a freelance writer and photographer for the Houston Press (Village Voice Media) and many other publications. She is also the recipient of a Houston Arts Alliance Emerging Artist grant for a multimedia/photography project based on her travels through post-revolutionary Nicaragua.