Another Tragedy this Month – Horrors at Local Jail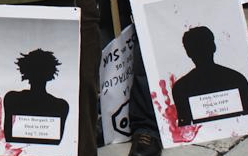 For many of us, April has been a very challenging month. Looking back from today, this country has seen a resurgence of fear, violence and racism. We've experienced setbacks in the long awaited push for comprehensive immigration reform, witnessed the heartbreaking deaths and injuries related to the Boston Marathon bombings, and the ensuing Islamophobia, racial profiling and police-state "lockdown" where suddenly Miranda rights and the freedom to leave your home were suspended. In the past two weeks we've commemorated a number of national tragedies including Columbine, the Oklahoma City Bombing and the BP Oil Disaster. It seems the times have been rife with injustices and reminders of the divides and dysfunction with which the U.S. struggles.
The Gulf Coast has not been an exception. Earlier this month in New Orleans, a Federal District Court Judge heard arguments and testimony about the deplorable conditions in Orleans Parish Prison. It is a complicated legal case, but at its core is the issue that people have been dying and coming to great bodily harm in the jail for years, while elected officials have taken zero responsibility. Like the other events this month, watching the media coverage of these proceedings not only leaves me with a sense of despondence over what would bring "them" (BP, Congress, our Mayor) to be so heartless and cowardly in the face of human suffering, but also, what about us? Has the media deluge of violence and injustice made us indifferent to (or just more "selective" about) what issues get attention, what kind of crimes are completely ignored, and whose suffering becomes a national issue? Is it about numbers of people killed and injured? Shock value? Or race?  What will it take to bring us to a place where we can truly bring about meaningful and long lasting change? Maybe it will take us going against the conventional wisdom. Maybe it will take us fighting with a new sense of purpose. For sure it will require us to not give up, to keep fighting, even when we feel ignored, to keep calling for change despite the fact that injustices persist.
The Orleans Parish Prison Reform Coalition (OPPRC) has been calling for a smaller, safer, more humane jail since 2004. After the week of gruesome and heartbreaking testimony (including a video of the complete chaos within OPP) our city's elected officials engaged in a particularly cynical and calculated bout of political mudslinging. Below is OPPRC's response, documenting the years of community outcry, protest and struggle to get New Orleans' leaders to do right and take leadership in fixing the jail and ending the bloodshed that begins there and spills onto our streets.
Photo: Signs representing two of the 40 people who have died in Orleans Parish Prison in the last 8 years, from a June 2012 OPPRC rally.
April 18, 2013
Contact Yvette Thierry (504) 239-0121 & Don Everard (504) 875-7120
STATEMENT FROM ORLEANS PARISH PRISON REFORM COALITION:
Mayor Plays Political Games at Our Peril
We, the members of Orleans Parish Prison Reform Coalition (OPPRC) are appalled by the latest political theatrics of our elected officials with regard to the deadly conditions in Orleans Parish Prison. OPP is in crisis, and has been for more than 30 years. The impending Consent Decree would force the City *and* the Sheriff to finally do the right thing and make the changes necessary to ensure the safety of staff and inmates in a facility that now boasts over 700 assaults each year. However, instead of supporting the consent decree, our Mayor and his attorneys have engaged in the worst kind of hypocrisy, denying that conditions in OPP are unconstitutional while at the same time, claiming that things are so bad that the court should place the jail in federal receivership. The political chess game which is playing out in both the media and in U.S. District Court is a slap in the faces of the fathers, mothers, brothers, sisters, sons, and daughters incarcerated in OPP, and the families of the 40 people who have died there in the last 8 years. It is also a threat to all New Orleanians, because we are all made unsafe by our dehumanizing, unconstitutional jail.
"Knowing the personal stories of young people, many of them gay and transgender, who have been raped in OPP, set on fire, had their jaws broken, and been charged with attempted escape for running from their attackers- we are outraged that the City is stalling reforms in OPP. We must make immediate changes to all the institutions that are criminalizing and brutalizing our most vulnerable New Orleanians," said Milan Alexander, Youth Organizer for BreakOUT! and OPPRC member.
Mayor Landrieu's request for a receivership last week is clearly a red herring, intended to drag out the Consent Decree process and avoid both financial and political responsibility. During his entire administration, the Mayor has had ample opportunity to take action on the appalling conditions at OPP.* In September 2010, OPPRC organized over 300 people who contributed to the cost of taking out a full page advertisement in the Times-Picayune (http://opprc.files.wordpress.com/2013/04/final-opp-ad2.pdf) demanding that the City's leaders take responsibility and adopt two very basic reforms — ending the per diem and building a smaller capacity jail — which would improve the situation in OPP. Recognizing the fallacy of arresting our way to public safety, the City Council unanimously voted in February of 2011 to cap new jail construction at 1,438 beds. In November of that same year, OPPRC delivered a petition with over 2,000 signatures calling upon the Mayor to put an end to the Sheriff's per diem funding system, which serves as a perverse incentive to incarcerate, and to support the 1,438 bed cap. (https://www.youtube.com/watch?v=wV5fWgBPp5A&feature=player_embedded#!)
Instead of endorsing these measures, the Mayor's office continued private email conversations with Sheriff Gusman to build additional beds and proposed budgets to the council in 2011 and again in 2012 that continued to include per diem funding for the jail. Once again, in 2012, prompted by growing reports of rape and assaults in OPP, concerned residents gathered outside of City Hall to protest Mayor's apparent indifference and to remind him of his responsibility to ensure that city funds were not subsidizing violations of fundamental human rights. (https://www.youtube.com/watch?v=QKwDE5r0Zfs&feature=youtu.be) By this point, it had been sufficiently documented that conditions at OPP were so dangerous that all federal inmates were ordered removed. Once again, the Mayor did nothing.
"I voted for Mayor Landrieu and generally I support him. But his misguided efforts to drive a wedge in this troubled city between 'good' folks and the folks in OPP concern me greatly," said Reverend Melanie Morel-Ensminger, Minister at First Unitarian Universalist Church of New Orleans & North Shore Unitarian Universalist Society. "As a person of faith, as a white person striving to be antiracist, as a proud life-long New Orleanian, I say those inside OPP *are* New Orleanians, our brothers and sisters, deserving decent care and humane treatment, no matter what they are accused or convicted of."
The Consent Decree represents countless hours of community commitment to improve conditions at OPP, and is the first step for any meaningful reform. But without admission of wrongdoing, it will only be a piece of paper. The reams of legal briefings filed by the Mayor and Sheriff abdicating responsibility and pointing fingers at each other only prolongs the suffering of fellow New Orleanians incarcerated there. This is also true of the racially charged language being exchanged by our elected officials.
OPPRC would like to make it clear that jail size, funding, and conditions are deeply and fundamentally racial. Subhuman conditions at OPP are intimately tied to the value that we as a city assign to African American life, and our staggering incarceration rate is fundamentally about our society's fear of Black people. Whether Black or White, when public officials act with indifference for the harm being done to Black people, we must ask ourselves whose interests they serve. Racial justice demands more of both
the Mayor and of the Sheriff.
We are in a state of perpetual and untenable crisis. In terms familiar to New Orleanians, the storm at OPP has escalated to "category five" status. It's time to evacuate.
With a renewed sense of urgency we demand that persons held on non-violent charges — who, by law, would be set free in the event that a Category 3 hurricane were in the Gulf — be immediately released from Orleans Parish Prison. These individuals pose no threat to the community, but conditions in the jail do pose a significant threat to their lives. (http://opprc.wordpress.com/timeline/statement-at-urbancongress-to-end-criminalization-of-our-communities-now-6812/)
"We, the Orleans Parish Prison Reform Coalition, have been pushing for a safer, smaller, more humane
jail since 2004. We cannot wait any longer!"
*The Department of Justice published its report on Conditions in OPP in September of 2009. More info
documenting the chronic crisis in OPP is available in timelines on the OPPRC website at:
http://opprc.wordpress.com/ and http://opprc.wordpress.com/timeline-of-deaths-in-opp/
********
Rosana Cruz is Associate Director of VOTE (Voice Of The Ex-offender). Previously Rosana worked with Safe Streets/Strong Communities and the National Immigration Law Center. Prior to joining NILC, she worked with SEIU1991 in Miami, after having been displaced from New Orleans by Katrina. Before the storm, Rosana worked for a diverse range of community organizations, including the Latin American Library, Hispanic Apostolate, the Lesbian and Gay Community Center of New Orleans, and People's Youth Freedom School. Rosana came to New Orleans through her work with the Southern Regional Office of Amnesty International in Atlanta.