In Bayou Corne, Residents Effected by Texas Brine's Sinkhole Call for Help From Governor Jindal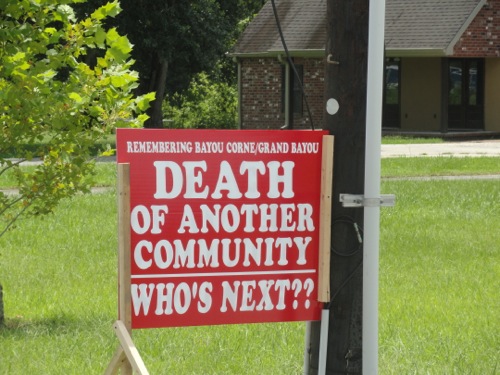 John Achee is a member of the Bayou Corne community, which for more than a year has been under an evacuation order due to a sinkhole thought to have formed when Texas Brine drilled too close to the edge of a salt cavern, compromising the cavern wall. The sinkhole, a man-made disaster, was first discovered on August 3rd of last year and is now 24 acres and still growing. Many of the area's 350 residents have been away from their homes since the sinkhole formed and are awaiting buyouts from Texas Brine. 
Residents have repeatedly tried to reach out to Louisiana Governor Bobby Jindal for help during the crisis.  Here is John Achee's recent appeal to the governor:
Dear Mr. Bobby Jindal,
Just wanted to remind you of some of your job duties and responsibilities as Governor of the great State of Louisiana which you have chosen to blatantly disregard. You have chosen to protect big business & industry over the health, welfare and safety of the residents of Bayou Corne and Grand Bayou.
As a common man who cares for his fellow man, I truly don't know how you sleep at night knowing that you have left some 350 people out to dry and to fend for themselves, You have done absolutely nothing to help them since this all started, you have not shown one ounce of leadership in my opinion, and you have lost all respect and credibility from a vast majority of residents of this area including myself.  You have ignored countless outcries from the residents affected by this disaster.
Sir, is it too much to ask of you to be a leader, get involved and help the people get their lives back and protect our environment???
Isn't that your job???
Isn't that your responsibility as Governor???
Don't you think it's time for you to end your political posturing???
Governor, I will close by challenging you with a statement from a speech JFK once gave, "An error does not become a mistake until you refuse to correct it."
Sincerely,
John Achee, Jr.
John Achee Jr, is a lifelong resident of Assumption Parish.  His family owned land and a camp in Bayou Corne since before he was born, and he has fond childhood memories of going to the camp to fish, swim, hunt and enjoy the outdoors. When his father passed away in 2008, the camp was passed on to John and his siblings. Although John is not a permanent resident, he has fought to bring attention, awareness and response and is committed to fight for the families, lives, properties and environment affected by the disaster.  John lives by his father's motto to "never start a fight, but if one is started with you, you damn well finish it".