Cry You One: Listening to the Land and to Each Other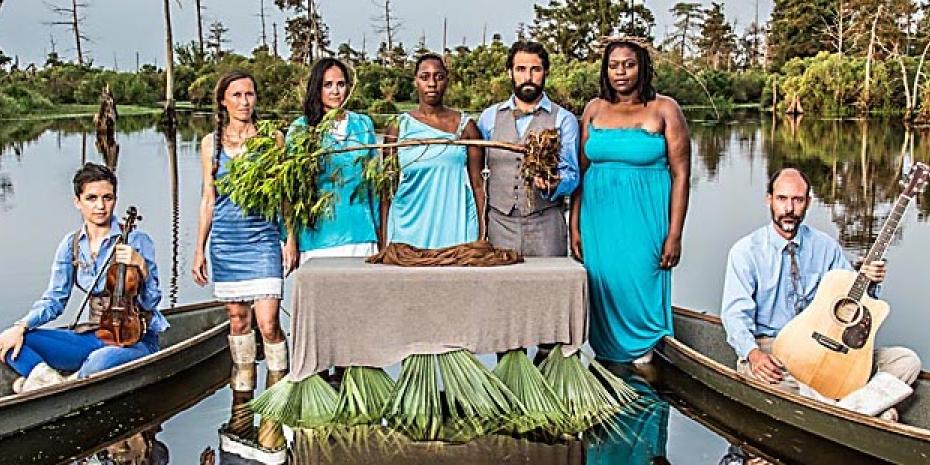 By Rebecca Mwase and Hannah Pepper-Cunningham. On top of the checkout counter at the gas station where we buy Gatorade after long rehearsals for our upcoming performance, Cry You One, there is a petition. It reads, "WE STAND AGAINST RIVER DIVERSIONS." This is clearly an issue people care about. From concerns about increased flooding to the destruction of oyster beds and fisheries, people have a reason to be worried about river diversions. Nonetheless, there is reason to believe that river diversions are an integral part of any sustainable plan to replenish Louisiana's coastal land.
The issue of river diversions is as nuanced and delicate as the relationship between the folks signing that petition and the land. However, as the situation on Louisiana's coast grows increasingly dire, this deep local knowledge is often lost. Instead, state agencies serve up a buffet of land-and-people-management options that discount local vision. These top-down plans polarize debate and use the richness of our identity and experiences to divide us.
Southeast Louisiana is experiencing the fastest rate of land loss on earth; since 1930, we've lost 1900 square miles of our coast. The land that a diversity of cultural communities have called home is sinking, subsiding, flooding and quickly breaking away into the sea.  The Cry You One project began with the question of what happens to communities and cultures as the land that sustains them is washed away. Cry You One is a digital media platform and an immersive outdoor performance set at the edge of Louisiana's disappearing wetlands.
Photo: Cry You One performance still by Melisa Cardona.
Through the process of creating this work—working deeply on the land and listening to those who have lived on and with the land for decades, we have come to ask what we, as artists and cultural organizers, can do to center local voices and lived experiences in our response to this crisis. We have come to hope that both the outdoor performance and the online story-telling platform can create alternative ways to confront coastal land loss: ones that leverage critical connections, deep listening and storytelling to engage both local community and policy makers from a place of power.
Before working on Cry You One, we had never listened to the cicadas long enough to hear how their calls fluctuated with the murmurings of the frogs. Many of us do not come from families whose work depended on the temperamental subtlety of the earth. We did not all grow up with a deep way of listening to, being with, or knowing land. Through the process of creating this performance, we have started, slowly, to experience this. And we have listened more deeply to the people whose work it is to know this land: to Joel Profit, a fisherman and history teacher; to Mr. T-Black, a Creole tomato farmer; to Clarice and Danny Friloux, whose air and water is being poisoned by the open oil pits on their property; to Celie Robbins, a shrimper and traiteur. As nuanced and contradictory as the experiences of the people of coastal Louisiana are, so is the land. The ways we have come to live on it reflect its complexities.
Watch Clarice Friloux talk about the aftereffects of the BP Oil Disaster

Cry You One opens up an experience of what it truly means to be immersed in the destruction of one of the most fertile and diverse river delta systems in the world. The central wetlands, where the piece is set, have been deeply damaged by saltwater intrusion caused by the Mississippi River Gulf Outlet, as well as by oil and gas canal dredging. We seek to give people an opportunity to experience firsthand the richness and complexity of this struggling ecosystem and to engage with the cultures and communities that have called it home since Native Americans first settled on this land.
We hope the piece – during its run in New Orleans and on its national tour – will build local connections among activists, community members, politicians, scientists and academics to discuss large and small-scale remedies to aid our ailing land. Our work strives to engage and embrace the complexities of all of those who have relationships to the land here, especially those who have been most impacted by the centuries of trauma held by the land and its people.
Just as our work has been to rehearse, record and present, it has also been to deepen our connections with others in Louisiana working around issues of environmental degradation, land loss and ecosystem decay. Cry You One's digital media and community engagement teams have spent time listening to stories, asking those we interview their thoughts about how to heal and help the land. We hope you will take the time today to listen to Clarice Friloux talk about the aftereffects of the BP Oil Disaster. Clarice and her husband Danny recently founded the group "Guardians of the Land and Water" as part of their fight to shut down the massive oil waste disposal facility adjacent to their small community of Grand Bois.
In the coming weeks, we will continue to share stories of people living on, working with and working to save this land that so many call home. We see the work we do as storytellers and performers as weaving a web of interconnectedness that can hold a multiplicity of experiences of and responses to land loss. We are looking for ways that our work can help build spaces through which communities most impacted by land loss can engage policy makers from a place of power, and perhaps to also find ways to collectively practice methods to heal ourselves and the land. We extend our warmest invitation to come to our performance and to visit our website: to listen, to witness, to remember, to dream, and to connect—to the land and to each other.
Related post: Troubled Waters: Discussion with Clarice Friloux of United Houma Nation.

Rebecca Mwase is a theatre artist based in New Orleans, LA. Her work lies at the intersections of race, gender, religion, sexuality and class and seeks to illuminate and question the power structures that control our society.
Hannah Pepper-Cunningham is a performing artist and cultural worker based in New Orleans, Louisiana.