A Front Line Holiday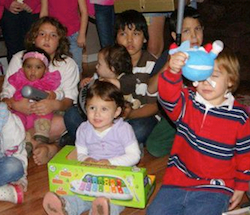 I hadn't slept well. Most nine-year-olds don't on Christmas Eve, but I had slept some, so there was a good chance that the jolly man had visited in the night. In the few seconds that I lay there, it came to me what my great-grandmother had been telling me in the days leading up to this one.
 
She had reminded me on more than one occasion that times were tough, and that there was a good chance that Santa might not be able to make it to our house that year. Yet I had held out hope, mainly because I was a child, and childhood bliss is often fueled by innocent optimism. But also because I knew that while I wasn't perfect, I wasn't nearly bad enough for Santa to forget about. After all, my grandma was always telling me that I was a lot of help to her. I would check the chickens, gathering the eggs and leaving behind food and good, clean water for them. I had been doing well enough in school, and had tried to be honest, fair and kind – all the things that Grandma had told me makes for a good human.
Quickly I dispelled the anxiety that had crept beside me in my warm bed, and throwing off the warm and nurturing quilts that my grandma and great-aunties had made for me, I threw my feet on to the cold slats of the wooden floor and made my way to the front of our four room home.
I was greeted by the three foot Christmas tree that sat atop the claw foot table that Grandma used in the off holiday season to perch the flip-knob, black and white television. I could see the lights flashing on the walls before I made it past the doorway – red, green, gold, a welcoming sign of the amazing day that lay in store, I thought.
But as I passed the tree, which looked a bit lonely with no presents underneath, my eyes grazed across the wall where only a year ago stockings had been hung with "great care." My heart sank as I realized that there actually were no stockings this year. Grandmother had been right. Although I was sure that I hadn't been on the "bad kid" list, apparently I wasn't on the "good kid" list either. I was in Santa purgatory.
I glanced around the room, in case I had just overlooked a Christmas surprise from the man in red, and that was when I noticed Grandma Gracie standing with her back close to the gas stove (our only avenue for heat except the burners on the cook stove). She was not looking at me though; she was looking toward the floor.
I had never seen shame on my great-grandmother's face before. Why would I? She had buried her mother by the age of 11, buried two husbands since, and raised my grandmother, a step-son, and four of her younger siblings on a fourth grade education. By the time I came along, she hadn't hesitated to take me in, feed me, clothe me, give me what she could, laugh with me, and remind me daily that I was worth the time and energy to do so. But on this day, I saw it – shame because she knew that even though she had tried to warn me, I still carried a child's heart that pumped and swirled with stories of Christmas miracles. And that was the worst part for me, seeing her disappointment in herself because of my hope.
I remember going up to her, taking her hand, and nonchalantly saying, "I never did really believe in Santa, Grandma." She pulled me real close, I could smell the pumpkin pies, turkey and dressing in her house coat (she had probably been up before dawn preparing for our Christmas feast), and feel the warmth of the stove behind her as she leaned down to whisper, "Well, he will always believe in you."
It was alright then. "What did I care?" I thought to myself, I had everything I needed in that very moment, and it could never have fit into a sock anyway.
And it must be noted, that the day from there went into the usual joy of a childhood Christmas. There was plenty to eat – the benefit of living on a small farm – and before the day was through my mother and uncle brought a present each to me, exactly what I had asked for (a jeans jacket and Photon guns to play with my cousin). But, I never will forget the expression on my grandmother's face in those first moments of Christmas, and I never wanted to see that shame and embarrassment in her beautiful eyes again.
You might think that this is why I am helping to organize A Front Line Holiday, a platform for providing gifts and food for front line communities across North America, and you would be right, but you should also know that there are deeper and similarly personal reasons. A Front Line Holiday is special to me because as an adult I now live in a region with of one of the highest cancer rates in the country (with so many people and communities sharing fencelines with oil, gas, and chemical facilities), and since the BP Deepwater Drilling Disaster I have had the opportunity to travel and to speak with others who are forced to deal daily with the reality of living in a "front line" and/or "fenceline" community.
Across Turtle Island I have come in contact with those who are working to protect life from refinery pollution, nasty mountaintop removal projects, dirty tar sand excavation, toxic uranium mining, noxious chemical production, pernicious fracking fluid water contamination, lethal open air tailing ponds, climate induced disasters, and on and on. And each and every time we talk, there are three distinct symptoms that bind us: devastation to human and ecological health, severe poverty (including all the social ills that come with it), and a lack of honest representation within local, state/provincial and federal governments.
Beyond the rhetoric of CO2 emissions and future devastation to our planet, lies the present whimper of those who feel the wrath of greed and wasteful, destructive practices by huge corporations who profit from the destruction of the planet and those who live on it, and also the roar of those who refuse to let their children's lives be the sacrifice to the swollen bank accounts of a few. These are the ones that A Front Line Holiday wishes to help.
According to a 2002 paper prepared by Dr. Robert Bullard, Ph.D., titled Poverty, Pollution and Environmental Racism: Strategies for Building Healthy and Sustainable Communities, "over 1.3 billion individuals worldwide live in unsafe and unhealthy physical environments." He added, "Unequal interests and unequal power arrangements have allowed poisons of the rich to be offered as short-term remedies for poverty of the poor," and asked, "Why do some communities get dumped on while others escape? Why are environmental regulations vigorously enforced in some communities and not in other communities?"
Additionally, and according to a report released last year by the climate change watch group DARA, climate change and climate related disasters had claimed the lives of an estimated 5 million people around the globe in 2010 alone. Living in the Gulf Coast, a region that has closely experienced the devastating effects of climate disasters in the form of 5 major hurricanes in the last decade and that is the home of the first climate refugees in the United States, we understand the current effects and future concerns of global warming on our communities.
So it seems only right that we build upon last year's Gulf Coast-based "A Bayou Christmas," which served over 400 front line families through the holiday season. Expanding upon this successful initiative to include our allies from across the North American continent seems like an easy and rightful thing to do.
To date we have identified over 2500 children, families and elders who live in front line communities and need our help this holiday season to provide for a Christmas meal and presents. While we are still receiving requests, we have folk signed up who are still reeling from climate disasters – New Orleans, Louisiana to Lim'on, Mexico, to Rockaway, New York; who live in refinery or chemical production devastated communities – such as, Moss Point, Mississippi, and Manchester/Houston, Texas; and those who bear the disproportionate burden of energy development such as the Pine Ridge Indian Reservation in South Dakota and the home of Coal River Mountain Watch in Whitesville, West Virginia.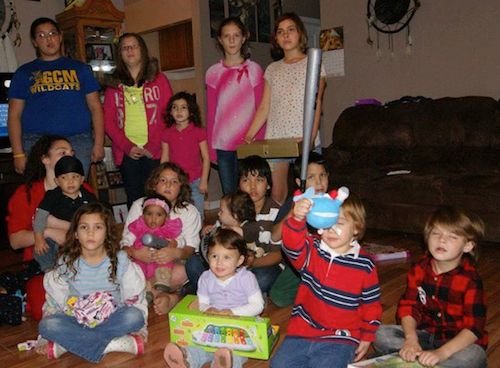 Photo: children who live on the Isle de Jean Charles, Louisiana (home to the first climate change refugees in North America) receive holiday surprises from last year's A Bayou Christmas, now A Front Line Holiday.
The reality in these communities flies wholly in the face of the never ending "job creator" storyline created by Big Money and Big Polluters. Poverty levels for the above-listed communities range from between 12 to 61 percent, with the worst (Pine Ridge) having an unemployment rate of 80 to 90 percent of the population.
Also, each of these communities (and the others not listed above) are experiencing devastating health and ecological effects to families, including increases in cancer and other life-threatening illnesses. Children living under the toxic smoke stacks of nearby refineries in the community of Manchester in Houston, Texas, for example, have a 56 percent higher chance of contracting certain forms of leukemia than their peers living a mere 10 miles away.
And with a bought and paid for so-called representative government, and an often silent voice in the corporate media, residents find little hope in those whose job it is to protect them.
Yet, this is not all that these communities have in common, each of them have heroes within their midst, who fight hard every day to raise up their voices, to provide shelter and relief to those struggling to make ends meet, and who work to change egregious policies that stifle the will of the people and encourage the destruction of the most vulnerable among us. A Front Line Holiday works through these groups and the existing network of relations who stand strong to protect the people. It is our pleasure and hope that these strong individuals and organizations will have the opportunity to be seen as the Santas that they are to their communities.
Further, it is my hope and the desire of others who are working on this project, to honor the grandmothers like mine, and families across the continent, who should not be allowed to bear the burden of shame this holiday season.
You can help. Please go to A Front Line Holiday on Facebook to "like" the page, share, and find out how you can help make the holidays brighter for a community in need.  

Thank you for your consideration and Happy Holidays to us, "each and every one."
Sincerely,
Cherri Foytlin

Cherri Foytlin is a journalist, speaker, mother of six and wife of an oil worker, who lives in south Louisiana. She is the author of "Spill It! The Truth About the Deep Water Horizon Oil Rig Explosion," and regularly contributes to www.BridgetheGulfProject.org, the Huffington Post, and several local newspapers. In the Spring of 2011 she walked to Washington D.C. from New Orleans (1,243 miles) to call for action to stop the BP Drilling Disaster, and has been a constant voice speaking out for the health and ecosystem of Gulf Coast communities, in countless forms of media. As an advocate for climate justice, she has been arrested in front of the White House twice and has spoken to thousands at venues and rally's in the United States and Europe. In addition, she is a founding member of the Gulf Coast Chapter of The Mother's Project - Mother's for Sustainable Energy, Idle No More Gulf Coast and of "28 Stones" - A Gulf based media project which focuses on national movement building through art, photography, video and written word.