"We were Sold Out" - Reflections as Thousands Prepare to Rally against Keystone XL Pipeline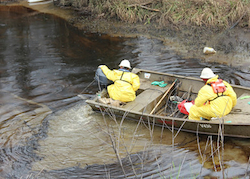 It is 6 am on February 17, 2013, and I can hear the birds outside the window of my hotel room, inviting in the morning with their song. Before the day is through they, and the world, will know that we mean it when we say that we will not allow the northern leg of the Keystone XL pipeline to finish its slither across the length of our country, in order to pipe toxic tar sand bitumen to China, while risking the planet to do it. Even they will hear and bear witness to the predicted 30,000 people who have come to the nation's capital to stand in protest of this ill-fated project today.
I have been here since Tuesday of last week. The day before I had the honor of standing with 47 leaders – including Marty Cobenais, Yudith Nieto, and Jerry Hightower, who offered the sacrifice of their freedom, in order to ensure the continuance of humanity. I was proud to get arrested that day, it was the right thing to do. It was no less than the keeping of a moral obligation to protect our beautiful Mother Earth, and all the children who depend upon her.
Photo: Workers navigate through a creek filled with oil in Jasper County, Mississippi. Photo by Terry Ford, a local homeowner. See more photos here.
Yet as I sit and mentally prepare myself for this day of battle, the words of Julia Trigg Crawford, the East Texas landowner who has been fighting the crossing of the beast on her property, and who spoke at a event held last night in preparation for today's rally, keeps ringing in my ears, "We were sold out."
I keep thinking of how right she is, how the administration fast-tracked the southern leg so easily. Not even batting an eye, while giving the nod to a foreign corporation to cut through American owned property like a knife through butter, and then turning their back to it all, like we never even mattered to begin with.
Even as Julia and hundreds more Gulf state citizens come to DC to demand mercy for our Northern kin, she reminds us that the land on both sides of her property already holds Keystone XL pipe – which is very similar to the pipe photographed recently by Texas Tar Sands Blockade, with daylight streaming in through the seams. These lines are already crossing over water wells and streams, and will be the conduits to countless pounds of toxic fumes from refineries that continue to crush the health and well-being of low income and minority populations in the Gulf – communities like Port Arthur, Texas and Manchester, a neighborhood in Houston.
Yesterday, before the event, while a few of us were visiting the Smithsonian's American History Museum – a place notably missing any mention of the value and contribution of the Gulf Coast – my colleague and friend, Karen Savage, was contacted by a landowner in Jasper County, Mississippi. The elder sent video from the site of what was once his "dream home," and is now the location of a river of oil streaming from a broken pipeline on his property. A pipeline that, ironically, was laid by the same company who just received permission to pipe tar sand oil under the Mobile River to refineries in Alabama – the Plains All American Pipeline.
We watched the video with Julia before she spoke, and the heavy truth of it hit us all - we are a splintered America. Even as we prepare for one of the most unifying acts of this century, the people and communities of the Gulf, indigenous populations and environmental justice communities around the world are bleeding at the alter of energy production.
Even as we stand today, our heart is heavy with the knowledge that we are all Julia Trigg Crawford – we have been sold out.
Cherri Foytlin is a journalist, mother of six and wife of an oil worker, who lives in south Louisiana. She is the author of "Spill It! The Truth About the Deep Water Oil Rig Explosion," and regularly contributes to www.BridgeTheGulfProject.org, The Huffington Post, and several local newspapers. In the Spring of 2011 she walked to Washington D.C. from New Orleans (1,243 miles) to call for action to stop the BP Drilling Disaster, and has been a constant voice speaking out for the health and ecosystem of Gulf Coast communities, in countless forms of media. As founder of "28 Stones," - a Gulf based media project which focuses on national movement building through art, photography, video and written word - she is working to, "help build the foundation for a cooperative and unified amplification of voices and needs, particularly of Gulf Coast communities, across the nation and globe."