BreakOUT! Responds to Gabourey Sidibe "Tranny" Comments on Arsenio Hall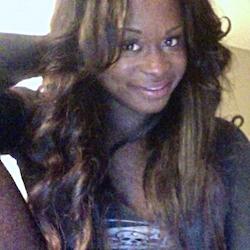 By Trinity and BreakOUT! Crossposted from the BreakOUT! blog. As one of the "trannies" residing in New Orleans, Louisiana I took offense with the statement made by one of the Black actresses I adore and love to watch behind the camera, Gabourey Sidibe, a.k.a. Queenie from Coven, when she recently repeatedly used the word "tranny" on Arsenio Hall.

"There's a bar that we would frequent…and when we were leaving every single time there was always a gang of cops arresting trannies."
She went on to say, "I don't know what goes on with trannies, but that tranny on tranny crime needs to stop."
The words she uttered over and over again were not funny and didn't sit well with me. Although the Bible says thou shall not judge, I just couldn't help but to call it like I see it, and take an eye for an eye. I found myself stereotyping her and her body as a large, Black woman right back, instead of thinking about the real issue at hand.  As Black women who have had our bodies scrutinized, I didn't understand how she would have any room to throw awful names and make light of a situation she clearly knows nothing about.
"Tranny, tranny, tranny, tranny, tranny" is all that I heard during that brief segment with Arsenio Hall and Gabourey Sidibe.
It all started when Ms. Sidibe was asked what her time in New Orleans was like. She proceeded to say it was slow. As long as I've lived in New Orleans, it's been the port of all things great. It sounds to me like she just didn't know where to get down at our many clubs, venues, and hole-in-the-wall bars around the city! Being a native of New Orleans and having traveled to all the major hotspots in the United States, I know that can't no other area code party like the 504.  And, THAT is what caused the first strike against Queenie.
But being a woman of transgender experience and a member of BreakOUT!, an organization built around young trans women in New Orleans, is what made Ms. Sidibe's next statement cut even deeper.
Ms. Sidibe reported on live television that every time she would go to one of the many bars in the French Quarter, she would see a "gang of cops" arresting trannies.  She blamed it on "tranny on tranny violence."
If only she knew.
If only she knew what type of trauma transgender women go through on a daily basis in the city of New Orleans.
If only she had been informed prior to going on Mr. Hall's show that the police specifically target and harass transgender women and that it's actually "cop on tranny" violence.
If only she knew that there are entire organizations like BreakOUT! that specifically target this kind of violence by the police that has such a deep and troubling history in our City.
Probably the only thing Ms. Sidibe got right in her critique of New Orleans is that it truly is a "gang-like" mentality that causes our police department to be so violent.  This corruption, in turn, breeds crime.
As transwomen, we have a story to tell about the about the New Orleans Police Department and their unjust treatment of members of the LGBTQ community.
Most transwomen who are workers in the underground sex industry have really seen the wrath of the New Orleans Police Department- from being raped, wrongfully arrested, and even being stopped for no reason at all.  Most of us don't even get the pleasure of walking down our City's main attraction, Bourbon St., for all of the scrutiny and bashing by both the police and patrons.
Can you imagine buying the best of clothes, stepping out on Bourbon St. at night and taking in the ambiance, only to not even make it a block down the street before you're being swiffed away in handcuffs, accused of a crime you never committed?  Well, Ms. Sidibe, that is our reality as so-called "trannies" in New Orleans.
Gabourey pulled a cheap shot but when it was all said and done, she did apologize. In this world, we have to learn to forgive and forget. Eventually people will get the picture that we as transwomen are fabulous in every way and we are here to stay. We as transwomen know where we where we come from and we know where we are going. We know that we don't need anyone's approval to live our lives, whether it is gangs of police officers or Hollywood actresses.
Our lives are full of bumps and forks in the road, but as trans women we strive to become better and better everyday no matter what.  Someday we will get respect and people will see our struggle- but until then, we will continue to organize and demand respect both from the state and the streets through groups like BreakOUT!  We will be the best, hardest working Black women to ever grace this Earth.  We are not "trannies."  We are transgender women.  We are women!