Message from the People's Climate March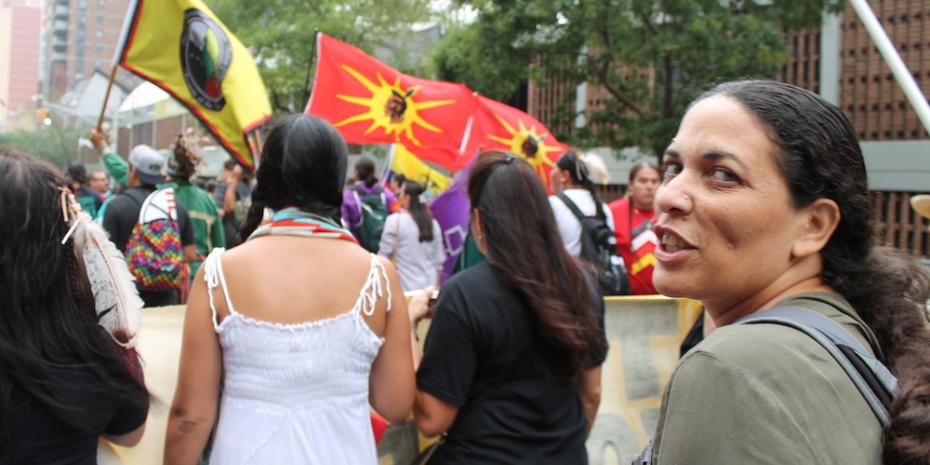 As I write this I am several thousand feet in the air, face deep in the blue-glow of my laptop. Occasionally, I glance over to see the bright lights of New York City fading into the darkness.
The last five days have been a bullet ride. So many great events, panels and activities, ceremonies, catching up with old friends, meeting new allies, walking with an estimated 410,000 caring souls for the People's Climate March, and finally, flooding the streets of Wall Street while calling for an end to the untethered capitalistic support of the industries who continue to profit from our demise.
When I close my eyes I can still smell the mix of coffee and sage after the sunrise ceremony in Central Park. I can hear the Water Song that my indigenous sisters and I sang together at the beginning of the march; still see our fists in the air, silhouetted by the flashing billboards of Times Square, as we all silently remember and give honor to front line and environmental justice communities everywhere. And I can actually feel the energy of resistance in the chants as thousands of people, young and old, take Wall Street, for and in the "voice of (our) great-granddaughters."  So many great memories of these days will comfort and strengthen me far into the future.
I am returning home, to my beautiful babies, the pug dog, and the fight of our lives.
Photo: Cherri Foytlin at the People's Climate March, by Karen Savage.
The view I have now of Brooklyn Bridge, will soon be replaced with fracking rigs. Coming into Baton Rouge, buildings will change to tank farms, New York Harbor will become BP soiled waters, the subway tunnels – pipelines and canals that let the Gulf of Mexico claim our lands. Central Park will turn into a mining-induced sinkhole and four hundred and ten thousand committed marchers will drop to hundreds of the fiercest fighters I have ever known. Yet, there will be strangled liberty and seldom justice.
Returning home, I know that for us, nothing has changed.
People are still sick from the BP spill, workers are still in danger, oysters are still gone, environmental justice communities and Superfund sites still exist, ten LNG plants are still coming, ports are still growing, coal export continues to expand, refineries and chemical plants are still poisoning, and as always we have very little representation with the will or the guts to stand up for the people they claim to serve.
We had a great moment. I am proud to have been a part of it, prouder still to be connected to the powerful land and water defenders who I have met along the way, yet yesterday is over and the opportunity is in today.
It is without question that the People's Climate March, Flood Into Wall Street and the variety of accompanying events, made an impact on the consciousness of world leaders and the public alike, but we must see the same level of commitment, dedication of resource and courageous standing in front line and environmental justice communities everywhere.
If we are to stop the violence against our children and our earth, then the time is upon us where supporting indigenous, environmental justice and front line communities must take priority in word and deed.
In an interview after the march, I was asked if I felt like this is the beginning of something that will change the current destructive path of humanity. I do not believe that, because these battles have been waging for generations and, to my mind, we are merely an extension of those struggles.
If we are truly lifting up affected communities and leaders, and recognizing the plethora of local wins and sacrifices to which this movement is built upon, we are then brought to the streets of every community where justice, human and natural rights are denied in the name of profit and comfort. Let us then get to them, physically, courageously and powerfully.
Malcolm X once said, "You don't stick a knife in a man's back nine inches and then pull it out six inches and say you're making progress." We have a long way to go, in the Gulf and beyond, before the knife is removed and until then this society remains one of justice denied.
That is why I am inviting you, every single one of the 409,999 other good folks, who were at the march, to the Gulf Coast and to the streets of communities and regions who unfairly bear the burden of climate chaos, and of wasteful and destructive industries that claim our lives on a daily basis.
To remove the knives in all of our backs, we must take this struggle to the heart of the battle.
This war will not be won, in any discernible way until the rivers and people are free again, until the mountains are whole, until the pipeline snakes are killed, until the air is clean, until the waters are brought back to their sacred place and once again purged of pollutants.
As long as one child is forced to breathe poison, one mother buries her baby too soon, one elder is disrespected, or any one community is denied voice and the resource for victory, the accolades of these days are spoken in vain.
This invite to join us is not one of rhetorical wishing, it is the only true path of claiming our birthrights, it is how humanity will survive. Come, my brothers and sisters, aunties and uncles, grandfathers and grandmothers, nieces and nephews – it is time to face the beast in our own occupied lands.
The time of marching is behind us, it is time to take hands and stand as one in the places where the battles wage.