In Mobile, Residents Continue Fight to Keep Oil Pipeline Out of Water Supply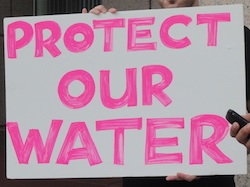 For months Mobile Area Water & Sewer System (MAWSS) and community groups have been resisting an attempt by Plains company to run a crude oil pipeline through the watershed of the reservoir supplying metro Mobile's water. A recent defeat in the county courthouse confronts MAWSS with a choice about continuing to resist or surrendering to Plains' demand for a pipeline right-of-way across land MAWSS owns in the watershed.
Throughout this struggle MAWSS has pledged to protect the land it bought and has long held as a buffer guarding the purity of the water flowing into the reservoir known locally as Big Creek Lake. MAWSS had said that if it suffered any setbacks in local court proceedings, it would appeal to higher courts. The pipeline construction that paused pending the outcome in county court has now resumed on or near MAWSS land in the watershed. If this work continues, it will soon link sections of pipeline already completed and allow crude oil to begin flowing from the Mobile waterfront to the Chevron refinery in Pascagoula, Mississippi. The MAWSS board either takes swift legal steps to stop this construction and to appeal the right-of-way case it lost in local court or it has yielded its protective land in the Big Creek Lake watershed to the pipeline company.
Throughout this struggle community groups have arisen in support of MAWSS and in defense of their water. Among them are the Mobile Bay Sierra Club, Tar Sands Oil Mobile, and Mobile Environmental Justice Action Coalition.
None of this should be necessary. Because no high-volume, high-pressure crude oil pipeline should attempt to cross the Big Creek Lake watershed. It was reckless and irresponsible for anybody ever to even propose such a thing.
Pipelines eventually leak, sometimes spectacularly with ruinous results, as several recent episodes elsewhere show. Big Creek Lake is the source of the drinking water for about a quarter million people. If a pipeline break contaminates it, the alternate emergency source is the Mobile River, which MAWSS uses to supply industry. The volume available from that pump is much less than typical daily use by MAWSS' residential and business customers. And the riverbank is lined with facilities as toxic as the one that leaked last month in West Virginia and shut down much of that state.
Besides these obviously foolhardy features of a watershed pipeline, it connects with a suddenly expanding web of other projects apparently intended to turn the Mobile area into a major handling hub for fossil fuels. A growing awareness of this is the only benefit Mobilians have received from the watershed pipeline plan. Citizens alarmed over the threat to their drinking water are now aware that this pipeline connects to the downtown waterfront, where tar sands tanker trains are arriving from Canada, which are unloading their cargoes into additional pipelines and tank farms crowding against densely populated residential areas, with an immense enlargement of coal docks also scheduled.
All of this is pressing ahead without regard for its certain damage and its threats to the local community and without regard for these projects' impact on the climate by increasing the burning of fossil fuels and dumping the resulting waste into the atmosphere.
The MAWSS board can assume responsibility that the promoters of these projects shirk. MAWSS is not a business seeking merely to make a profit by providing water to customers. It is a public service with a duty to promote the public welfare.
It can do this by taking whatever decisive steps are necessary to halt construction on the pipeline through the watershed of Big Creek Lake—and then taking the further steps necessary to assure the pipeline is never completed and operated. That will prompt an equally thorough scrutiny of the other fossil fuel schemes accompanying this pipeline across the city and the region.
If MAWSS fails to follow through, it will be forcing the citizens who have risen in support of MAWSS to take whatever further steps they consider necessary.
Photo by Karen Savage.
David Underhill lives in Mobile, Alabama, where he watches developments near and far with some dismay and more amazement.