School Segregation and the United Houma Nation - Three Generations Remember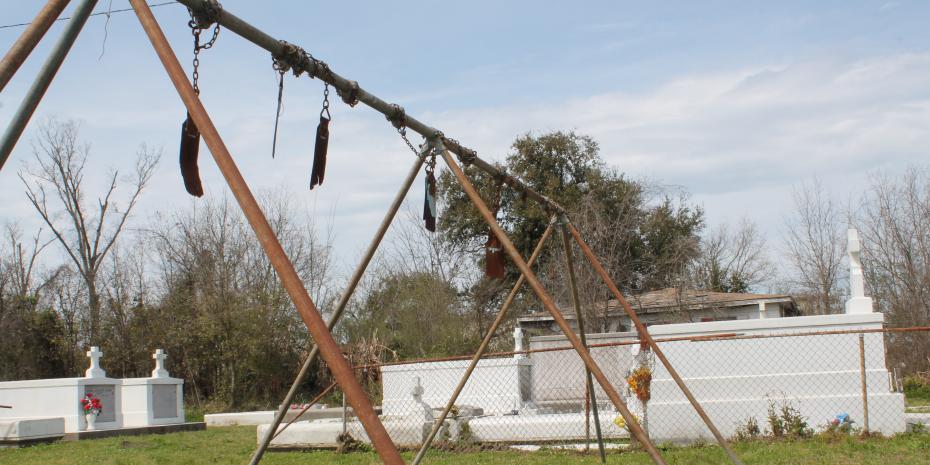 Today rusted out swings gently sway in the wind on the playground of the Old Settlement School in Golden Meadow, Louisiana. The children who once played there are now grown with children and, in most cases, grandchildren of their own. Although the segregated Indian school has been closed for nearly five decades, the sense of community has not been forgotten on the property, which is now the Main Office of the United Houma Nation. It's also home to KUHN 88.9FM – "Louisiana's only Native American radio station."
At the recent Old Settlement School Open House, tribal members came together to spend a day of community celebration and also in reflection of a period in Louisiana history when their people were denied the educational opportunities that were given to children of European descent who were living in the same area of South Lafourche Parish.
Tribal elder Whitney Dardar explains, "We had up to the seventh grade, but we didn't have all those books at that time."
"Education was afforded to us, but the quality of it was a whole lot different," adds Principal Chief, Thomas Dardar Jr.
The Old Settlement School was opened in the 1940s with a mission of educating indigenous children who, thanks to Southern segregation, were not allowed to enroll in area "all white" schools. Before then, Indian children were denied an education altogether.
"To me, personally, that's why I find it very important for us and our generation to take education seriously because of what they went through and how they were denied to go further than a middle school education," says Bette Billiot, Administrative Assistant to Chief Thomas.
VIDEO: Three Generations - Elder Whitney Dardar, Principal Chief Thomas Dardar Jr. and Bette Billiot of the United Houma Nation, discuss the effects of education segregation on the tribe.
Tribal member Joyce Bouvier explains that traditional cultural activities also contributed to a lack of opportunities for Houma children.
"We'd go trap in wintertime. And I mean you had no schooling but what your parents taught you. My mother had been taught by some people she worked for up until the third grade – but she was pretty educated for the third grade."
Bouvier adds that she loved school and it was difficult for her to understand why she would not be allowed to continue past the seventh grade.
"I wanted to keep learning, but I couldn't."
VIDEO:  A Houma Education – An Interview with United Houma Nation Tribal Member Joyce Bouvier.
According to their website, Bouvier's story is not unusual. Furthering education was out of the question for Houma youth until the "integration movement" of the 1960s. Even then, only a small number of Houmas would go on to graduate or go to college.
"Even though equal educational pursuits were granted in 1965, few Houmas actually graduated. Many in fear of the discrimination they experienced at public schools chose to work in traditional tribal employment as fishermen, where they thrived," explains the site.
Many Houma believe that the difficulties their ancestors and elders faced regarding education may have had some additional ulterior motives.
Whitney Dardar explains, "But those days, they didn't want the Houma to get too much of an education… That's how we lost a lot of land."
Many believe that after the discovery of oil in the area, it worked to the industry's advantage to keep the native peoples uneducated.
"They were [able to] steal because of a lack of education – because they couldn't read, and because of the language barrier. They'd come over here, and our people, our elders, only spoke French. Like the old people used to tell me, a slick talking lawyer [would] make them put an X. They give them like $20, $50, $100, and they thought they were just passing or leasing their land, but in all actuality they were selling their land."
VIDEO: Education Disparity, Segregation and the Oil Industry - Elder Whitney Dardar, Principal Chief Thomas Dardar Jr. and Bette Billiot of the United Houma Nation discuss the history and experiences of education disparity, segregation and how the oil industry has benefited.
"It's something that is important," says Billiot, "They struggled for that, they wanted for that. My grandfather used to tell me how they would drive a pirogue to go to school. And then they had to walk - just to go. And they weren't forced to go. If they came, they came, if they didn't, they didn't."
"That makes it more important to me, to pass that on to my kids because our grandparents fought for an education. Just like over here, after the segregation laws, they were still denied and they had to go through a court case… Bringing awareness here, bringing back the community here, it's the same with all the Indian schools – it's our legacy. It's where we come from, and it's important for all ages to know that."