Trying Not To Drown With The Ship
Crossposted from Life Support Project. Originally titled: "Trying Not To Drown With The Ship - The Oystermen Of Pointe-A-La-Hache, Louisiana."
"I really can't explain how bad it is," he said, looking across the desolate marina.
 
Byron Encalade grew up on the East Bank of the Mississippi River in Southeast Louisiana's Plaquemines Parish and has lived there for most of his life.
 
He was raised on a farm on land where his father still lives, born into a family that worked hard and sustained themselves with carefully nurtured orange trees, a garden, and abundant seafood from the warm Gulf water. Back then it was a paradise. Now Encalade longs for the days when a guy could put in an honest day's work and still survive.
 
Over the years, Louisiana's oyster reefs have had their ups and downs – good seasons and not-so-good seasons. In 2005, Hurricane Katrina devastated the East Bank of Plaquemines Parish and a series of ill-conceived so-called "recovery" policies followed, leaving the community to mostly fend for themselves.
 
PHOTO: Pointe-A-La-Hache oysterman Byron Encalade explains the on-going economic and ecological repercussions from the 2010 BP Deep Water Drilling Disaster. 
The Federal government, and FEMA in particular, seemingly had no idea how to help the fishing community get back on their feet after the storm. According to Encalade, FEMA provided fishing families temporary housing in trailers after the storm, while repairs for their boats - which could have provided both housing and a means of income – remained mired in red tape.
 
But by the spring of 2010, many residents who'd been displaced had moved back and most fishermen had finally gotten their boats fully repaired. The predominately African American community of Pointe-A-La-Hache, like most fishing communities across the Gulf Coast, was looking forward to what most thought would be the best fishing season in recent memory. Encalade was in the process of finalizing plans to buy new boat, in anticipation of the good times to come.
 
But then, on April 20, 2010, the bottom fell out – or to be more accurate, it blew up.
 
BP's Deepwater Horizon explosion killed eleven men and the out-of-control gusher that followed unleashed at least 4.9 million barrels of oil onto the once-abundant Gulf. The initial explosion was swiftly followed by a three-month long carpet bombing of the area – including the oyster reefs that sustained Encalade's community - with nearly 2 million gallons of chemical dispersants.
And now, four and a half years later, the results continue to be devastating, surreal and often indescribable.
As we stood by the dock in the nearly deserted Pointe-A-La-Hache Marina on a hot August afternoon. Encalade started to say something, paused, thought for a minute, and then tried to explain it another way.
"Imagine someone came up and said they were going to take the Federal Reserve from the United States. We'd have a panic like this country never saw. Those oyster reefs were this community's Federal Reserve."
The patriotic analogy was fitting. He had served proudly in Vietnam, where someone from the community served every in operation, from the first to the last. Many did two or three tours of duty and at one point, Encalade said, almost his entire high school class was there. He can't imagine any place in the country sent more young men per capita than the East Bank of Plaquemines Parish.
 
Like all who went, they longed for home and the young men from Plaquemines Parish and across the Gulf often shared one common dream – to return home, buy a fishing boat and raise a family.
"All they ever wanted to do was come back home, just like I did," Encalade explained. "First thing I did was get me a trawl boat and go back trawling."
Encalade worked hard, using the knowledge his uncles had passed along about oyster fishing and a genuine love for what he was doing. He did well - raising his children, sending them to good schools and hiring on relatives, neighbors and friends when there came to be more work than he could do alone.
 
"Back then, guys could get up in the morning, go out to get their ten sacks of oysters and pay their light bill, put their kids through school, buy their children clothes. The oyster reefs were the lifeline, the blood of this the community. Without those oysters, the whole community suffers."
 
When BP's oil hit the marina, the water turned black and the sickening smell of dispersant and oil blanketed the community. "They smelled it all the way in New Orleans," Encalade reminded me. "You can imagine how it smelled here. People would just close their doors and try to stay inside."
 
Like so many across the Gulf Coast, Encalade says he and many of his neighbors still suffer from continuing sinus problems, breathing issues and other ailments that doctors aren't able to cure. When asked if he'd filed a medical claim, he called BP's claims process a joke.
 
Don Beshel, who owns the marina and had just pulled up to the dock with a load of live bait, agrees. He says even though he's suffered enormous financial losses, his business claim has yet to be paid.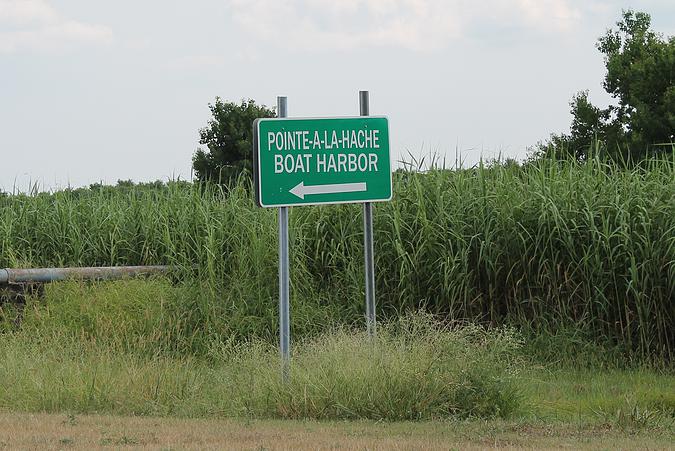 Like Encalade, Beshel has been an outspoken advocate for the community, so much so that he and Encalade suspect that's one reason BP never used the marina to house clean up operations. Years ago, Beshel's family had owned a furniture factory, making it a point to hire mostly local folks. He talks about various community members as if they were family.
 
Before the BP disaster, the marina would have been bustling with boats unloading their oysters and trucks ready to load them for the short trip to New Orleans. A few hours later, the fresh oysters would be served for dinner at one of New Orleans famous restaurants or would be feeding a local family. Now, the oysters just aren't there.
 
Beshel is quick to point out the lunacy of BP's public relations campaign. "Those BP commercials are a bunch of lies. Truth is we aren't getting paid and things aren't right. End of story."
 
Encalade continues, "Look at the amount of fishermen in this community (who settled with BP) that they have paid $5,000 or $25,000, and now they're broke." He says BP's process dragged on and on, until in desperation, fishermen who had losses in the hundreds of thousands of dollars were forced to sign off.
 
"Myron," he said, referring to Myron Kinsey, who'd been helping Beshel unload the boat, "is working here, has always worked for Don (Beshel), always worked on the bayou and then went to Don and he'd give him jobs around here. But now it's on the backs of Don and people like myself to try to hold up the community. But we can't barely hold up ourselves, it's getting harder and harder."
And Encalade's barely surviving. "Me and my brother, we live with our dad. I don't know how the guys with a house note, with kids in school, with mouths to feed, can maintain their sanity." He's long-since scrapped plans for that new boat.
 
"You've been here two hours," Encalade says to me, nodding toward Beshel "and you've got to say 'how can he continue paying these people when he's not generating any revenue.' But he tries to do it, it's that family atmosphere, that family commitment you have to this community as if it's your family. And that's what keeps you going."
 
Both men worry for the future of their community.
 
"It used to be kids would unload the oysters. Don would give them jobs cleaning up, unloading boats. But not any more - kids can't even make a dollar. That was our summer job program and the government didn't have to finance it – it was part of our community, it's just what we did," Encalade, a grandfather himself, proudly explained.
 
"Right now, we haven't even started to recover, and that's the sad thing. We're almost five years out and we haven't see the first sign of recovery…even if we start recovery today, we're still looking at three to five years before we can even start to sustain ourselves again."
 
Kinsey, who'd been quietly unloading bait from Beshel's boat, stopped for a minute, "We never ran out of oysters before, I have an oyster license, and I can't even use it…this marina's never been this dead in all my life."
 
As much damage as BP has done, Encalade says, Louisiana's elected leaders haven't helped the situation. He says poorly planned and implemented state policies, as well as politics, fueled by his state's cozy relationship with the oil and gas industry are destroying the state's natural resources and the communities that rely on them to survive.
 
"In Louisiana, we have a government that always is creating policy that puts us subordinate to the oil and gas industry. And that attitude needs to change, and as voters, we're going to have to start demanding that we know where our elected officials stand."
 
Though they both blame BP for damages to the oyster reefs, Encalade and Beshel both say too much fresh water made a bad situation worse.
Governor Jindal ordered fresh water to be flushed out, in an attempt to keep BP's oil from reaching the delicate shore. Whether it did any good or not is still up for debate. But the decision gave BP, always eager to deny responsibility for damages, someone else to try to point the finger at, claiming it was the fresh water, not the oil that hurt the oyster beds.
Southeast Louisiana was formed by the Mississippi River, which over thousands of years deposited sediment as it wound its way into the Gulf of Mexico. The goal of most fresh water diversions is to let the river branch off and deposit much-needed sediment, and eventually build back land that's been lost. Those opposed to the diversions say they are poorly thought out, don't work and are doing more harm than good, particularly to the fisheries.
Beshel agrees. "Mother Nature and the Mississippi River brought the land down here, but it can't do it now because of the levees – we need to pump it back there. But they (state officials) won't do it because it's too expensive. But they'll let it take fifty years until there's no land left."
Encalade says his community has been asking for small diversions for years, but only if they're carefully controlled. Right now, he says, state officials are playing Russian Roulette - too much fresh water not only kills the oysters, but alters the entire marsh. If the salinity isn't stabilized, the results are devastating. Fresh water kills the salt water marsh and salt water kills the fresh water marsh. The result is exactly what the state doesn't need – more dead marsh grass, which leads to more erosion and more land loss.
Earlier in the day, we'd driven down to Mardi Gras Pass, which was formed a few years ago on Mardi Gras Day (hence the name) as little more than a breach of the riverbank. In the past few years it's rapidly grown to what some in the area consider a dangerous and often-uncontrollable flow of land-devouring water.
Others hoped the water would build land, but instead, it led to more land loss, including the destruction of a road used by Sundown Energy. Encalade says the decision to regulate the pass was controversial, and likely only approved because of the heavy influence the oil and gas industry has in Baton Rouge. He's happy that at least this time, they're on the same side.
But he points out the Baton Rouge politicians often dismiss community concerns or worse – leave residents uninformed. A few hundred yards from the turn-off to Mardi Gras Pass, sits an odd-looking unattended facility. Behind a tightly secured fence comes the constant hum of some type of equipment. The sign on the fence indicates the operator is Premier Environmental, LLC.
"This is a nightmare for us, one of our most scariest things," Encalade says. "We never see the trucks during the daylight. They come down at two or three o'clock in the morning and dump toxic stuff into the ground and go."
Encalade has more questions than answers about the injection well.
 
"How far down is it going? Is it safe? All we know is our parish officials approved this stuff…we're basically in the dark. We don't want to find out twenty years from now this stuff is seeping back though the ground somehow and our seafood, which we desperately rely on is being poisoned."
 
"Right now if you ask anybody in the community 'what kind of chemicals are they putting in here, what are they doing?' Nobody could answer that. And it may be perfectly all right, how do I know? But if it's perfectly all right, why all this damn secrecy?"
 
Exactly what is being stored in the injection well is unclear. A check of state records indicates the well was permitted by the Louisiana Department of Environmental Quality (LA DEQ) to take Naturally Occurring Radioactive Material (NORM), possibly fracking or oil field waste. The permit was issued after a fifteen-minute hearing that was held in March 2006, barely six months after Hurricane Katrina, during a time when many residents were either still displaced or struggling to rebuild. Only one person – an industry representative spoke. A follow-up hearing was held in Baton Rouge.
 
Back at the marina, Kinsey was just about done unloading the boat. As he took a swig of water, he said, "They don't care about us down here no more. They've just written us off – if we survive we survive, if we don't survive, we don't."
 
Beshel chimed in a little more optimistically, "If we get some help in Baton Rouge and if we elect the right people, maybe we can change some of this stuff, maybe we can be saved. It's all about adapt and survive. That's all we can do."
 
"But," he says quietly, "There comes a time when you can't feed yourself and the only adaptation you have is to leave. And we don't want to do that. I think we still can save our community. I really do…"
 
"We're gonna try," added Encalade, "It's too late to jump ship now, we have no where to go, because it takes money to go. We're drowning with the ship."