Sitting on the Dock of the Bay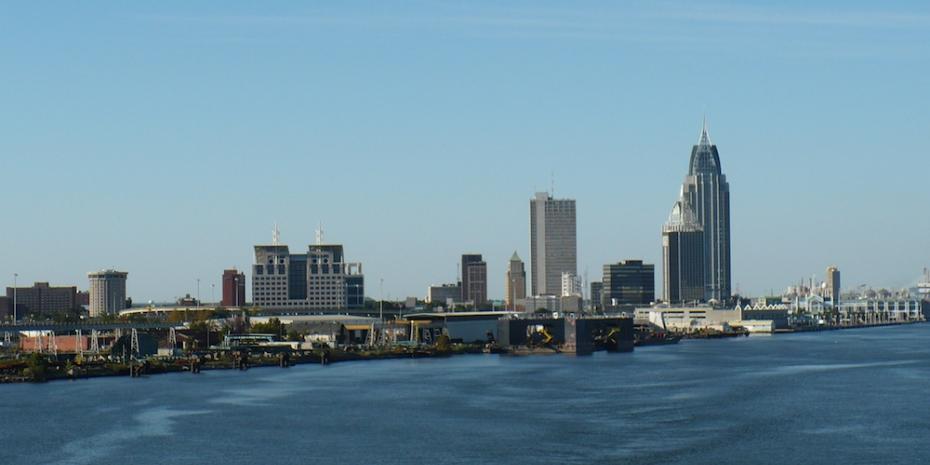 The Africatown community is one of several city gems that are located on the dock of the Mobile River (which flows into the Mobile Bay) that are paramount to the success of the tourism industry in the city of Mobile.
1. MOBILE'S GULFQUEST MARITIME MUSEUM - Est. cost $65 Million Taxpayer's Dollars   
Set to open in September 2015, Mobile's GulfQuest National Maritime Museum is expected to attract an average of about 800 visitors a day to the City of Mobile. The Museum is an impressive structure from the outside and I can't wait for opening day to view what exhibits it will have on display.
2. MOBILE'S CONVENTION CENTER - Est. cost $25 Million Taxpayers Dollars 
The best looking Convention Center on the Gulf Coast. It was built to stand the test of time. Has demonstrated that it is hurricane proof as well as flood proof. The Convention Center houses conventions and is dependent upon other attractions to entice convention-goers to come to the city for their conventions. A beautiful Convention Center becomes easier to sell to convention-goers when there are other things to do besides meet and greet. Mobile is a family-friendly city and convention-goers will bring their entire family if there are fun sites to see.  
3. CRUISE TERMINAL - Est. cost $20 Million Taxpayer's Dollars  
Was a complete success when it was operational. I had friends coming from Arkansas,Tennessee, Georgia, North Carolina and North Florida to take a cruise from Mobile. From where I set (the cheap seats), it seems as though the Carnival Cruise Line was "dead set" to move to New Orleans. Mobile needs and deserve a replacement even if we have to start our own cruise line. How about a party ship that goes out into International Waters overnight to gamble and returns the next day?  
Photo: City of Mobile. Source: wikipedia.
4. MOBILE'S IMAX THEATER/EMPORIUM/HISTORY MUSEUM COMPLEX - Est. cost $15 Million Taxpayer's Dollars  
Could use an injection of promotional dollars to get the word out about what it has to offer. One of Mobile's best kept secrets. Each time I have attended it I have enjoyed myself.
5. MOBILE'S HISTORICAL DOWNTOWN COMMUNITY DISTRICTS - Oakleigh District, Church Street East District, DeTonti Square District and Business District 
These Historical Districts in Mobile's Downtown area play a large role in tourism in the City of Mobile. The communities display a rich history of southern charm and grace while the Downtown Business District can only be described as a "Little New Orleans".
6. MOBILE'S AFRICATOWN COMMUNITY- Africatown's history is a big part of Mobile's future  
The historical significance of Africatown is important not only to Mobile but to the entire country. While the Africatown Story in itself is a movie waiting to be made (books have already been written), the community is in the initial stage of renovating itself to make the community more appealing to tourists. The community is reclaiming its wetlands and looking to establish community businesses and improve housing.  
The "GEMS" mentioned above represent about $125 Million in Taxpayer's money setting on the dock of the Mobile Bay. In addition, there are Millions of private funds and "sweat equality" tied up in the Historic Communities mentioned above. It seems unthinkable that anyone would think about jeopardizing such a large amount of public and private investments by allowing dirty, smelly, toxic and dangerous industries to move next to such valued assets to the future of the city of Mobile. Of course the Industry I am referring to is tar sands oil storage, sulfuric acid storage, coal storage and asphalt production. 
Mobile, let's not bring to life the second part of that Otis Redding and Rolling Stones hit song, "Setting On The Dock Of The Bay - Wasting Time". Let us all promote Mobile in a positive way. One Purpose, One Direction, One Goal, ONE MOBILE.