Coalition of Oystermen, Injured Workers and Waterkeepers Wins Hearing on Formosa Plastics' Discharge into Lavaca Bay, Texas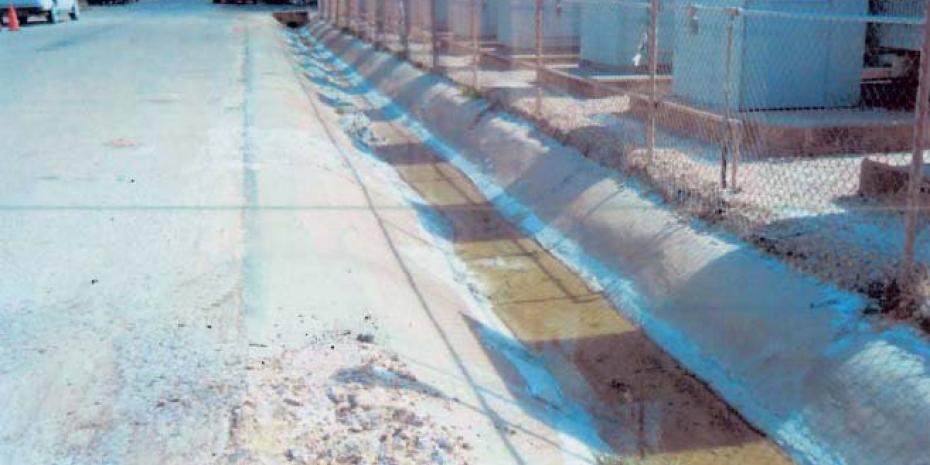 Austin, Texas – A coalition of groups consisting of the San Antonio Bay Waterkeepers, Union of Commercial Oystermen of Texas and Texas Injured Workers have challenged and won standing for a contested case wastewater hearing against Formosa Plastics, Point Comfort, Texas.
Photo: What appears to be PVC dust in a storm drain that leads to Lavaca Bay
"We take the condition of the bay and the oyster reefs in Lavaca and Matagorda Bay very seriously," said Maricio Blanco, a local oysterman and shrimper who said he was very happy to hear the news of the oystermen's standing and their hearing opportunity.
The wastewater permit by Formosa Utility Venture, Ltd. and Formosa Plastics Corp. (WQ0002436000) expired in 2010 and has been administratively allowed to continue for over five years while this major permit amendment has been pending.
The groups, which are represented by Texas RioGrande Legal Aid (TRLA), raised multiple concerns about Formosa's discharge and the permit's impact upon the Lavaca/Matagorda Bay system.
On January 20, Texas Commission on Environmental Quality
(TCEQ) commissioners voted to allow 17 issues to be addressed by the groups in a contested case hearing. The commissioners referred the case to first to an alternative dispute resolution (ADR) first and set a 12-month timeline for the hearing.
The issues to be addressed include:
Increased copper discharges violate anti-backsliding provisions of Clean Water Act (CWA) and threaten aquatic species.
Increased chloroform discharges violate anti-backsliding provisions of CWA and threaten aquatic species
Permit conditions of three years to meet dioxin and furan discharge standards violates CWA.
Formosa's entire compliance history should be considered. *Discharges will degrade Segments 2453, 2453, 2454, Cox Lake and Cox Bay, Lavaca Bay/Chocolate Bay in violation of the CWA.
LLDPE pellets and PVC dust must be prohibited from being discharged into waters of the United States.
Phthalates must be tested for in the discharge. (In high doses, phthalates have been shown to change hormone levels and cause birth defects.)
Discharge impact on bay during low and high tide not adequately considered.
Discharge impacts on oyster reefs not sufficiently reviewed.
Sampling and measurements taken for the purpose of monitoring the regulated discharge should be representative of the monitored activity.
"Lavaca Bay has already been contaminated in the past and we will do everything that we can do to make sure Formosa complies with the Clean Water Act and protects this bay for the people who rely on it for work and recreation," said Erin Gaines, the TRLA attorney representing the groups.
"That means that every potential source of contamination or harm needs to be reduced and, if possible, eliminated," said Blanco.
For years, Ronnie Hamrick, a retired shift supervisor from Formosa Plastics and Texas Injured Worker member, has been concerned with Formosa's discharge of plastic pellets and PVC dust into the bay.
"That stuff isn't good for the workers in the plant to breath," he said. "So it sure isn't good for the fish in Lavaca Bay either."