Mercenary Firm TigerSwan Applies for License to Operate in Louisiana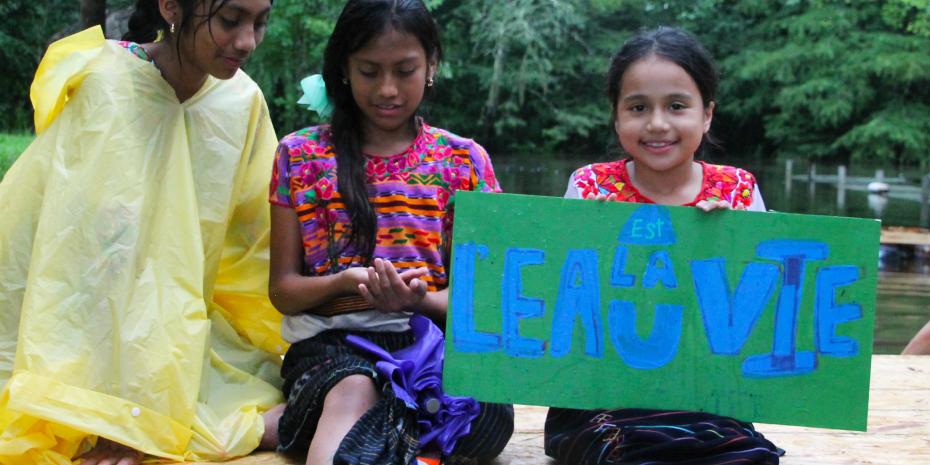 Baton Rouge, LA -- TigerSwan, the mercenary firm under fire in North Dakota for using counterterrorism tactics against water protectors opposing Energy Transfer Partners' Dakota Access pipeline at Standing Rock, has applied for a license to provide private security in Louisiana.
While the application process does not require the firm to indicate who they will be working for, Energy Transfer Partners spokesperson Alexis Daniel said the pipeline company anticipates work to begin on the Bayou Bridge pipeline in the third quarter of this year.
Photo: Girls float on a raft at the launch of L'eau Est La Vie resistence camp on June 24 near Springfield, LA
The Bayou Bridge pipeline is the southern leg of Energy Transfer Partners' Bakken pipeline system, which includes the now-complete Dakota Access pipeline. If built, the 163-mile Bayou Bridge pipeline will run from Lake Charles to St. James Louisiana, cutting through 11 Louisiana parishes and crossing 700 bodies of water.
In May, the Louisiana Department of Natural Resources (LDNR) issued a coastal use permit for the project, which was required because the pipeline is slated to pass through Louisiana's sensitive coastal areas. Once the remaining permits are secured and the pipeline is completed, the system is projected to transport 480,000 per day of fracked oil per day from North Dakota to St. James, Louisiana.
Documents recently released by the Intercept and Grist show Energy Transfer Partners hired Tiger Swan, a mercenary security force, to use counterterrorism tactics against water protectors in North Dakota. Documents show Tiger Swan compared water protectors to "jihadists" and "insurgents."
According to its website, TigerSwan was founded "in 2007 by retired members of the United States Delta Force." Delta Force is a secretive counterterrorism special operations unit of the US Army reportedly used to eliminate its targets or to engage in hostage recovery. While in North Dakota, Tiger Swan worked closely with local law enforcement.
Fabian P. Blache III, Executive Director & Chief Administrative Officer of the Louisiana State Board of Private Security Examiners, said this is the first time the mercenary firm has applied to operate in Louisiana.
He said the firm and its leadership team will be subject to a strict application process that includes criminal background checks and document verification.
"We will verify documents such as resumes and other certificates submitted to our office and look to see if applicants have a history of license suspension in other states," said Blache. He said the board will examine information on the firm's owners as well as its employees.
TigerSwan illegally operated in North Dakota until September 2016, when officials notified the firm, which then applied for a license. In December, the North Dakota Private Investigative and Security Board rejected the company's application, reportedly because James Patrick Reese, the firm's president has a criminal record.
The Bismark Tribune has reported that in a June 12th complaint, North Dakota officials charged that Reese and/or his company "illegally continued to conduct private investigative and/or private security services in North Dakota following the denial of their application of licensure." Reese has denied having a criminal record, but according to the complaint, failed to submit additional documentation required by the board.
Blache said the Louisiana board requires the company to submit information indicting where they will operate, but not who they will be working for.
"They cannot advertise or publicize their services until they are licensed. Because if they were to know who they are working for, it would be an indication that they have already solicited," said Blache.
A spokesperson for TigerSwan said advising its clients on a safe working environment is their top priority, but declined to comment when asked if the firm is currently providing security services for Energy Transfer Partners on the Bayou Bridge pipeline.
Lafayette, Louisiana resident Steve Wilkerson is one of may local residents who have spoken out against the Bayou Bridge pipeline. He says TigerSwan has no business working in Louisiana.
"They have a history of having no regard for the law or the people they interact with," said Wilkerson, a veteran within the Army special operations community.
"They have a history of falsifying reports, they have a history of violence. There's absolutely no way they should be approved with a history like that, their track record should paint a very vivid picture," Wilkerson said.
Louisiana's application asks specifically if applicants have a criminal history and if the company has "ever had a certification, professional license of other work credential suspended, probated, revoked or otherwise restricted by any state or authorizing agency at any time."
There is no formal process for public participation in the application, but Blache said the public can give input via TipLine@LSBPSE.com.
Energy Transfer Partners spokesperson Alexis Daniel declined to say whether or not they have contracted with TigerSwan for work on the Bayou Bridge pipeline.
"We do have security plans in place and we do communicate with law enforcement agencies as appropriate," said Daniel.
In February, James "Spider" Marks, who is on TigerSwan's board of advisors, but who does not live in Louisiana, spoke out in favor of the pipeline at a public hearing in Napoleanville.
At the time, Marks, a Virginia resident, did not identify himself as representative of TigerSwan. Marks also published an opinion article in the Daily Advertiser that inaccurately claimed opponents of the pipeline were not "native Louisianans".
Cherri Foytlin is an organizer with Bold Louisiana who opposes the pipeline and who has organized L'eau Est La Vie, a mobile floating resistance camp which launched last week. Foytlin said she's not surprised to learn about TigerSwan's application.
"It would be foolish to say that we didn't stop to take caution - that's the reason why we're vetting this camp so much," she said.
"We're trying to protect the people in the camp because we're talking about mothers and fathers and grandparents and sisters and brothers and children and we want to make sure they're as safe as possible," she said, adding that water protectors plan to stay in prayer and will remain peaceful, even in the face of military-style mercenaries like TigerSwan.
"It doesn't change my resolve or the level of commitment that the water protectors here in Louisiana have of stopping this pipeline and protecting our waters and land," said Foytlin.
(This story has been updated to include comments provided by TigerSwan and to clarify the type of license the firm has applied for.)