ETP Reroutes Controversial Bayou Bridge Pipeline Around L'eau Est La Vie Resistance Camp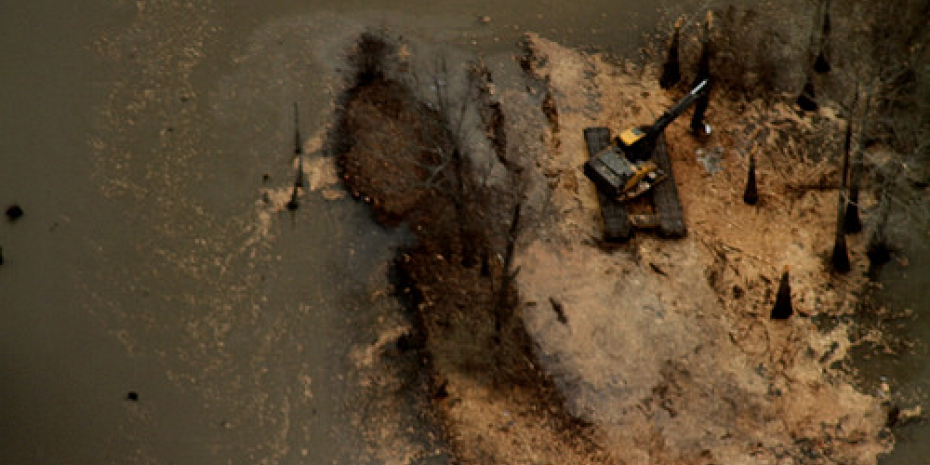 Energy Transfer Partners (ETP) has confirmed that the controversial Bayou Bridge pipeline has been rerouted to go around the L'eau Est La Vie resistance camp.
"We are glad that we are safe in our little corner, but we still have grave concerns for our neighbors whose land has been taken by this disaster-prone company," said Cherri Foytlin, a representative from L'eau Est La Vie camp.
"We will continue to work with citizens across Louisiana to stop this pipeline - if we can stop it from coming on our land, so can landowners across Louisiana," said Foytlin.
Located southwest of Baton Rouge, the camp lies on land purchased in December by pipeline opponents, who call themselves water protectors. It is thought to be the first time that water protectors have purchased land that lies in the path of a proposed pipeline.
Photo: Workers for Energy Transfer Partners use a tree chipper in Cocodrie Swamp during construction of the Bayou Bridge pipeline on February 1, 2018. By Scott Eustis for the Gulf Restoration Network c/o Southwings.
The Bayou Bridge pipeline is the southern leg of Energy Transfer Partners' Bakken pipeline system, which includes the now-complete Dakota Access pipeline. The company received its final required permit in December and began construction on January 11.
When completed, the 163-mile Bayou Bridge pipeline will run from Lake Charles to St. James Louisiana, cutting through 11 Louisiana parishes and crossing 700 bodies of water. Clearing has already begun in the Atchafalaya Basin, the nation's largest river swamp and a natural heritage area.
During a recent flight over the Basin, large machinery operated by pipeline construction crews could be seen ripping up trees, pulverizing the wood and spewing out a long trail of newly mulched wood chips.
"We saw trees being shredded in an instant by these machines that then spray the chips everywhere. Some of these trees are between 50 and 200 years old -- it's devastating," said Scott Eustis, Community Science Director for the Gulf Restoration Network.
"What we saw was Bayou Bridge beginning to build their pipeline, damming the Atchafalaya Basin without having an Environmental Impact Statement," said Eustis, who said the pipeline has many impacts beyond its immediate footprint.
"Even in their death, the trees are telling a story -- we can look at the chips flowing or not flowing in the water and they tell the story of how these pipelines are damming the Basin," said Eustis.
Third-generation crawfisherman Jodi Meche said the basin has changed dramatically in recent years.
"All of our deep bottoms have become elevated to where it doesn't sustain the traditional habitat that the basin was known for," said Meche, 48, whose father was born and raised on a houseboat in the basin.
"I mean areas that I used to be able to go in, you know, with a boat and fish and use and see all of the different habitat that's native to the Atchafalaya basin, it's becoming high ground from all of these pipelines that have been constructed across the basin," Meche said at a fundraiser held last week for the Atchafalaya Basinkeeper.
Foytlin said water protectors have been camping out at L'eau Est La Vie since December, protecting the land and preparing it to be used by the surrounding communities as a hub for environmental education and sustainable agriculture.
Energy Transfer Partners confirmed the pipeline will go around the camp.
"In this case, we were able to adjust the route to increase our co-location with other utilities in the area," said Alexis Daniel, a spokesperson for Energy Transfer Partners.
In an emailed statement, Daniel said adjustments are not uncommon and have been made in other locations along the pipeline path, but did not elaborate on the location of other changes.
Monique Verdin, a filmmaker and member of the Tribal Council for the United Houma Nation, said the Bayou Bridge pipeline is another false promise.
"Louisiana, her waters and her people take all the risks, while our politicians weigh profits over ethics and industry dictates what is suppose to be democratic processes, set in place for the protections of our environment and social wellbeing, with the foresight to protect for generations to come," said Verdin. "But that isn't how ETP, the Army Corps and the governor of Louisiana have been operating."
Eustis said route changes like the one made around what L'eau Est La Vie show that Louisiana residents can protect themselves and their environment from destruction.
"Louisiana's had a lot of hurt but we also have a lot of treasures and when we bear witness, we can protect our treasures," he said. "That's what L'eau Est La Vie shows - that we can protect our treasures from these companies."