Water Protectors Say Law Enforcement Not Protecting Them from Bayou Bridge Workers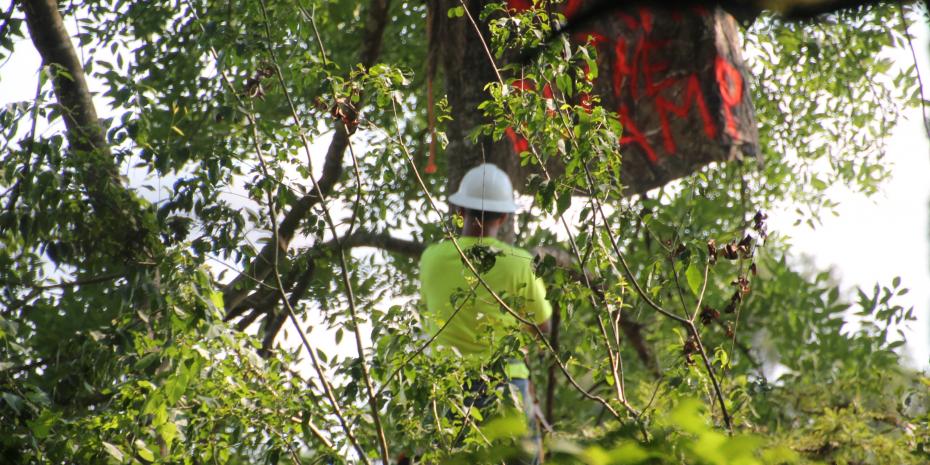 Water protectors engaged in a tree sit in the Atchafalaya Basin say some local and state law enforcement agencies in Louisiana are refusing to protect them from what they call aggressive and dangerous actions by Bayou Bridge pipeline workers.
In a letter sent to the St. Martin Parish Sheriff's Office, the Louisiana State Police and the office of Governor John Bel Edwards, attorneys for the water protectors formally advised the agencies of "serious ongoing health and safety concerns for people protesting the construction of the Bayou Bridge pipeline".
They also requested law enforcement agencies order workers for the company to "cease and desist from cutting and/or clearing in the immediate vicinity of the protestors" and say failing to protect water protectors could result in civil liability litigation.
According to the letter, the agencies are "fully aware of the danger, yet [have] taken no action to protect the health and safety of the people protesting."
The Bayou Bridge pipeline is part of a larger Energy Transfer Partners project slated to connect the controversial Dakota Access pipeline in North Dakota to refineries in St. James Parish and nearby export terminals.
Earlier this week, St. Martin Parish Sheriff's deputies were present as pipeline company workers cleared trees close to the tree sit. Around mid-day all Sheriff's department officers and most workers left the area.
A short time later, a large group of pipeline workers returned with two armed individuals wearing uniforms that identified them as officers with the Louisiana Department of Probation and Parole.
A climber for the pipeline company then entered the occupied trees and used a chain saw to cut several branches from three occupied trees.
Water protectors said cutting occupied trees endangers their lives and said the pipeline company deliberately waited until Sheriff's deputies left the area prior to entering occupied trees.
"It's like they knew it was risky and they shouldn't be doing it," said one water protector, who preferred not to be identified.
"It's just really suspicious that all morning the sheriff's officers were here they did not cut the trees where we are sitting, but as soon as they left the company came in and started cutting," said another individual.
For several weeks, individuals have occupied trees along the pipeline route. They say they are trying to protect the environment and people of Louisiana, particularly the St. James community, which currently has no evacuation route in the event of a pipeline disaster.
Vicki Granado, a spokesperson for Bayou Bridge, said the trees are on the company's right-of-way and anyone not associated with the project is not permitted to be there.
"All actions were taken with the guidance, coordination and understanding of local law enforcement," said Granado.
The Governor's Office and law enforcement agencies did not immediately respond to request for comment.
In the letter, attorneys also allege that St. Martin Parish Sheriff's Department handcuffed and shackled two water protectors who were arrested earlier this week near the tree sit. They were then transported by boat, which "may not conform with proper arrest and custody protocols and procedures".
Ann White Hat, co-founder of the L'eau Est La Vie resistance camp, said law enforcement has refused to order pipeline construction workers to stop their dangerous, reckless and unsafe activities.
"This is nothing less than wanton and reckless endangerment of water protectors in order to protect Energy Transfer Partners and their Bayou Bridge pipeline."
Disclosure: Karen Savage is an investigative journalist currently embedded with the L'eau Est La Vie resistance camp in Louisiana. Karen has been reporting and building relationships and sources along the Gulf Coast for more than 10 years. In 2013, she co-authored a story with Cherri Foytlin, co-founder of L'eau Est La Vie.