Louisiana's troubled refineries averaged an accident a day in 2010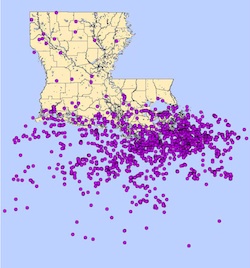 Press release from Residents for Air Neutralization, Community Empowerment for Change, Louisiana Bucket Brigade, and United Steelworkers. November 14th, BATON ROUGE, La. – Reports provided by refineries to the state of Louisiana detailed 354 accidents in 2010 – one for nearly every day of the year – an embarrassing and dangerous continuation of the high accident rate in Louisiana's beleaguered oil industry. The two Exxon refineries in the state were responsible for a third (133) of the accidents.
Download the full report here.
"The oil industry has an accident problem in this state," said Anne Rolfes, Founding Director of the Louisiana Bucket Brigade. "The industry remains in denial – even in the aftermath of the BP Disaster." Oil industry accidents in the Gulf of Mexico numbered 3,700 from September 2010 to September 2011.
The count of refinery accidents released today is part of an annual report on Louisiana's refining industry: Common Ground: Why Cooperation to Reduce Accidents at Louisiana Refineries is Needed Now. The state's 17 refineries must file reports with the Louisiana Department of Environmental Quality (LDEQ) in accordance with the federal Clean Air Act. These reports of accidents – called incidents or upsets by industry – show that 487 tons of air pollution and 200,000 gallons of water and ground pollution were dumped in the state last year. This is in addition to other emissions approved by the state.
Image: Petrochemical Accidents in Louisiana in 2010, from the Common Ground III report.
Both the state and the federal governments have cited Louisiana refineries for incomplete reporting, and testimony from workers and refinery neighbors confirm that industry fails to disclose accidents that release carcinogens, developmental toxins and respiratory irritants. "I have neighbors with chronic health problems, asthma attacks and trouble breathing," said Seabell Thomas, President of Baton Rouge-based Community Empowerment for Change. "I also see the rapid rate of death in our community from cancer."
The report makes recommendations for how to solve the accident problem.
1) Refineries should hire more workers. These jobs should be good union jobs, not contracted labor. The most significant cause of accidents in 2010 was faulty piping and tubing (12 percent of all emissions and 68 percent of ground/water emissions). Refineries need more workers to conduct maintenance, replace old pipes and operate the facilities. 
"Refinery accidents highlight the dangers and risks posed to our members and the community by continued operation of these facilities at less than optimal levels," said Gary Beevers, International Vice President for the Steelworkers Union. "The leaks and releases documented affect the health of all of us and allow the potential for more catastrophic events to take place at these refineries.  These employers must do a better job to keep their workplaces in good condition and maintain adequate levels of trained workforce to safely perform that maintenance and operate them."
2) Louisiana needs more vigorous enforcement by the federal Environmental Protection Agency (EPA) and the U.S. Department of Justice. "I hear people in my neighborhood talk about health problems – neighbors with asthma," said Velma White, President of Resident for Air Neutralization. "This refinery is not good for us in this community. I'd like to know what has the Louisiana Department of Environmental Quality been doing to protect the people?" Officials from the state LDEQ met with Shreveport residents in late July, assuring them that complaints about Calumet Lubricants' refinery emissions were unfounded. Eighteen days later the EPA conducted a surprise inspection, finding numerous violations of the Clean Air Act. The situation was so severe that the plant manager admitted on the spot to non-compliance for some violations.
"Today's Common Ground report emphasizes that federal enforcement actions like this one are needed," said Ms. Rolfes. "The lax regulatory environment in the state means that it sometimes takes federal oversight to identify problems – as in the case of the Calumet refinery. The fact is that the oil industry dominates this state. We need federal intervention to curb the worst abuse and neglect by the state and industry. We needed federal intervention to achieve our civil rights, and we need it now."
Accident reports are accessible via the Refinery Accident Database at www.labucketbrigade.org. The Louisiana Bucket Brigade has compiled refinery accidents since 2005. Since then refineries have reported 2,961 accidents, an average of nearly 500 a year. Meanwhile refineries continue to lay off workers who might prevent such problems.
About the partner organizations:
Residents for Air Neutralization is a group of concerned citizens in Shreveport working to reduce pollution and improve the quality of life in their neighborhood.
Community Empowerment for Change's mission is to improve the quality of life in East Baton Rouge Parish by fighting environmental racism and improving envi­ronmental health.
The United Steelworkers: We're 1.2 million active and retired members strong. You'll find us fighting for a better life for all workers in union halls, at the work place, in the courts and in legislatures.
The Louisiana Bucket Brigade is an environmental health and justice organization supporting neighborhoods' use of grassroots action to create informed, sustainable communities free from industrial pollution.