On My Arrest at the Tar Sands Blockade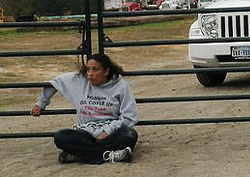 By the time you read this I will be actively engaged in a non-violent direct action designed to bring awareness to the construction of the southern leg of the Keystone XL Pipeline, to this country's continuing use of our cherished Gulf Coast as the nation's energy sacrifice zone, and in defense of our Mother Earth.
Having spent the last several days with Gulf Coast communities that will be adversely affected by this disastrous project and after visiting with residents whose efforts to protect their communities, their land and their ecosystems through civil discourse and through the exercise of their constitutional rights and freedoms have been repeatedly denied, I am convinced that the choice to use our bodies as a shield in order to amplify the call for protection is indeed necessary. 
It is time for us to take a stand, to take action, to join with our Texas neighbors and with our brothers and sisters from across the country, from Canada and from around the globe to say, "no more!" 
Today I stand as a Gulf Coast resident and in solidarity with the Defend Our Coast activities in British Columbia, where more than 60 Canadian communities are protesting a proposed tar sands pipeline through their region. We must, as a unified voice, defend all coasts and all regions from toxic tar sands pipelines. 
The Gulf Coast is not our nation's sacrifice zone! We will not, cannot, sit idly by while our freedoms are trampled by a foreign corporation, we will not, cannot risk our children's air, water and land for empty promises of "energy independence" or "jobs" or in the name of "progress". 
I come to you today, to ask you to join us – the Tar Sand Blockade, Rising Tide North Texas, and others, in our mission, and to solidify the Gulf regional voice.
I know that many of you may be unable at this time to join me in Texas or to commit to acts of non-violent action, yet there are other ways to support this mission. 
However you choose to support, every action is needed.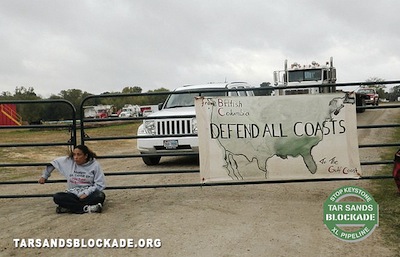 By taking action, it is our hope that environmental justice communities across the Gulf will be brought into the national spotlight in conjunction with this highly publicized event.
In closing, I would like to add that it is an honor to serve with you. I am proud of all of your work. Who knows what this action will yield, but I do know that this is our time to make a righteous commitment to each other and to our regional movement for justice for our historically overburdened environmental justice communities, for the people and ecosystems that continue to suffer the effects of the BP disaster, for the health of our communities, and for the people and ecosystems of our Gulf Coast. 
God be with you.
In solidarity,
Cherri Foytlin
P.S.  Please go to this link for a live blog of today's action - tarsandsblockade.org/10th-action/
This post was adapted from an email. Photos courtesy of tarsandsblockade.org.
Cherri Foytlin is a journalist, mother of six and wife of an oil worker, who lives in south Louisiana. She is the author of "Spill It! The Truth About the Deep Water Oil Rig Explosion," and regularly contributes to www.BridgeTheGulfProject.org, The Huffington Post, and several local newspapers. In the Spring of 2011 she walked to Washington D.C. from New Orleans (1,243 miles) to call for action to stop the BP Drilling Disaster, and has been a constant voice speaking out for the health and ecosystem of Gulf Coast communities, in countless forms of media. As founder of "28 Stones," - a Gulf based media project which focuses on national movement building through art, photography, video and written word - she is working to, "help build the foundation for a cooperative and unified amplification of voices and needs, particularly of Gulf Coast communities, across the nation and globe."