Coastal Alabama Residents Share Their Stories
Coden Alabama - Yesterday and today, at the Coastal Response Center,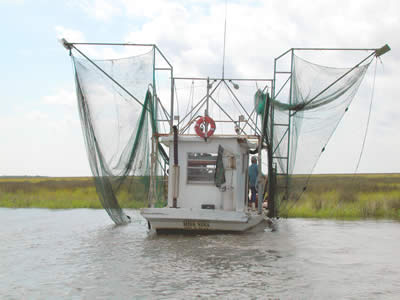 StoryCorps, hosted by South Bay Communities Alliance, recorded the voices of 13 Katrina and BP disaster survivors from coastal Alabama.  StoryCorps is the largest oral history project of its kind, and millions listen to the award-winning broadcasts on NPR's Morning Edition and on their website, www.storycorps.org. In addition, select interviews will be posted here on Bridge The Gulf.  Here's a small preview of what's to come.
Sirporn Hall -   " I have worked as a crabber for five years in Alabama's bayous and bays.  I was certified to work for BP Vessels of Opportunity.  I spent $3000 getting my boats ready.  BP never hired me, while many of my fellow fishers went to work.  This hurts me as a as a person who came from Thailand to enjoy American freedom, and as a woman trying to provide for my family.
Yesterday, after going to three different shops with 1600 pounds of crabs in my truck, with the ice melting, I finally found a shop to buy my crabs at .50 cents/lb.  Before BP the price was $1.10/lb. 
My story can be told by hundreds of fishers who were done wrong by BP and now can't make a decent living. Many have even faced hunger.  All of us -- Asian, Caucasian, Creole, and African American must come together with South Bay Communities Alliance and the Federation of Southern Cooperatives to build a democratic cooperative so we can get a fair price for the seafood we catch.
We also want to work with independent scientists to make sure the seafood is safe; and if any is found to have oil or dispersant then I say BP should buy it at pre-spill price."
Paul Nelson - "My family has been commercial fishermen for many generations, in Alabama, and we have relatives across Mississippi, Louisiana, and Texas. 
Katrina destroyed our home, and our oyster processing plant in Coden, Alabama that employed 60 people.  My mother died after living in a FEMA formaldehyde contaminated camper for a year.  Assistance never came, just like hundreds of other families approved for federal rebuilding assistance OVER 3 YEARS AGO! 
For the past year, I and my disabled brother have lived in an old trailer-- but at least free of formaldehyde, trying to rebuild our lives.  But then, we and the rest of my community get hit BP oil and dispersant".
StoryCorps has partnered with the NRDC and Bridge The Gulf to record the stories of the people on the gulf coast, with stops in Biloxi, Mobile, New Orleans, Terrebonne Parish and Buras.