Environmental Protection Agency?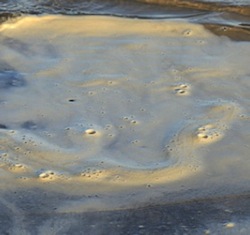 By Dahr Jamail, crossposted from Al Jazeera
Michelle Nix, from Pensacola, Florida, founded the group Gulf Coast Oil Spill Volunteers in an effort to be pro-active and do what she could to help when the BP oil disaster began on April 20.
"I had 500 volunteers coordinated to help with cleanup, people offering free oil boom, people donating their work and time to help," Nix told Al Jazeera.
She contacted the US Environmental Protection Agency (EPA), Coast Guard, Wildlife and Fisheries, "and everyone I could think of to try to help," Nix said. "But none of them responded. None of the government agencies would get back in touch with me."
Nix, not to be deterred, helped organise blood tests for several Gulf coasts residents who were experiencing sicknesses attributed to toxic chemicals released from BP's well blow-out and the dispersants the company has used to sink the oil.
In October, Dr. Wilma Subra, a chemist and Macarthur Fellow, conducted the blood tests for volatile solvents - chemicals present in BP's crude oil as well as their toxic dispersants - on eight people Nix provided who live and work along the coast.
Chemical contamination
Most of the people tested had these toxic chemicals present in their blood at levels several times higher than the national average. "Ethylbenzene, m,p-Xylene and Hexane are volatile organic chemicals that are present in the BP Crude Oil. The blood of all three females and five males had chemicals that are found in the BP Crude Oil," according to Subra's report.
Some Mississippi residents believe that unnatural foamy substances washing up on beeches are a byproduct of BP's toxic dispersants used as part of the clean-up effort around the Gulf of Mexico oil spill  [Photo: Erika Blumenfeld]
Ethylbenzene is a form of benzene present in the body when it begins to be broken down. m,p-Xylene is a clear, colorless, sweet-smelling, flammable liquid that is refined from crude oil and is primarily used as a solvent.
These chemicals in BP's oil are extremely hazardous to humans. They can cause headaches, nausea, vomiting, kidney damage, altered renal functions, irritation of the digestive tract, lung damage, burning pain in nose and throat, coughing, wheezing, skin problems and cancers.
On November 8, EPA Administrator Lisa Jackson headed a meeting of the Gulf Oil Spill Task Force in Pensacola, which activist Michelle Nix attended.
"I hand delivered these blood test results to Lisa Jackson," Nix said, "She told me she would get back in touch with me, as well as that she would get in touch with Dr. Subra."
It is nearly a month later, and Nix has not heard from Lisa Jackson or the EPA.
Dr. Subra, who is actively working with the EPA on issues beyond the BP Gulf of Mexico oil disaster, is still waiting to hear from them about the blood test results.
"I have not heard back from the EPA about the blood tests," Subra told Al Jazeera, "I'm working with the EPA on a host of other issues, including superfund issues and hydraulic fracking. So let me be clear that they are not ignoring me on other issues. But with the blood tests, I have not heard from them."

Read the rest of the article on Al Jazeera.