Is the Gulf of Mexico safe?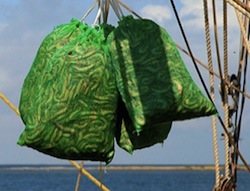 Experts, fishermen and residents disagree with federal agencies' claims that the Gulf and its seafood are safe. By Dahr Jamail, Al Jazeera English 
Gulf Coast residents, fishermen, seafood distributors, and scientists believe that living on the coast and eating seafood from the Gulf has become hazardous to their health.
In response to their oil disaster last summer that released at least 4.9 million barrels of oil into the Gulf of Mexico, BP admitted to using at least 1.9 million gallons of widely banned toxic Corexit dispersants (which have been banned in 19 countries) to sink the oil. The dispersants contain chemicals that many scientists and toxicologists have warned are dangerous to humans, marine life, and wildlife.
Earlier this year on May 20, the EPA told BP it had 24 hours to find a less toxic alternative, but the EPA's request was ignored. Then on May 25, BP was given a directive by the EPA to scale back their spraying of the Gulf of Mexico with dispersants. The Coast Guard overlooked the EPA's directive and provided BP with 74 exemptions in 48 days to use the dispersants.
A March 1987 report titled Organic Solvent Neurotoxicity, by the National Institute for Occupational Safety and Health (NIOSH), states: "The acute neurotoxic effects of organic solvent exposure in workers and laboratory animals are narcosis, anesthesia, central nervous system (CNS) depression, respiratory arrest, unconsciousness, and death."

Several chemicals and chemical compounds listed in the NIOSH report, such as styrene, toluene, and xylene, are now present in the Gulf of Mexico as the result of BP's dispersants mixing with BP's crude oil.
Government testing repudiated
On October 29 the US Food and Drug Administration (FDA) and National Oceanic and Atmospheric Administration (NOAA) announced in a press release, new chemical testing for BP's dispersants.
Prior to the federal government's announcement, a "rigorous sensory analysis" (a sniff test), was the only measure in place to test seafood samples for dispersant contamination. According to the press release, the new testing measure checks for the level of dioctyl sodium sulfosuccinate (known as DOSS), a major component of the dispersants.
Surprisingly, the press release admits to dispersant chemicals being present in some of their seafood samples: "Using this new, second test, in the Gulf scientists have tested 1,735 tissue samples ... Only a few showed trace amounts of dispersants residue (13 of the 1,735) and they were well below the safety threshold of 100 parts per million [ppm] for finfish and 500 parts per million for shrimp, crabs and oysters."
"This test adds another layer of information, reinforcing our findings to date that seafood from the Gulf remains safe," Jane Lubchenco, undersecretary for commerce and NOAA administrator, said of the test.
Gulf shrimp being offloaded at Dean Blanchard Seafood Distributors, Grand Isle, Louisiana [Erika Blumenfeld]
However the press release does not specify which type of analytical testing was carried out on what types of seafood, nor what the "trace amounts of dispersants" were. Al Jazeera's requests last week for this information from both NOAA and the FDA have not been answered.
Hugh Kaufman is a senior policy analyst at the Environmental Protection Agency's (EPA) office of solid waste and emergency response. Kaufman, a leading critic of the US government's decision to use Corexit, told Al Jazeera this about the press release: "They say it perfectly clear: the purpose of the test they developed is to make the public confident, not whether the seafood was safe or not.
"They selected the one compound that doesn't bio-accumulate, as opposed to testing for the toxic ingredients that have a low safety threshold and do build up in tissue. They are not looking for those."
Kaufman, who has been the EPA's chief investigator on several contamination cases, including Love Canal and Times Beach, said: "They want to be able to tell the public the seafood is safe. But if you are going to test seafood to see if it's safe or not, you want to test for the ingredients of Corexit that have a low safety threshold and do bio-accumulate in tissue."
"However, if you want the public to think everything is fine, then you do what they said in their press release they are doing, which is to look for an ingredient with a high safety threshold that doesn't build up in tissue."
 
"They told you they are doing a cover up, how they are doing the cover up, and notwithstanding that, they still have some positive results for chemicals."