Independent tests find oil spill contamination in Louisiana oysters and crabs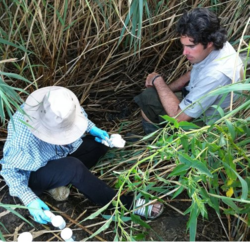 By Sue Sturgis. Crossposted from Facing South.
Tests performed earlier this month by an environmental scientist found significant levels of oil pollution from the BP disaster in oysters and crabs collected along the Gulf of Mexico's Louisiana coastline.
Working with the Louisiana Environmental Action Network (LEAN) and the Lower Mississippi Riverkeeper, award-winning chemist Wilma Subra took samples of soil, vegetation, blue crabs, fiddler crabs and oysters in areas affected by pollution from the BP Deepwater Horizon oil spill.
The test results showed the presence of hydrocarbons corresponding to those from the spill in the soil and vegetation. They also showed high levels of hydrocarbons in sea life. Hydrocarbon exposure has been linked to health problems including disorders of the nervous and immune systems, blood, liver, kidneys and lungs, as well as cancer.
Oysters collected from a reef on Oyster Bayou in Louisiana's Atchafalaya Bay contained 8,815 milligrams/kilogram of hydrocarbons, Subra reports. Samples of blue crab and fiddler crab collected from the same area contained 2,230 mg/kg of hydrocarbons.
Meanwhile, oysters collected between Pass-a-Loutre and Redfish Bay -- the area where the Mississippi River empties into the Gulf -- contained 12,500 mg/kg of hydrocarbons, or about 1.25 percent of their total weight, according to Subra.
Earlier this month, the Louisiana Department of Health and Hospitals released a seafood safety surveillance report [pdf] that did not detect concentrations of any specific hydrocarbons above levels of concern.
Public oyster grounds in Atchafalaya Bay are set to open on Nov. 15, according to a recent announcement from the Louisiana Wildlife and Fisheries Commission.
Some fishermen from Gulf states have raised concerns that the Gulf fishing bans imposed following the BP disaster are being lifted prematurely. Subra's findings add to those worries, as do recent tests that found significant concentrations of oil off the coast of Mississippi, which re-opened all of its territorial waters to fishing earlier this month.
"As state and federal officials continue to open Gulf waters to fishing, we have to again point to evidence that the 'all clear' is being sounded way too early," says Stuart Smith, an attorney who represents both LEAN and the United Commercial Fishermen's Association. "One of the cautionary notes is that our experts have documented that toxic chemicals remain in the water and food chain -- and pose a significant health risk."
Smith estimates that it could take as long as eight months for the oil spill pollution to biodegrade enough for seafood from the region to be declared safe to eat.
In the meantime, the public can now examine sampling data compiled by LEAN and the Gulf Oil Disaster Recovery, an information clearinghouse created by independent law firms representing BP disaster victims. The website -- bostonchemicaldata.com/LEAN -- provides oil spill data and mapping resources. The site is maintained by Boston Chemical Data Corp., a Massachusetts-based firm that provides environmental investigation services.
"This website allows anyone interested to see what chemicals were found, where they were found, and how much was found," says LEAN Executive Director Marylee Orr. "We feel the public has the right to this information."
(LEAN photo of environmental chemist Wilma Subra and Lower Mississippi Riverkeeper Paul Orr collecting samples in the Mississippi River Delta.)