There is no Plan B: The cost of the Port of Gulfport expansion for neighboring communities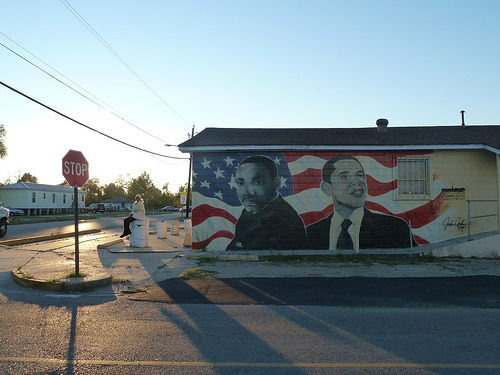 Hello all, my name is Stephanie Thomas and I am a lifelong resident of the North Gulfport Community in Gulfport, Mississippi.  This neighborhood consists of primarily low income African Americans who have generations of family here, and are being threatened by the proposed port of Gulfport expansion project.  The expansion is being billed as an economic boon to our area, but a closer look reveals that it is unlikely to significantly benefit our community economically, and the burden on our health and safety is far too great.
First, let me tell you a bit about my community.  North Gulfport is also one of the oldest neighborhoods in town.  At first, this land was given to blacks because it was considered to be unwanted.  But due to annexing and the expansion of Gulfport over the years, North Gulfport has become a centralized area, surrounded by shopping malls, interstates, and the downtown area of the city all within a five minute drive.  Now, it is one of the most prime pieces of real estate and developers are foaming at the mouth for a piece.
 
The Mississippi Gulf Coast is a beautiful place, full of natural wonders with a small town feel to it.  But industry and other influences have changed the face of this place.  When I was a little girl, I remember Gulfport being mostly woods with a few developed areas scattered here and there. After the casinos came in the 1990's, the city quickly boomed.  Now there are stores and hotels everywhere and the woods have become patches of trees and brush relegated only to a few acres.  Natural disasters played a significant role in shaping the current state of the Coast as well.  Hurricane Katrina and the oil have dealt a blow to the tourism and fishing industries.  We are strong, resilient people but all the factors (not to mention the struggling economy) has taken away some of the luster and shine of the Mississippi Gulf Coast.
With all of the environmental and economic challenges we are trying to recover from, the powers that be say that expanding the port of Gulfport will turn things around.  It is the latest economic development project that promises to be good for the Mississippi Gulf Coast- but we know that our community is often the last to benefit and the first to carry the burden.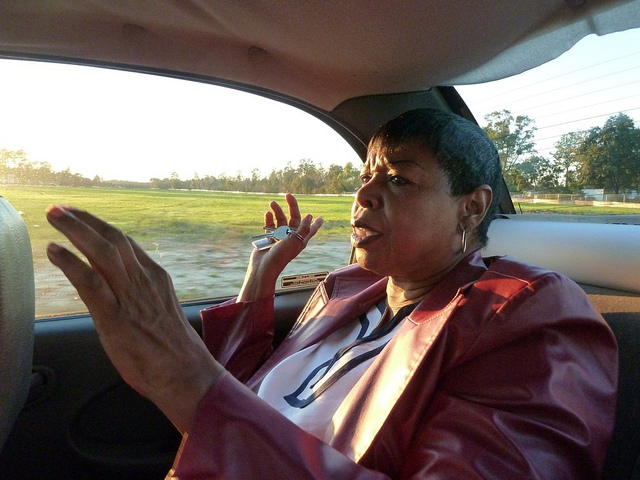 Rose Johnson, founder of the North Gulfport Community Land Trust, points out where a proposed 6-lane highway would cut through the North Gulfport community, as part of the port expansion. Photo by Ada McMahon.
The port expansion may sound like a great idea, but it is actually a total waste of valuable money that was supposed to go to the people here.  $570 million dollars was allocated to the repair and reconstruction of low and moderate income homes in the wake of Hurricane Katrina, but our political figures misused those funds.  Supporters of the expansion say that this port will bring in more money and jobs to Mississippi.  There is the theory that once the Panama Canal expands, the influx of ship traffic will bring business to the port of Gulfport, but is that really how things will play out?
Some of you may think that I am against the increase of business for our state, but I am only against projects that will harm our communities while driving us further into poverty.  And a lot of the supposed benefits will actually harm us.  For example, one of the "perks" being offered from the port is "free storage", meaning dropping an inland port (storage containers filled with God knows what) in the North Gulfport Community.  These storage containers are what destroyed the Westside Community in Katrina.  The wind and storm surges torpedoed them through homes with ease.  Then, the contents were left to rot in the heat for several days before the city cleaned up, contributing to the sickness and discomfort to the taxpaying people who live there.  This is what they want to put in our neighborhood next.  
One of the biggest areas of concern in North Gulfport is the proposed "port connector road" that would go right through our neighborhood.  This road will also bulldoze through Palmer's Crossing, which is also a historically African American community in Hattiesburg, MS.  It is evident that once you bring a high-rise overpass over a community, the property value and quality of life goes downhill.  Just look at some of the neighborhoods in other big cities and how overpasses have changed the faces of those areas.  It brings pollution, noise, health risks and an increase in crime and illegal activity, often making the area unsafe.
Last, but not least, the port project includes the expanding of the railway from one lane to six lanes.  Trains double stacked with storage containers will barrel through North Gulfport at 49 mph, making it impossible for residents and emergency response vehicles to travel in and out of the community as pedestrians or motorists.  The increase in the frequency of trains has already posed a heavy burden on the people here.  I hear them outside my office everyday and have been forced to sit in traffic because there are so few ways to get in and out, with the area literally being cut off.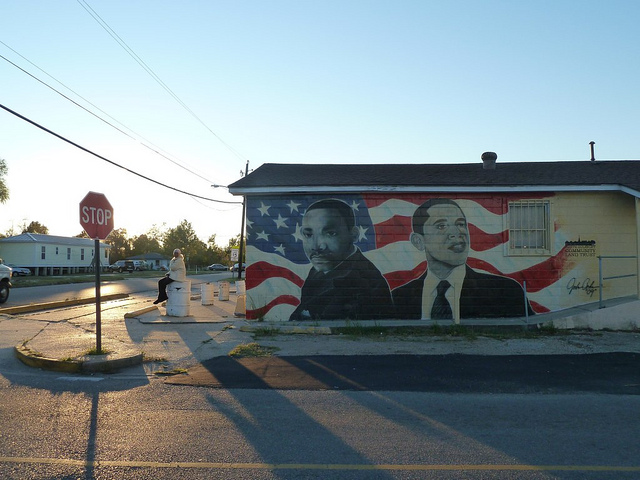 View from the North Gulfport Community Land Trust office. Photo by Ada McMahon.
To further understand how large ports affect neighboring communities, I flew to California to see the West Coast ports for myself.  What I saw brought tears to my eyes.  At the Port of Los Angeles, you have trains, cranes, ships, trucks and storage containers as far as the eye can see.  Then right next to it, you have the low income Latino community of Wilmington (noticing a pattern yet?).  As my colleagues and I took pictures, I found it hard to breathe in the smog.  The air was riddled with diesel pollution and exhaust.  Our guide, Mr. Jesse Marquez, told me that this was "a light day because it rained this morning".  My reply was, "if this is a light day, I sure as hell could not survive a heavy day."  As healthy as I am in my 26 years of age, I meant it wholeheartedly. 
I also attended the annual Moving Forward Together Conference, which was a collective sharing of information for communities dealing with close proximity to industry.  There were scientists, activists, and concerned citizens from all over the country and the world.  We all shared the common plight:  rich corporations wanting to dump their industry on our poor communities.  You could really tell who lived next to a port or rail yard because they looked so sick and pale.  Their bravery spoke volumes to me and broke my heart at the same time.  On the way home, I thought about my people and what the port expansion project would mean for them. 
This project will only benefit the politicians and the corporations who operate on the Good Ole Boy System.  The jobs they promise aren't even guaranteed to the people who will bear most of the burden.  Infrastructure is already poor and will worsen under the weight of this port.  We will only be subjected to the burdens, yet reap none of the benefits.
My conclusion was that this horrible endeavor would further sickness, poverty and eventually lead to the people having to choose between a mass exodus and a slow death.  No person should ever have to make that choice.  My people should not be forced to lose their homes and community because of their skin color or economic status. This land is all we have and there is no plan B.
Related Post: VIDEO: North Gulfport Community Reacts to Port Connector Road.
Stephanie V. Thomas is a lifelong resident of the North Gulfport Community in Gulfport, Mississippi. She is Outreach Coordinator for the North Gulfport Community Land Trust.