THIS WEEK WE FIGHT - FOR OUR FUTURE AND FOR OUR CHILDREN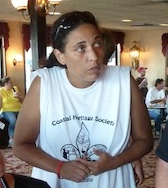 Over six months have passed since the devastating loss of life in the Gulf of Mexico. On April 20 of this year,11 good men: Roy Wyatt Kemp, Blair Manuel, Dewey Revette, Shane Roshto, Jason Anderson, Aaron Dale Burkeen, Donald Clark, Stephen Curtis, Karl Kleppinger, Adam Weise and Gordon Jones; lost their lives in a few moments at sea.
They were all family men, and they all shared the same heart and desires of all the good people of the Gulf. They are missed, and they will not be forgotten.
Six months have also passed since I took my first trip to oily Gulf waters. In that time, I have had the fortune, and misfortune, to see and understand many things about not only this incident and our culture, but about myself.
In that time I have held a convulsing pelican, as it withered and died before my eyes. And I have wished for a way to say I was sorry.
I have asked those 11 brave men to stand behind me as I tried to represent their legacy to human kind.
I have held the hand of many a fisherman and shrimper as we prayed for their future.
I have answered the questions, to the best of my ability, of uncertain oil workers - whose only real crimes are wanting to feed their children and supporting this nation's needs and desires, coast to coast.
I have spoken across the Gulf and in Washington D.C., on behalf of our oil workers, our environment, our industries, our state and our children.
And I was proud to do these things. I am honored by these opportunities to represent the good people of Louisiana.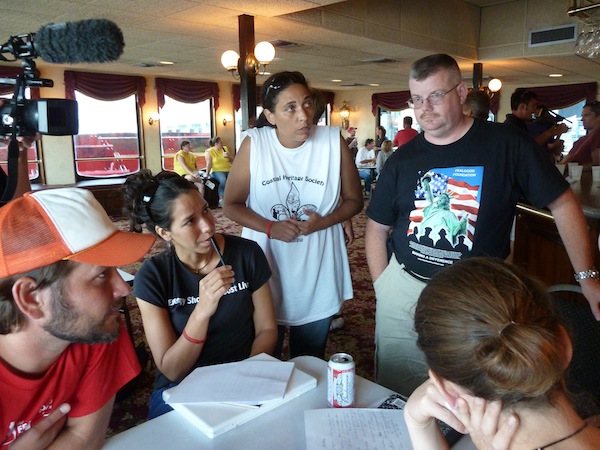 The author (center) discusses taking action in Washington, D.C. with a 9/11 first responder and Gulf Coast residents and advocates.
You see, ultimately, we have a choice here, folks. We can continue to grieve for all of those lost. For the fishermen, the crabbers, the oystermen, the oil workers, the wildlife.. the future itself. Or we can begin again. We can rise to the challenge of a new day. We can make sure that all of those dreams and lives left behind, did not die in vain.
While we cannot change the past, or reshuffle the deck we have been handed, we can play the best cards now.
We can give those eleven, those thousands, those millions, affected by this tragedy a voice. We can pull our chair up to the table and demand more for ourselves, and for our children and grandchildren.
It is in the best interest of some to keep us thinking that we are helpless, that we as a people and culture, do not matter. It is in their best interest to remind us, that apathetic notions are the call of the day, that the fight is too big, that the valley is too wide, that our dreams are unreachable.
But honestly, one can only look into the face of the newborn child to know, that nothing else matters. That building the best possible world for him or her is not only our mission, it is our duty.
I ask you on this day, to join me. Join me in demanding a new day for all Louisianians, all Americans, all humans and all Earthlings. Join me in sharing, in the very same love and commitment that our many, many, forefathers made years ago. Join me in recognizing 11 of our brothers as the good men they were. Join me in calling for the healing our Gulf waters, in raising our flag for freedom; for choosing life and sincere love, over anger and helplessness.
I will be on the steps of the state capitol building in Baton Rouge at 1:00 pm this Saturday, October 30. And I will call out to our leaders and demand a solid future for my people and our livelihood. And if I should stand alone, I do so with pride. I am glad to be among you Louisiana, each and everyone. God Bless.
The Battle Plan:
My friends, i have been in the mouth of the lion, and i can only tell you that they are waiting until election day to chew us up. We have a small amount of time to let the powers that be know that we will not go calmly into the night, we will fight, we will draw blood and we will heal ourselves from this series of misfourtunate deeds. Join me in stepping up... the truth of the matter is, you are being called - not by me, but by your very own consicience. Listen to your heart, and do as you will.
Step One: Call every local, state and federal politician concerning LA. Call and tell them we will take their silence in this matter, no more. Call every candidate running for office now, let them know your vote will depend on their voice in protecting our people and way of life. Tell them if you do not see them or a representative on the steps of the state capitol this Saturday and at the town hall meeting to hear our claims, you will make it your personal mission to call them out like the cowards they are, every single chance you get.
Step Two: Call every local, state and national media outlet, share your story, tell them about the rally and town hall meeting. Tell them they will be receiving a press release and you expect them to attend - because you care and because you won't use that paper to line you bird cage if they don't. Tell them you are not one, you are hundreds of friends and relatives and that if that means calling every advertiser they have and letting them know that your people cannot support a company or service that does not put their advertising dollars in a reputable media outlet, they will be no more dollars coming their way from you.
Step Three: Meet me on the steps of the Louisiana State Capitol this weekend 1pm-3pm, be ready to make an impact. We will have ways you can help on that day and we will launch a movement calling for a resotoration of the way of life for our Gulf, it is a human issue after all.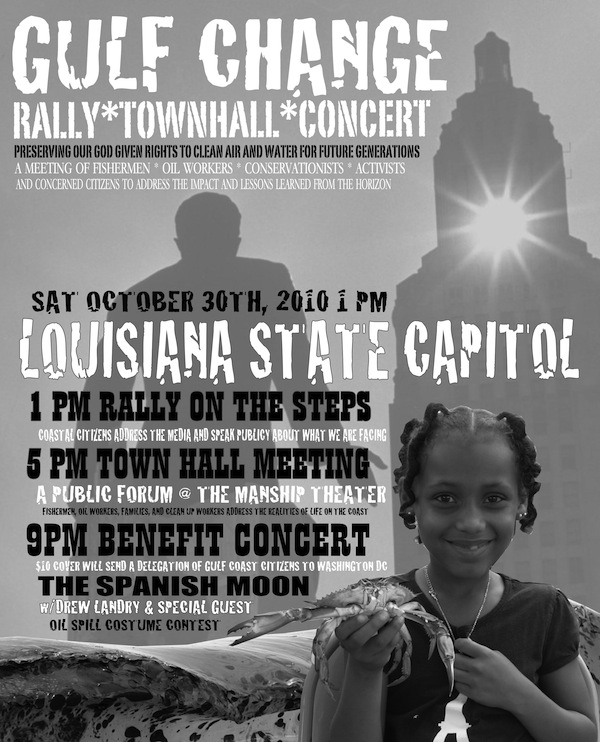 Step Four: Gather you evidence and be prepared to present it at a town hall meeting with all the big wigs in one room. Those "big guys" who do not come we will call out and let the world know they are nothing but snakes. Those who do come we will thank and earnestly present what we have been collecting over the last 6 months, in front of the media.
Step Five: Come to a benefit concert at Spanish Moon, cost for a ticket will be only $10 and we will have a oil spill costume contest. It will be fun; but more importantly, we will raise funds to send a delgation to Washington D.C. to demand a future for our people, our Gulf and our Earth.
We can heal this pain, we can remember those lost, we can prevail over any situation, but we must first MAKE A DECISION TO LIVE,  AND FIGHT, FOR CLEAN AIR AND WATER, INDUSTRY HEALTH AND A FUTURE FOR OUR BEAUTIFUL BABIES.
Cherri Foytlin is an oil worker's wife, mother of six, Louisiana resident and journalist whose family has been deeply impacted by the BP Gulf Oil Spill and consequential moratorium on deep water drilling. She has been a constant voice, speaking out to the Obama Administration's Gulf Oil Spill Commission, and in countless forms of media. On July 15, 2010, in a CNN interview, she called out to the president for help, but was unanswered. She has also spoken at "The Rally for Economic Survival" and at the "Spill Into Washington Rally" in Washington D.C.where she challenged the American people to get involved in what she sees as an "atrocity on the shores" of the Gulf Coast. In addition, Cherri has written and illustrated a children's coloring book on coastal errosion. Cherri will continue her fight for the industries, people, culture and wildlife of south Lousiana and the Gulf Coast "until we are made whole again".