154 Groups Demand Public Health Attention in the Wake of the BP Oil Disaster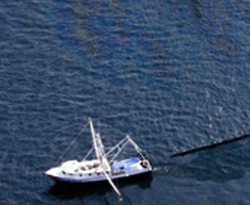 A diverse coalition of 154 groups, including Waterkeeper Alliance, United Houma Nation, Greenpeace and 69 different Waterkeepers organizations, representing hundreds of thousands of community members around the country, Mexico and China, sent a letter to EPA Administrator Jackson and HHS Secretary Sebelius demanding action on the growing public health crisis on the Gulf Coast.
By Renee Blanchard, SaveOurGulf.org.
The BP oil disaster started on April 20, 2010 and continues today in the form of sick men, women, and children who were exposed to a toxic cocktail of crude oil and dispersants. Over one year after 250 million gallons of oil and 1.8 million gallons of dispersants were discharged into the Gulf of Mexico, BP and governmental agencies have yet to set up any process to adequately address and find solutions for a growing public health crisis.
As we have shared with you time and time again, Gulf Coast residents are showing up at any governmental and BP sponsored meeting to demand action for diagnosis, monitoring, and treatment. In February and my first meeting as the Save Our Gulf Coordinator, I attended a teach-in in New Orleans, LA dedicated to digging deep into the public health crisis that community members first raised awareness of in April of 2010. Ms. Wilma Subra, a personal hero of mine, gave a presentation called "Making the Connection: Human Health and Ecological Effects of the BP Deepwater Horizon Crude Oil Disaster". Ms. Wilma Subra is a Louisiana native from my hometown of New Iberia, a chemist and the Technical Advisor to Lower Mississippi Riverkeeper. She also is a MacArther Genius winner.
In her presentation she stated that the two populations experiencing the greatest amount of health effects are "community members along the coastal areas of Louisiana, Mississippi, Alabama and the panhandle of Florida" as well as "fishermen and workers employed to install booms and clean up the crude oil spill". Symptoms Ms. Subra has found among those that are sick include, skin irritation and sore, difficulty breathing, chest pains, and diminished lung function. These symptoms are similar to known health impacts from dispersants and crude oil.
What I am having the hardest time wrapping my head around is why if so many people have spoken out for over a year directly to governmental and BP officials, why has nothing been done? Why is BP continuing to say that the oil disaster is over when so many people are so sick? Why are governmental officials in various ecosystem restoration task forces and committees pushing the buck to someone else instead of helping?
The Gulf Coast has been hit hard over the past six years. Hurricane Katrina, Huricane Rita, Hurricane Gustav, the BP oil disaster and most recently the Mississippi Rive flooding that is impacting 25,000 residents in Louisiana alone. These cumulative impacts have overwhelmed many communities environmentally, economically, and socially. Full Gulf Coast restoration means adequately addressing the health needs of those most impacted by the BP oil disaster.
This disaster is not over and the Gulf Coast still needs your help.