After tornadoes, rural disaster area faces relief challenges (Part Two)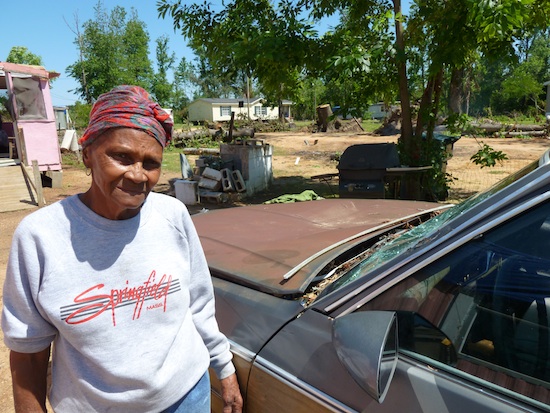 "I hate disasters," Derrick Evans has said grumpily and repeatedly over the past several days.  As a resident of coastal Mississippi and a Gulf Coast advocate, Evans has been through situations like this before – Katrina, Rita, Gustav, Ike, BP, to name a few. 
But he is here nonetheless, traveling to visit allies and friends across the tornado disaster zone.  He's helping them make connections, think through challenges, and briefly step out of disaster-induced tunnel-vision to focus on the big picture: a region-wide recovery that may take years.  As an advisor to the Gulf Coast Fund, Evans has also helped facilitate nightly conference calls that enable community leaders and organizations in the disaster zone to assess, plan, and coordinate.
Now, Evans is sitting at a small round table in Debra Eatman's office at the Federation for Southern Cooperatives in Epes, Alabama.  


Eatman is experiencing a bit of that disaster tunnel-vision herself.  She's been busy fielding calls and trying to connect rural residents in the area, some of whom are her family and friends, with relief supplies and FEMA.  She hasn't had time yet to clear the fallen trees from her own backyard, let alone think through long-term recovery for the devastated region.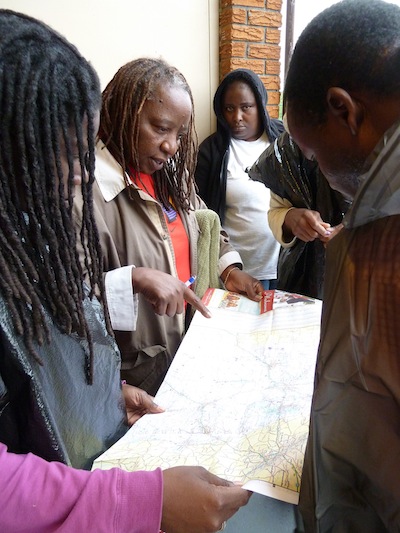 She and Evans are talking about how to transform the Federation's Rural Training Center in Epes into a regional hub for relief, where they can store and distribute supplies like food, water, and clothing, to nearby rural communities.
Evans is confident that establishing a steady flow of relief from the Red Cross and other agencies will be the easiest step to accomplish.  


"It is actually going to be the access to volunteers, vehicles, and technology to register [people] for their FEMA numbers that are going to be hotter commodities," he tells Eatman, "Let's break that out into a work plan, for follow-up."
Photo: Debra Eatman points out an area struck by tornadoes to volunteers and staff of the Federation of Southern Cooperatives.
They talk about how to outfit volunteers with wireless internet so they can register people with FEMA, a necessary step to get temporary housing or rebuilding assistance from the Federal agency – and one that requires reliable internet or a phone line.
********
Next, Debra Eatman begins to map out the areas near the Rural Training Center that have been hit.   She shades in a state map with a pencil, covering much of the 4 counties around Epes: Greene, Sumter, Pickens, and Hale.  In some places, she writes in names of communities too small to make the map: Zion, Bluffport, Snoddy – the last is her own community, where eight of thirty-eight homes were destroyed.
"Some of these places aren't even towns;" John Zippert, Director of the Federation, later explains, "They are like hamlets or crossroads."
Here in western Alabama, along highway 59, people are few and far between.  Greene County has 15 people per square mile. Many communities are just a handful of homes, without even a convenience store or post office.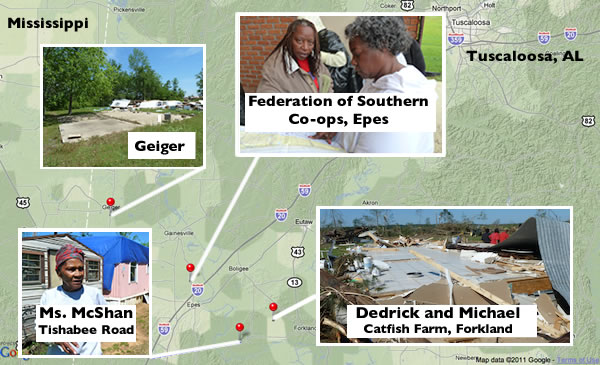 Map of some rural communities hit by tornadoes in western Alabama.  Dedrick and Michael appear in Part One of this story.
Geiger, with a population of 161, is a relatively big town around here. It was hit hard, twice -- by a tornado on April 15th, then again on the 27th.  Fortunately, it is well resourced with a Town Hall, two churches, and a Mayor and local pastor who have been effective at securing relief.  The town hall has become a FEMA intake center.
Unfortunately, Debra Eatman says, the resources in Geiger don't necessarily help other rural communities.  It is an economic hardship or impossibility for many to drive 20 or 30 miles, let alone 100, to a relief center.
 
These communities were under-resourced and lacked services before the tornadoes, which makes them particularly vulnerable during the relief and recovery stage. It's not just that the internet is down and vehicles are wrecked from the storms, Eatman says, "many people didn't have internet or cars in the first place." In the days after the storm, outreach from the Federation has found that many do not know about FEMA and what they need to do to register.
The widespread, unpredictable destruction left by the tornadoes adds to the challenge of reaching rural communities.
As Derrick Evans recently wrote, the tornadoes hit in a "very large, buck-shot pattern… like a whole bunch of needles in a giant haystack.  In most places, you can't even sense the slightest hint of regional mayhem until you arrive right up on the destruction somewhere."
********
Driving down a county road south of the small town of Boligee in Greene County, Ethel Giles gestures at the greenery around, "When you look at how pretty it is out here, and green, it doesn't look like no storm has ever been here."  

Not five minutes later, we come upon a break in the greenery, where the trees have been snapped in two, their tops tossed haphazardly aside by a tornado.  A couple of miles more, and we arrive at a settlement of twenty or so mobile homes.   Most have sustained significant damage, and at least three have been completely destroyed.  There is no store or Town Hall – this is one of those hamlets John Zippert was talking about.
As we pull up, men and women pause from their outdoor-work and come out of blue-tarped houses to greet Ms Giles and collect the supplies she is delivering.  Here and there sit the skeletons of crushed mobile homes.  Their guts – mattresses, fiberglass insulation, lamps, glass and plastic fragments – are strewn across the yard.  Nearby, children are swinging on the branches of a felled pine tree, and playing with a puppy.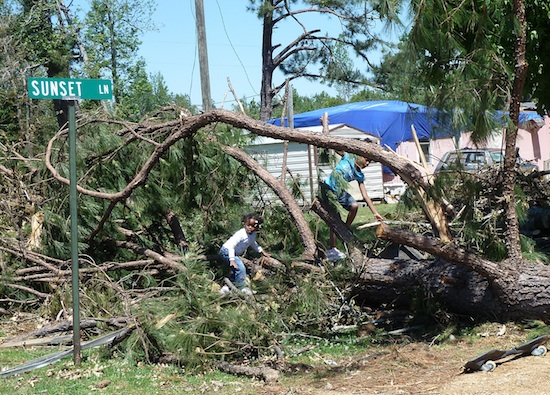 Idell McShan's great grandchildren play outside of her home on Tishabee Road.
The residents here reflect the depressed economy of the region: there's a small-scale chicken farmer, workers at a nearby paper plant, and a number of people on a fixed income: unemployed, on disability, and/or elderly.  

They are also African American, as is 80% of Greene County.  
This is the heart of America's Black Belt, marked by its agrarian past and history of racial subjugation (slavery, sharecropping, Jim Crow), by persistent poverty, and by a high percentage of African American residents.
This is where Idell McShan, 77 years old, grew up.  She weathered the storm in her mobile home with two of the three great grandchildren she is raising (ages 3, 9, and 16 – they are the ones playing outside with a puppy).  The tornado knocked two trees on top of her home, rocked it off its foundation, shook her TV and washing machine loose, left her without power for four days, and smashed the windshield of her car.
It rained the day before, and water is slowly, steadily plunking into pots and pans from several holes in her bedroom ceiling.  Ms. McShan has been staying in her leaky, unstable house, out of necessity. "I don't want to stay, but I don't have nowhere else to go."  

FEMA has been there the day before, and took down information about her damage.  She hopes this will result in necessary repairs.  In the meantime, Ms. McShan needs food and clothing.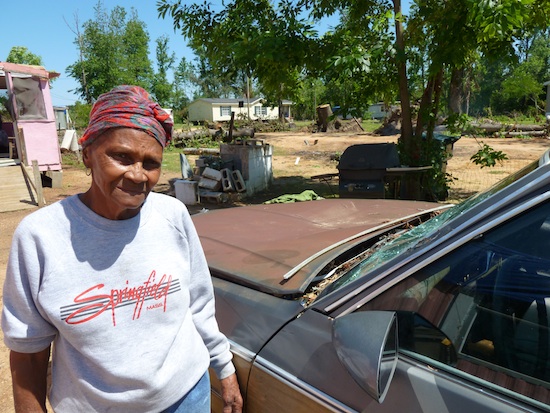 Idell McShan and her car, which was struck by a fallen tree. Hers is the pink house on the left.
Ms. Giles provides toiletries, water, and a bit of food – enough to help Ms. McShan and her great grandchildren out for a few days at most.   She also has forms for each household to fill out.  By gathering people's FEMA numbers and recording their needs, the Federation of Southern Cooperatives (where Ms. Giles has worked for 18 years) hopes to better monitor and advocate for fair recovery in this area.
 
It is marginalized groups and communities with similar demographic characteristics  – people of color; low-income; low education rates; rural – that have most often been harmed by and left out of post-disaster policy and funding.  The Federation of Southern Cooperatives, Gulf Coast Fund, and other community groups are working hard to reverse that trend.
As we hop in her truck and head out to a nearby catfish farm, Ms. Giles talks about what's ahead – weeks, months, maybe years of working with this community to get FEMA assistance, advocate for an equitable recovery, and make sure Ms. McShan and people like her aren't left behind.
All photos by Ada McMahon.