From "The Big Fix" premiere to Gulf Shores protest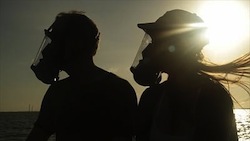 Last Friday I was invited down to New Orleans to take part in the festivities surrounding the opening of the BP Deepwater Oil Catastrophe whistle-blowing documentary, "The Big Fix." The film, which was directed by husband and wife team Rebecca and Josh Tickell, also featured Peter Fonda, Jason Mraz and Amy Smart.
I was proud to see so many great Gulf Coast, (and beyond), advocates have screen time within the movie; including, Kindra Arnesen, Stuart Smith, Joel Waltzer, Riki Ott, Hugh Kaufman, Dahr Jamal, Dean Blanchard, and more. And was equally disturbed to hear that co-producer Rebecca Tickell is one of the many, who are ill from the effects of the spill. She told everyone that she has experienced a chronic skin problem, and upper respiratory infections, since filming.
People shouldn't have to put their lives in danger, just trying to tell the truth, especially when those charged with that responsibility refuse to.
At a press conference earlier in the day, some of the people in the above paragraph, and a few others, were allowed to say their piece about what has happened since the spill, touching on the continuing health effects, the continuing oil coming in, the continuing oil coming out (in the area of the Macondo site), the continuing economic devastation to the fishing communities, and the continuing devastation to the wildlife and ecosystem.
I was proud to know, and call friend, most of these eloquent speakers, who have put their own lives on hold to stand up for those living in the Gulf Coast who have suffered tragic hardships due to the DWH disaster.
Later in the afternoon, I had the honor of speaking at Occupy New Orleans. The group is camping out in Duncan Plaza. I was impressed by the near society they have built there - complete with compost toilets. They feed people twice daily, and have revolving working groups on a variety of issues that plague our Gulf and country. While there, for instance, I sat for a few minutes on a brief non-violent direct action training session, led by experienced activists.
Also, there is a free speech assembly daily, in which anyone can participate, and a general assembly, where anyone can add issues to the agenda to be addressed by all. There must be a 90 percent consensus in the group for any motion to pass, and anyone can add to, or disagree, with any discussion without retribution.
I can understand why on the outside it may look like there is no organization to these occupiers - the tents, scruffy appearances, ect., but the truth is on some level they appear to fairly well organized. That is not to say, there are not disagreements and lively debate - but the way I see it, that is true democracy, after all. It's not always pretty, but it is inclusively fair.
After speaking, I went back to the "Big Fix" for the North American premier, held as a part of the 22nd Annual New Orleans Film Festival.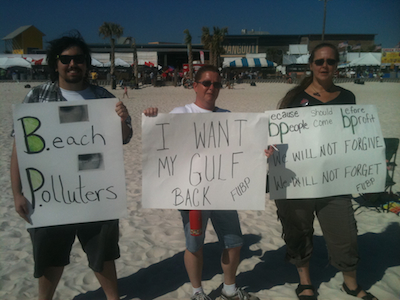 I have to say, this movie, when released nationwide, may do more to open the eyes of the national audience than any other event or action up to now. The film is a true basic accounting of not only events of the disaster until recent times, but of BP's interagency play time with government officials.
With as much info as could possibly be packed into around 2 hours, the film cracked open the shell of a silent national media, impotent government advocators, and profit focused multi-national, multi-billion dollar private corporation.
I won't give away the ending, because it hasn't happened yet.
As one reviewer said, the movie paints a pretty grim picture as to the affect of the disaster on the lives of the people and the lack of recompense which will be available either soon or in the years to come, through the government or BP. And yet, I believe that we, as a people, have always written our own endings to the story. And although those endings haven't always been happy, they have always had an affect on future generations.
This saga isn't over yet, and we would be doing a disservice to the people and ecosystem of the Gulf if we act as though it is. I feel like the movie is less an account of a disaster, as an action call to our citizenry.
In part, people have heard that call, not only across the Gulf, but across the nation.
The Alabama Oil Spill Aftermath Coalition is one of them. The weekend carried on with my joining with about 25 other folks on the beach at Gulf Shores, Alabama, at the Non-violent Direct Action Protest held on Saturday. The event was held on the beach, a few hundred feet from the water, and a few hundred feet from tens of thousands of people enjoying the National Shrimp Festival.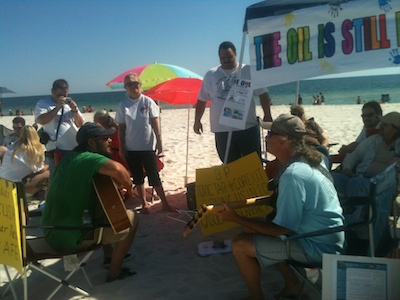 We spent the day educating the public about the disaster and what we are facing, listening to music, speaking, and strategizing. It was very productive.
But the true battle was waged long before the event took place.
It took several months for the event to happen legally since the City of Gulf Shores denied the permit twice, citing that city resources would be stretched thin due to the festival itself. But organizers Kimberly McCuiston and Michelle Walker Harmon didn't stop there. They went on local media and stated their position, then procured a civil rights lawyer out of Mobile and it was game on.
A few days from the second letter, which firmly reminded the city of the citizen's "right to assemble," Kimberly and Michelle had a permit - albeit with restrictions, in their hands.
That is the sort of bold commitment and perseverant attitude that it is going to take to win this. True warriors do not stop at a closed door. As my great-grandmother used to tell me, "Never let anyone tell you what you 'can't' do. 'Can't' never did anything."
So, I will end this overview by telling you what we CAN do.
We can fix our waters. We might have to do the research ourselves, we might even have to do the deed ourselves - but it can be done.
We can hold BP accountable. We can counter act the monster PR campaign - even if we have to reach out to people one at a time, and we can see that justice is served.
We can rewrite the laws to protect our workers and waters, and bring clean renewable energy industry here to the Gulf.
We can put a 'boot to the neck' of the Coast Guard and demand that they stop spraying dispersants in our Gulf.
We can protect our wildlife, properly test our seafood, demand subsidization of our fishing industries, and restore our coastline.
We can find answers for, and aid to, those now suffering illness.
We can build a movement beginning in the Gulf and moving across the nation for clean air, water and soil as a human right, and thereby set in motion protection for future generations of earthlings.
We can do all that, and more. We can provide innovative solutions, and pick our people and ecosystem of the Gulf Coast up, and we can do it in our lifetime.
Will there be set backs? Sure.
Are we in for the fight of our lives? Definitely.
But can we do it? We can. And through the work of the many, like those listed in this article, we most assuredly will.
Photos – Top: from "The Big Fix"; Bottom two: from Gulf Shores protest (Taken by Cherri Foytlin).
************
Cherri Foytlin is an oil worker's wife, mother of six, Louisiana resident and journalist whose family has been deeply impacted by the BP Oil Disaster and consequential moratorium on deep water drilling. She co-founded Gulf Change, blogs for www.BridgeTheGulfProject.org, and walked to Washington D.C. from New Orleans (1,243 miles) to call for action to stop the BP oil disaster.  She has been a constant voice, speaking out to the Obama Administration's Gulf Oil Spill Commission, and in countless forms of media.  Cherri will continue her fight for the industries, people, culture and wildlife of south Louisiana and the Gulf Coast "until we are made whole again."