Citizens Say 'No Way' to Kemper Coal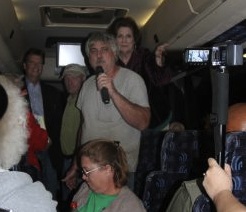 By Raleigh Hoke, Gulf Restoration Network.  Originally posted on October 20th, 2011. On Tuesday evening, I had the pleasure of joining a bus load of fired-up Mississippi Power ratepayers from the coast on a trip to Kemper County, Mississippi – the proposed site for a massive new dirty lignite coal mine. If this huge mine, and Mississippi Power's associated coal plant, is allowed to move forward, the project will destroy thousands of acres of wetlands, miles of streams, and release toxic chemicals into nearby waters, all at a cost of over $2.8 billion that regular ratepayers will have to shoulder!
We made the trip to Kemper County to urge the Mississippi Department of Environmental Quality (MDEQ) to deny the permits for this dirty, expensive and unnecessary mine, and boy did they get an earful. By a margin of over three to one, concerned citizens from the Mississippi Gulf Coast, Kemper County, and other areas throughout the state stood up and told MDEQ that the state shouldn't let this destructive mine move forward.
Photo: James Hurtt speaking on the bus after the hearing.
One of the most passionate speakers was local resident James Hurtt, who told the MDEQ representatives at the hearing "that there are some questions that need to be answered to the people." One of his biggest questions was how this massive coal mine will impact the groundwater he drinks, and the streams and lakes that he fishes in. James told MDEQ and the assembled crowd that "I love Okatibbee Lake" but worried that twenty years down the road that there might be "a sign out there saying you can't eat this fish" because of the pollution from the coal mine right upstream.
 
As we got back on the bus after the hearing, James and a number of other locals residents jumped onboard to thank us for joining them in the fight to protect their homes and communities from the dirty, expensive, and unnecessary coal mine and plant. GRN, Sierra Club and our community partners will continue to fight this destructive boondoggle, and I am glad to be working with the fine people of Kemper County to make sure that Mississippi's wetlands, streams, rivers and lakes are protected.
Related posts:
Raleigh Hoke is the Gulf Restorations Network's Mississippi Organizer.