A Community Photo Project Asks "Why Should We Save Coastal Louisiana?"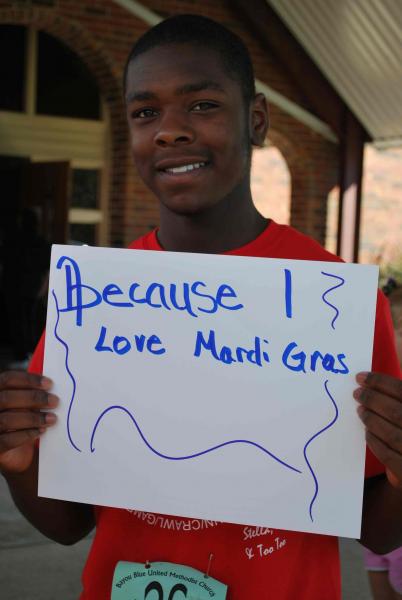 Searching for a way to mark the one-year anniversary of the BP oil disaster, I thought about a series of photographs I saw recently from Lower Terrebonne Parish, Louisiana. They weren't images of coastal destruction, they were the faces of people young and old holding up a simple handwritten message answering this question: "Why Should We Save Coastal Louisiana?"
The question was asked by Bayou Grace Community Services, which works to address the needs of a largely rural, minority population on Louisiana's Gulf Coast. This area of the country is more water than land, connected by interwoven bayous and canals.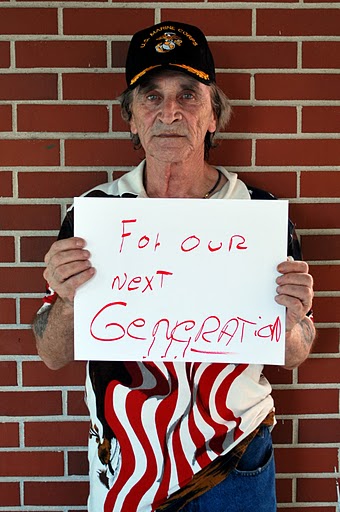 I decided to contact Rebecca Templeton from Bayou Grace to find out more about the "Why" Photo Project. I first spoke with Rebecca last year, when I interviewed her for Bridge the Gulf several months before the BP disaster. In that February 2010 interview she talked about families like hers that had lived in Lower Terrebonne Parish for generations and were now threatened with displacement because of rapid coastal land loss. I first saw evidence of this problem in 2008, when Louisiana Bayoukeeper and fisherman Mike Roberts took my cameraman on a tour of Bayou Barataria to see the prairies of his childhood that were now ocean. He explained that man-made canals dredged by the oil companies had accelerated land loss. (Visit the Bridge the Gulf Story Map for more testimony about this issue from residents in the southernmost areas of Louisiana.)
Earlier this month I interviewed Rebecca and Diane Huhn, who helped organize the photo project:
Can you give an update on how your community has been impacted by the BP oil disaster?
Rebecca Templeton: It's important to realize that the BP disaster is just yet another impact of what it means to live in coastal Louisiana. Unfortunately this is another impact of the oil and gas industry. When I think about how the community is doing I think people in the community are tired. People are just weary from these environmental impacts that are taking a toll on our community. Especially when you think of the cumulative effect of all these crises people are enduring here. People really don't know what this disaster means for our communities. There is still such a great deal of uncertainty about what are the longterm impacts on the environment, fisheries, livelihoods. That level of uncertainty is really worrisome for me. What that does to a community to live under that level of uncertainty time after time.
How did the photo project get its start?
Diane Huhn: The idea came from an experience I had at a retreat with the Institute for Sustainable Communities. We were talking about why we do what we do and what gives us drive and purpose to keep going.  The facilitator showed us a website called "Why Do You Do What You Do." ("A social-media meme of people answering the simple question by combining an image and text in a creative way.") And it was very, very powerful. I started thinking about why I do what I do.  Because I want to save coastal Louisiana. I want to save the culture, the heritage, the environment and everything about this place. So there are two million people that live in coastal Louisiana and that's two million reasons right there. We decided to kick off the project at an event in Thibodaux called La Fete d'Ecologie. We set up a booth and I'd say over 100 people participated at that event alone.
Rebecca Templeton: I think we saw that this is a project that anyone can participate in and give a meaningful response. We had children who couldn't write, but they could draw. We had older people who nearly filled up the poster (with words). It surprised me that the responses on the posters ranged from the funny to the touching. And they evoke a very wide range of emotions in the people looking at the photos. That really opened my eyes to see that this has the potential to connect with a really large audience.
Diane Huhn: You don't have to be a resident of coastal Louisiana to care about saving this place. We work with people from all over the country in our volunteer program. They care very deeply about this place and the people here. So I think it's really powerful when you have people from Iowa or Minnesota or Maine express their reasons why this place is important and why they feel we should save it. And it's a great way to bring awareness to folks that don't know about coastal land loss.  We really debated the specific question we wanted to ask. Does the question seem too negative? Should it be "What is your vision for coastal Louisiana?" But we kept coming back to the idea that there are people all over this country that don't know about land loss and what it means to our communities here. And if we don't do something we'll literally be wiped off the map. So we settled on that question of "Why save coastal Louisiana?" so that people that don't know about coastal land loss would ask the question: "What do you mean save coastal Louisiana? Where's it going?" Well then you start that conversation about "Well, hey, we have the highest rate of unnatural land loss on the planet." So it brings that awareness.
What are your plans now for the photo project?
Diane Huhn: Right now we have the whole gallery on our website. Every week we have a "Wednesday Why." We feature one or more photos that have been submitted to us and we tend to group them around a theme and post them to our website every Wednesday and we post it on our Facebook page and hope people will share those with others. But we definitely have other ideas in mind. When we take the photos at an event we keep the posters because we would definitely like to have a traveling exhibit sometime in the future. And I'd love to go beyond just the posterboard responses and encourage people to create a song or video or dance and express themselves in whatever way makes sense to them.
Anyone can submit a response to the "Why" Photo Project by emailing photoproject@bayougrace.org. Go to the Bayou Grace website to fill out a photo release.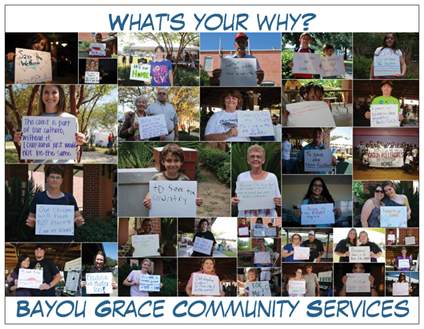 This is the first of several blog posts I plan to write about creative community-based arts and media projects on the Gulf Coast. The next will be about 2-Cent Entertainment and the upcoming Listen! Literacy and Arts Festival.
LEAH MAHAN has been working on documentary films since 1988, when her life was changed by an internship with filmmaker Henry Hampton on the Eyes on the Prize series about the civil rights movement.  She recently received a Sundance Documentary Fund grant and will complete her documentary about Turkey Creek in 2011.