Family, supporters rally to bring justice for Billey Joe Johnson Jr.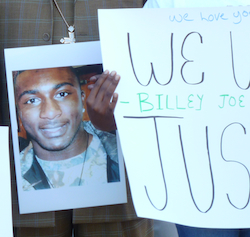 Last Saturday in Lucedale, Mississippi, supporters and family of Billey Joe Johnson Jr. called for an end to the "Jim Crow 'justice'" that left this young black man dead in the hands of the local police department.
One December morning in 2008, Johnson was pulled over by police on Fig Farm Road in Lucedale. The promising young high school football star, who his mother described as "just the sweetest child," would not leave police custody alive. He died from a shotgun blast to the head. The police say he shot himself and a grand jury found that the shotgun "accidentally discharged". But independent investigations and those familiar with the autopsy report raised serious doubts about how Johnson could have shot himself.


"It just doesn't make sense. Something must have happened," said Tiffanie Johnson, Billey Joe Jr.'s older sister. "We just want justice."
"Law enforcement's investigation left a lot of holes and many of us believe there was foul play. Because of the amount of discrimination we experience every day, we have little faith in the local justice system," said Bobby Perryman of the Immaculate Heart Community Development Corporation, one of the local groups that has been supportive of the Johnson family's calls for justice.
On Saturday February 26th, Billey Joe Johnson Jr.'s family and about forty supporters rallied at the George County Courthouse in Lucedale, then held a candlelight vigil by the side of the road where Johnson was shot.  Human and civil rights groups like the ACLU of Mississippi, Amnesty International, NAACP and George County Human Rights Task Force joined the family in calling for the U.S. Department of Justice to bring charges for Johnson's death.


Jim Crow "Justice"
In addition to justice in Johnson's case, the ralliers called for an end to the abuse of power that characterizes the police's relationship with black communities in Mississippi, and across the nation.
"We are tired of the corruption, the cover-ups and the abuse we suffer at the hands of the police," said Ms. Lucy Wilson, President of the Human Rights Taskforce of George County.
According to a press release, George County is 89% white, and still very segregated. A few large white families and their networks own most of the businesses and play influential roles in city and county government.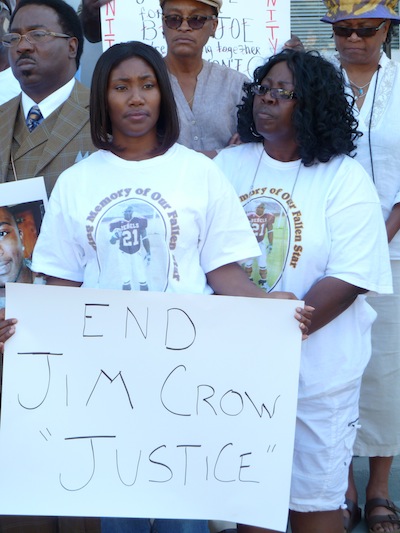 Tiffanie Johnson, the sister of Billey Joe Johnson Jr.  Photo by Ada McMahon.
Nsombi Lambright, the Executive Director of the ACLU of Mississippi, said that police forces and justice systems have been getting away with the murder of African Americans since slavery: 

"We have to keep demanding answers. And not only for Billey Jr. and his family, but for all the other unsolved murders that have happened since the 1960s in Mississippi. This is not new for Mississippi. We have a very troubled background of unsolved murders from slavery to present.
"Until we start standing together and saying that we're not going to take it anymore, we're not going to back down, the guns are not going to scare us, the taser guns are not going to scare us, then it's going to continue to happen… And I don't want to lose another son. I don't want to lose another child like this…"
Support from New Orleans
Few people from Lucedale or George County joined the rally and vigil. Lambright explained, "citizens of Lucedale right now are scared to come out… If the police can get away with this, why should they feel comfortable and safe coming out?" 


The Lucedale police were on hand to "escort" cars from the Courthouse to the vigil by the side of the road where Johnson was stopped by police.
Norris Henderson, the Executive Director of Voice of the Ex-Offender in New Orleans, was among a caravan that drove from New Orleans to support the family. He told Johnson's parents, Billey Joe Johnson Sr. and Annette Johnson, not to be disheartened by the number of the supporters: 

"This is what it's going to start with – a small group. I know we're looking for a lot of people, but somebody has to be the vanguard. In New Orleans a small group of us did the same thing to bring justice for the Glover family, [helping] them bring those police to justice.
The Madison family [from the Danzinger Bridge incident]–– it started with a handful of people. And it was a smaller number than this. So be encouraged by this. And we're committed that the next time… we'll try to bring, as opposed to four, five, or six cars, maybe four five or six buses."
The caravan from New Orleans was organized by the Greater New Orleans Organizers' Roundtable, a group of community organizers that meets monthly to coordinate efforts.
Rebecca Glover, who joined the caravan, offered support to the Johnson family as someone who's family was also touched by a "nightmare" police murder and cover-up. Her nephew, Henry Glover, was shot by police in the days following Hurricane Katrina, and then burned in his car in a cover-up that involved at least five members of the New Orleans Police Department.


"Hang in there and keep on fighting for justice," Mrs. Glover said. "Most of all, stay focused on this. Don't let them shove it under the rug, cause they will." 

Billey Joe Johnson Sr. called for everyone to pull together around his son, to prevent the next child from being killed.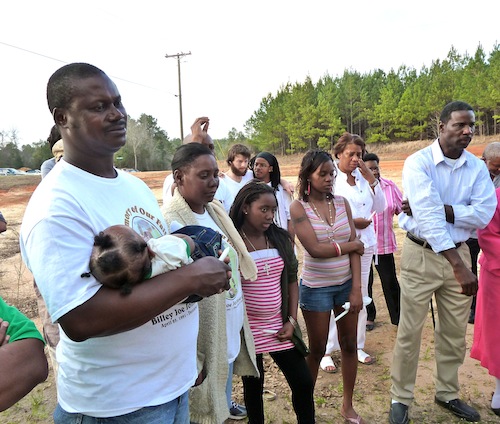 Billey Joe Johnson Sr. and Annette Johnson, the parents of Billey Joe Johnson Jr, gathered with family and supporters at the site where their son was shot. Photo by Ada McMahon.