Federal health agency responds to pressure, sends rep to New Orleans tonight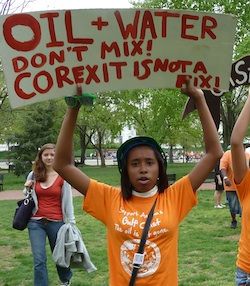 As a result of Gulf Coast communities' advocacy in Washington DC this weekend, a representative from the Department of Health and Human Services will join a community town hall meeting in New Orleans tonight, Solution to Pollution.
Gulf Coast residents and their children have suffered severe health effects since the BP Oil Drilling Disaster started, exactly one year ago today. So far, their pleas for federal assistance have fallen on deaf ears. To date, the best our federal and state governments have done is provide a phone number from Center for Disease Control and a 10-year study that 'might' start soon.
But in response to pressure this weekend from Gulf Coast residents, the Health and Human Services department will send a Federal representative to a town hall meeting in New Orleans tonight.  More than one hundred Gulf Coast community members and college students, many of whom are directly impacted by the BP disaster, were in D.C. for the 10,000-people-strong Power Shift 2011 youth climate summit this past weekend.  Lucedale, Mississippi resident Andre Gaines spoke out about his experience with lax safety standards and illness on the job while cleaning-up BP's oil.  Cherri Foytlin, who walked all the way from New Orleans to D.C., rallied a march of roughly 2,000 youth outside of BP's lobbying headquarters, and met with members of the Obama administration.
As a result of these pressures, a representative from the Department of Health and Human Services will join a community town hall meeting in New Orleans tonight, Solution to Pollution (Tipitina's French Quarter - 233 N. Peters Street, New Orleans).
Speakers include former Louisiana State Senator Dr. Mike Robichaux and 2011 Human Rights Award winner Wilma Subra,  Louisiana resident and environmental scientist.
Town Hall Program
5:00 pm – What Happened to the National Media?, Rocky Kistner, NRDC, Lessons from the Past: EXXON VALDEZ, Dr. Riki Ott, author, Sound Truths and Corporate Myths "Spillionaires? I don't know any" -the truth about the Claims process - Grace Scire, BPSOS
5:30 pm -  Our first responders & coastal citizens will address their health issues & the impacts from Dispersants, Clayton Matherne/Lori Williams/Andre Gaines/and Cpt Louis Bayhi/& more
6:00 pm –   State of the Gulf: Conditions on the Ground one year later
Cpt. Al Walker,  Billy Nunguesser, Parish President (invited), Chris Chassion Houma Nation, Susan Shaw, marine toxicologist
6:30 pm -  Roots of the regional citizens oversight committee-
How to get involved? Weeks Bay Agreement/Lessons learned in DC visit/Powershift
Aaron Viles, GRN/Cherri Foytlin/Derrick Evans, Gulf Coast Fund/Turkey Creek
7:00 pm – Where we go from here? – Helping the SICK with Dr. Mike Robichaux, Dr. Wilma Subra, Mary Lee Orr.
7:30 pm – Second line/Solution to Pollution grand entrance – Concert starts & Citizens will be able to meet with leaders from the forum & work on Solutions together.
8-10 pm – Upstairs reception and concert featuring Dr. John, Drew Landry, Rev. Goat Carson's 2nd Line with the Kinfolk Brass Band,  Mardi Gras Indians, Native Americans,  Fi Yi Yi, Dancing Man 504,The Grayhawk Band, and many more!
When James Carville said, "We're dying down here", few thought about the long term effects of oil & the dispersant COREXIT. It's time to see if our elected officials care more about the health of their people that live the coast and those who risk their lives to clean this mess than multinational companies that profit from our existence. The truth is we can't wait for thousands to die before we get a bill that takes care of our own first responders. The sick include our commercial fishermen on the VOO program, clean up workers, and coastal residents.