Garden for Life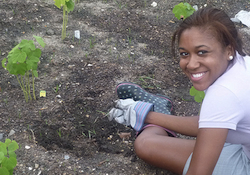 When Coastal Women for Change first thought about doing a community garden, I was very skeptical. For one thing I have never grown anything before. For another, I have never grown anything before (lol).  But once I thought about it in depth,  I was on board with both feet in. 
I realized this garden is so important to our community.  It is important for our life. This garden can help reduce the heart disease in our community, eliminate the food shortage for families, help community members exercise, and most importantly bring our community back to bonding and sharing.  Soon we'll have healthy vegetables that we actually grew ourselves.
What you're looking at in this photo (below) is a start-up which took three months to clean.  Glass, bottles, miscellaneous things were hidden underneath the surface. We also had to learn how to use a tiller, which was fun. 

We started in August 2010.  The first thing we wanted to plant was okra, tomatoes, peppers, corn, beans and bay leaves.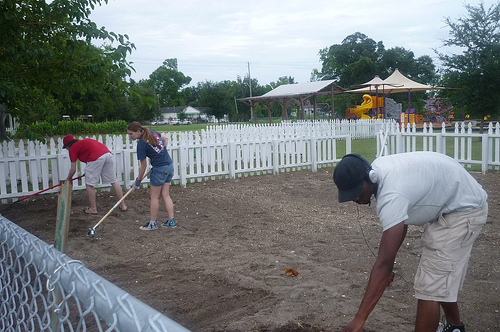 In our next photos you will actually see vegetables. That is when it became to real to us. We're growing from our soil healthy food for our community, nurtured by our community hands.
 
I was so excited along with my neighborhood friends when we saw actual food.  We started screaming running around in circles. To cook what you actually grew is a feeling of accomplishment I have never felt before. Our seniors really enjoy the okra, peppers and bay leaves.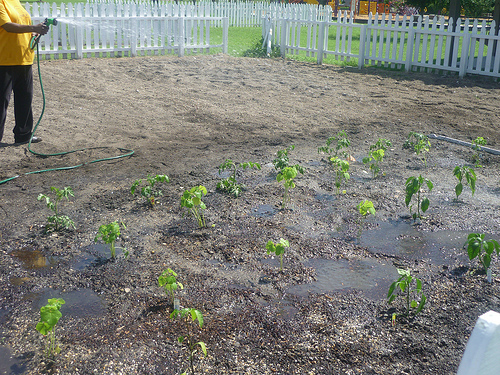 Our second harvest, which was planted February 9th, will be ready by April 3, 2011. We have okra, cabbage, lettuce, beans, greens, broccoli. The main job now is to water daily for 15 minutes.
 
My friend Bobby Hope told me, "This is my community right? So you can depend on me." Those words meant so much to my soul.  Our hearts and souls are hopeful for the future of our legacy that we're planting. Please share our happiness through your words of encouragement (leave a comment below). We were just in the garden on Tuesday and we saw a bud or two trying to bloom.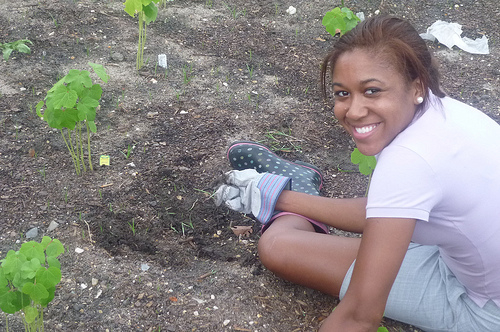 See more photos of the garden on Sharon's flickr page.
Read more from this author: Bringing Human Rights from the Gulf Coast to Switzerland
-----------
Sharon Hanshaw is Executive Director of Coastal Women for Change, in Biloxi, Mississippi.  A native of Biloxi, Sharon worked as a cosmetologist for 21 years.  She got involved in community organizing and activism after Hurricane Katrina, working to make sure that community members are decision makers in the recovery process.  Coastal Women for Change (CWC) focuses on women's empowerment and community development through programs for the elderly and children.